When it comes to trees, many people can't get over the look of a real Christmas tree in their home. However, there are many reasons that prohibit people from having a real tree in their life. May it be allergies, environmental consciousness or simply the type of home you have, it can be a let down not to have a real Christmas tree in the home. However, there are many ways you can give your artificial tree a look that will make you have to double-take. These ten tricks to give your fake tree a real appearance and smell will save you time and money while bringing you even more holiday cheer. So, get ready to have a little more fun while you decorate this year.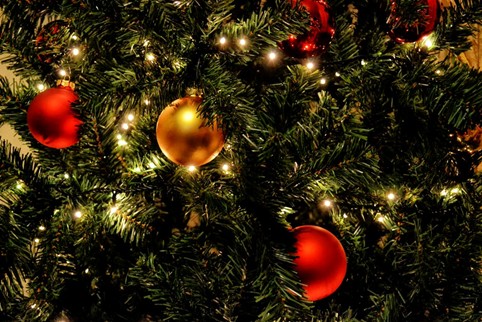 1. Shop After Holidays
Without a doubt, one of the best ways to work on your tree is to actually shop after the holidays. Your artificial tree and the decor you put on it can really be a game changer when it comes to how your tree looks for the holidays. One of the first things you should look for is a better tree after the holidays. You can actually find trees that have the appearance of a real tree, which will help cut back on the work that you have to put into it. This can also allow you to buy supplies that help you mask the fact that your tree isn't real. Usually you can get most supplies for 50% or more off which can really help you rake in the savings.
2. Add Girth
One of the most common problems when it comes to artificial trees is their lack of girth and spottiness. This really isn't a hard problem to fix though. The best thing you can do is spruce your tree up to make it look larger and fuller. One of the best ways to do this is to pick up some garland from the store. Most retailers will sell garland made from the same material as artificial trees, so it should blend right in. You can usually get this garland for about $5, which won't hurt your budget too much. When you get your garland, strategically wrap it around the tree before you place your ornaments on it. You should also fluff out the branches as much as you can, this will give your tree a less spotty appearance. After a little TLC your tree should look a lot more realistic.
3. Ornament Order
A major problem that occurs with trees of all kinds is the gap that appears between the branches. Even though real trees have this problem too, it does make an artificial tree more obvious. So, one of the best ways to combat this problem is to organize your ornaments. You should start by applying the larger ornaments to the tree. These can strategically be placed in the large gaps, which will give the tree a fuller appearance. Once you manage to do this then all of the smaller ornaments can be placed on the tree to add the festive touch you desire. By organizing this way, you will be able to reorganize the tree to suit your style too, which will make this hack even more convenient.
4. Consider Garland
Even if you try out the garland for the interior of the tree, you may also want to add some garland to the outside too. You can buy this in all shapes and sizes to suit your needs too. There is the traditional, colorful garland that has been a hit with trees for decades now. However, if this doesn't suit your taste then you might want to consider a more natural approach like using popcorn or cranberries. You might also consider adding even more style to the tree inspired garland that you purchased for the interior of the tree. If you have any leftover, try adding pinecones, Santa figures, fake snow and more. This garland can be used to cover up large gaps while still offering style to the tree that everyone is sure to love.
5. Cover the Base
The base of your tree is pretty much a dead giveaway as to if it is real or fake. So, your best option here is to cover it up as soon as you are ready to present your tree. A tree skirt is probably one of the best steps you can take to cover up the tree's base. However, the plastic part of the tree will still be visible. In order to hide this, you can create a log appearance using façade or other supplies. However, you can easily just cover this aspect of the tree up with larger presents if you can. If you don't already have presents for under the tree, then you can easily make fake gifts for decorations. You might also consider buying a train or other distractions that will draw the eye away from the inner base and closer to the actual tree.
6. Reconsider the Topping
A lot of people consider the tree topper to be one of the most important elements of the tree. Traditionally, a tree or angel is placed on the top, which looks great. However, when you have an artificial tree, this can really draw the fakeness of the tree to the eye. Often this area is sparse or doesn't have the strength to hold up such a decor item. You might want to consider using something that is going to take up more space without weighing in as heavy as classic toppers might. One great option is to use a large bow to do this. You can make your own using the ribbon of your choice, which is sure to make the tree even more personable. Another fun option is to consider a top hat in order to give a snowman appeal to the tree. You can even buy these in a light plastic which make the top even lighter for the tree. Of course, your creativity is the limit here, so have a little fun with it.
7. Consider Natural Ornaments
One way to have a little fun with your tree while making it feel more natural is to use all-natural ornaments. You can make your own garland with popcorn, chestnuts, cranberry or anything else that strikes your fancy. This is a fun craft to do with the whole family too, which is sure to help raise the holiday spirit in the home. Another fun option is to use pinecones. You can simply place these in the tree, or you can turn them into Santa Claus, reindeers and other cute animals or holiday figures. If you want to get even more creative, then you can use sticks to make adorable little reindeer. The options are endless here, but if you're shy on ideas then look online. You're sure to find more than enough to make your tree look natural and beautiful. If you're short on time, then you can always find these ornaments in your favorite stores too at a reasonable price.
8. Lighting
Most people add lights to their holiday tree, which can really give away the fact that your tree isn't real. There are many options that can help you create a more realistic appearance though. For instance, if you shop LED bulbs then most of the lights aren't so bright that it will immediately highlight the fake appearance of the needles on your tree. These lights are also more energy efficient, so you will get even more savings out of them. Another thing to look for when it comes to your tree's lights is the color of the cord. Some lights have white, brown or black cords which can throw off the look of your tree. You should look for lights that have a green cord. It will blend into the tree and might even help add to the girth of the tree and cover up empty spaces.
9. Add Scent
One of the major appeals of having a real tree is the fresh and beautiful scent of the tree. So, your artificial tree not putting off an aroma can lead many people to come to the conclusion that it is, in fact, fake. However, this problem is actually very easy to remedy. There are actually special scent sticks that can be hung on the tree, which will fill the room with aroma. These sticks usually come in a green color too, so if you hide them towards the core of the tree or behind your garland, then your tree will feel even more realistic. If you're not a fan of the scent sticks, then you can actually buy ornaments that are infused with essential oils to put off the same scent. You can even make these at home, which is sure to save you lots of money. If you don't want to deal with ornaments, then use some essential oils and water in a spray bottle and spritz your tree.
10. Shop Efficiently
If you're really interested in making your artificial tree look and feel like the real deal, then you may want to shop wisely. There are actually trees that are specifically made to look real. These trees typically aren't found in your average retail store though, so you will have to go out of your way to find one. One of the best things you can do is shop online as you will get to see reviews of the trees you are looking at. This can help you make a wiser decision. If you can find a tree that looks just like your favorite type of holiday tree, then you should have decades of use out of the tree as long as you store it properly.
Putting up the holiday tree can be one of the best aspects of Christmas. So, don't feel down because you don't have a real tree to enjoy this year. Instead, get crafty and put a little extra love into your artificial tree. You are certain to love the changes you see and may feel thankful that you won't end up stepping on dried pine needles for months after the holiday is over.