Hanukkah begins this Tuesday, so you might already feel like you're undergoing crunch time when it comes to planning your holiday celebration. Luckily, there's still plenty of time to get a gathering together for family and friends if you choose to. If you're on a tight budget, then you're in luck as there are many ways to keep your guests entertained without forcing you to spend a whole lot of money. These ten tips will help you plan a great event, so you can keep the celebration going all eight days without feeling your budget enter crisis mode. Now, all you have to do is focus on the celebration as you won't have to worry that your budget won't stretch far enough to keep everyone entertained.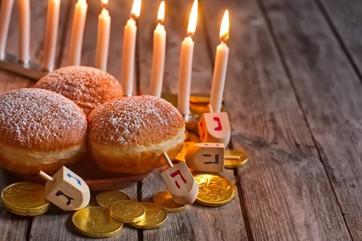 1. Embrace Music
Without a doubt, music is one of the best ways to celebrate just about any occasion. Hanukkah is a great time to enjoy your favorite traditional songs that you have probably sung since childhood. One of the best things you can do is designate a time for everyone to break out in song, so all can enjoy their favorite holiday songs. You can even teach the next generation all of your favorites, so they will be able to pass down their favorite songs one day too. Music also brings on the urge to dance which is another great way to spend your time at a party. If you don't want to play your own music, there are plenty of religious or holiday themed playlists you can choose from online at no cost to you. This should liven up your party and ensure young and old will enjoy the occasion. Of course, you may want to move around your furniture to make sure this activity is safe for everyone to enjoy in the home.
2. Cooking Session
If there is one thing that brings a smile to everyone's faces during the holiday season, it is certainly the presence of food. Many people enjoy the aspect of cooking though, which is a great way to spend time. If you have friends and relatives that have their own traditional dish then you might want to invite them to cook it in your home, rather than have them simply bring it over. People can share their recipes while cooking them too, which will be a great lesson to many. Plus, this opens up a fun area for people to chat and talk about their favorite traditions and memories. You might have to set an oven schedule and use extra tables for prep work, but this shouldn't be time consuming or expensive.
3. Set Up Games
Games are one of the best ways to keep everyone as busy as can be during a party, so you won't have to stress about boredom setting in. There is not only the option to play games, but people can also watch too. Luckily, there plenty of traditional games you can set up in order to keep everyone busy. For instance, the kids will love playing dreidel for hours, especially if you have plenty of gelt to go around. You might also set up some non-traditional games to give everyone a little something to do while they wait their turn for other games. You can even transform your favorite games into a Hanukkah theme to keep the fun going for hours.
4. Storytelling
One way to keep the crowd engaged is to allow people to tell stories to the crowd. Of course, one of the more popular options is the Hanukkah story, which is great for the kids. It is important to share the message, especially to the younger children who may not know the reason why they're celebrating. You might also consider sharing family history or having people talk about their favorite Hanukkah memories. There are so many options to choose from that people are certain to find eight days worth of stories to share with those around them. This can help increase knowledge of your lineage as well as to make you feel closer to your religion and heritage. You never know what might come up as so many people have stories to tell from some of the most grim areas in history which are important to hold onto, while others will be able to liven the room with laughter with silly stories from their past.
5. Craft Table
Making crafts is a great way for guests to spend time, especially when it comes to the children. So, you might consider setting out a craft table with all sorts of supplies. If you're low on supplies, then a lot of hobby stores are offering incredible deals right now because of the holiday season. There are lots of crafts that are fun and easy to make too. For instance, you can set up an area for children to make their own dreidels to play with. Another option is crafts like making a Star of David for decoration. Guests can even place their crafts in bags and give them out as gifts to some of the other guests. The craft table should be busy throughout the celebration, so have a little fun with it. There's lots of ideas online if you'd like to set up specific crafts for people to make.
6. Puppet Show
Another fun option, especially for the kids, is to host a puppet show. You can have the children make their own puppets at the craft table and then construct a story to share with the whole party. It can be a lot of fun seeing what the children come up with, especially if you schedule the shows by age groups. Adults might also want to get in on the fun too. You can make puppets out of socks, cardboard or paper which will allow you to have fun with all of the details you want to put into your puppet. One idea, as far as storyline goes, is to present the story of Hanukkah in puppet form. This should engage the kids for quite some time and might even be a hit with the adults too.
7. Bring Your Own Wine
Wine can be a major part of Hanukkah meals, which can really make the price add up when it comes to your gathering or gatherings. If you want to save money on this aspect of the celebration, then ask your guests to bring their own wine. You may even find that some people bring a few bottles since they won't have to provide wine for their own gathering. This will allow everyone to enjoy the type of wine they like anyway, which can be a tough feat to do when you have many people to provide for. This alone should make the mood even more joyous.
8. Make Gelt
Gelt can be a huge part of the holiday, especially when it comes to the children. Gelt is an important part of the dreidel game and can be a delicious dessert for the whole crowd. If you buy gelt in bulk you can save money on it, but you might not get the delicious taste you desire. Gelt can easily be made at home at a low price too. If you're okay with not having the golden coating over your gelt then this is especially up your alley. There's so many recipes for gelt that you can try out a whole lot if you're up for it. This should help provide your guests with something that makes them smile. You can even put the gelt in goodie bags so that you can send your guests home with a special treat. The gelt can also be used for games, which might inspire people to play more.
9. Give Gifts
Gifts can be a really fun aspect of the holiday, but they don't have to cost an arm and a leg. You might ask people to arrive without a gift. Then, during the celebration they can work on the gelt, crafts or even a puppet to give to some of the other guests. This will not only make your activities fun, but will add extra meaning to them. People can even draw names to see who they should give their gift too. Your guests might love this so much that it will become a tradition each and every year that you host a gathering.
10. Light the Menorah
Of course, if you're having a Hanukkah gathering then you won't want to forget the process of lighting the menorah. This can be one of the most important aspects of the celebration for many of your friends and family. You should incorporate your family's traditions into this aspect of the celebration, but you might also ask others how they celebrate. To make things more exciting for the kids, you might have them make their own menorah that they can pretend to light in order to bring even more meaning to the holiday.
Hosting a Hanukkah celebration can be really stressful if you're on a tight budget. These simple tips will help you organize numerous activities to keep everyone satisfied with their experience. You might even feel that some of these ideas bring everyone closer together, so the holiday will have an even greater meaning.