Going to the dentist and practicing oral hygiene can be a burden for children, which means it isn't easy for parents either. Luckily, February is National Children's Dental Month, which makes it the perfect time to get on board with an easier routine for your child's hygiene. These ten tips will help you inspire your child to become a great brusher without forcing you to throw money at the problem. Without a doubt, utilizing these tips will help improve your routine while also saving you money on potential cavities and other problems. So, get ready to save time and frustration when it comes to your child's oral hygiene routine.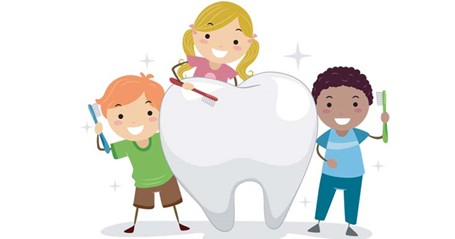 1. Brush Together
One of the best ways to show children the importance of brushing is to help them see that you think brushing is important. The best way to do this is to brush with your children. You can do this in the morning, after lunch and at night too to help instill that brushing two or three times a day is important for overall dental health. While you're brushing with your children, try to make the activity fun. You should also demonstrate proper brushing techniques, so children will pick up on your cues and improve their brushing skills. All in all, this is probably the most efficient way to show kids that brushing is important, and it won't cost you a penny.
2. Set a Timer
Some children like to pretend they've brushed their teeth by going in and doing a once over. However, it is important to brush your teeth for at least two minutes per brushing session. One of the best ways for your children to know that they've brushed long enough is to set a timer. This will also let you know when they can leave the bathroom. You can use a timer you already have in the house, or you can purchase a new one and spice it up for the children. Timers tend to not be expensive, even if you go for a kitchen timer that makes noise. You might also consider making your own sand timer, as there are lots of fun DIY tutorials online.
3. Customize a toothbrush
One of the best ways to inspire children to brush their teeth is to make sure they are a part of the experience. An easy way to do this is to allow children to customize their own toothbrush. This can be a lot easier than it sounds. You might want to start with a simple flat toothbrush, or one made of bamboo. From there, you can paint the toothbrush. You can also add sequences, stickers or even paper mache to the toothbrush. Once kids have decorated their brush, you can add modge podge to it to help the items stay put. Kids will love showing off their creativity here, which will inspire them to actually want to brush their teeth.
4. Story Time
Another way to make fun out of the experience is to incorporate stories each night. This will help children stay engaged with the story, so it won't seem like they are brushing at all. You can easily come up with your own stories to share with the kids using your imagination. Of course, you can also use the time to tell stories about your day. If you find yourself grasping at straws, then there are lots of two minute bedtime stories you can utilize to help meet your time quota. As long as kids brush the duration of the time, they'll have sparkling teeth without all of the hassle.
5. Start Early
When it comes down to it, one of the best ways for you to help your child get on track with brushing is to start them out early. Brushing should become a routine for them as soon as they get their first tooth. Of course, during this time it is up to you to clean their teeth and gums, so they can get a healthy start at life. Slowly ease children into brushing their own teeth. For most kids, this is an exciting time because it shows just how much they have grown. If you continue to treat brushing like this then children will be able to develop the habit before they even consider it a chore. This will help them make a long term commitment to brushing that will ensure they have excellent teeth as they grow.
6. Enjoy Books and Videos
When it comes to younger children, books and videos can do a lot to encourage them to brush daily. Thankfully, there are so many media options to choose from when it comes to oral hygiene. If your child likes a specific character then you can look up the character online to see if there are any free videos to help. Some popular character will even have apps that allow children to play teeth brushing games. Many streaming services, like Youtube, will offer an assortment of teeth brushing videos. Kids can learn songs, watch fun cartoons and even watch other children brush. If stories are more your style, then there are lots of great books to choose from. You might even consider writing your own book just to add to the fun.
7. Embrace Their Favorite Things
Another simplistic way to keep your kids brushing is to embrace their favorite things. For starters, when it comes to younger kids, you can easily entice them to brush if you purchase items they are interested in. You might want to find a toothbrush with their favorite character. Surprisingly, this won't cost you extra in most cases, so you won't have to stress over your budget. You can also find character themed toothpaste. Another option is to go with flavors they love. You can have so many options to choose from today that it shouldn't be hard. If your child doesn't like the flavor of toothpaste, then you might try a more natural toothbrush to see if that helps. You can also find floss in a variety of flavors and easy to use designs. Most people should be able to find a combination that works for their child.
8. Dance Through It
Kids love to move around and have fun, so dancing is a great solution for kids who aren't interested in brushing their teeth. Simply turn on a song two minutes or longer and let them brush as they dance around. You can even come up with a special dance as a family that kids will love doing each night. This will also help you ensure they're getting each area of their mouth. Kids might even want to make up a song to go with the dance, which can certainly be interesting with mouths filled with toothpaste. Of course, you might have to mix things up a bit in order to keep the dancing routine fresh and fun. You can even simply rotate it into the routine, so your kids won't dance every day. Dancing will also help burn off some of that excess energy your child has built up.
9. Make it a Game
Games are a great way to add to the fun of any task, so don't overlook them when you're fighting to get a child to brush. There are so many fun ways you can add games into your brushing experience. For starters, you can make things a competition. For instance, you can see who can produce the most bubbles while brushing. This is bound to bring some giggles and might cause a little mess. Another great game is to see who can brush the longest without spitting out excess toothpaste. You can also find games online to help with the experience. There should be a little something for everyone to check out.
10. Reward
A reward system is one of the best ways to help your child accomplish almost anything. You can reward your child in many ways. If you're looking for something that helps on a daily basis, then consider making a chart much like a chore chart. After your child brushes they can add a star or check mark to the chart. When your child has so many checks, they can receive a prize. You might also reward for not missing a checkmark. Rewards don't have to be huge, as most children will be happy with a dollar or a piece of candy. Another way to reward your child is to give them a special treat if they have a good checkup at the dentist office. This will help encourage children to fight back against cavities, so they can receive something fun.
Oral hygiene is an important part of the daily routine. However, most children won't understand just how important it is. That is why it is so important to help them along the way. This National Children's Dental Month is the perfect time to find a solution to your child's brushing dilemma. Hopefully, with a few tricks, you'll be on your way to a healthier and happier brushing routine with your child.