Now that we're well into the new year, it's time to start thinking about taxes and hopefully receiving an income tax return. For many people, this money brings a lot of fun to the household. However, there are many things you can spend your money on that will actually save you even more morning. These ten ideas will help you along your way, so you can maximize your refund and enjoy savings all year long. So, take a breath and get ready to improve your finances by leaps and bounds thanks to your income tax return and self-control.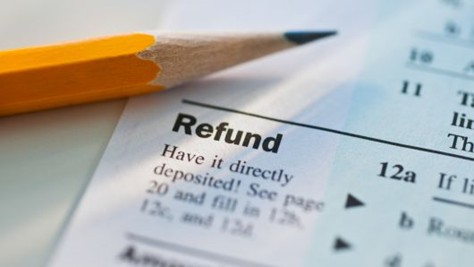 1. Ditch Some Debt
One of the most important things you can put your refund check on is existing debt. This will raise your credit quite a bit, so you can save money on many new purchases that require you to have good credit. You may even be able to purchase a new home or vehicle that you've needed for some time. Paying off debt, especially debt that has a lot of interest added to it, will free up money that you don't have to pay every single month. Cutting back on the interest you owe, will put money straight on the principle so you'll wind up paying less than expected on these bills. This cut in price will give you more money to play around with in the future, so you can feel more comfortable in your finances.
2. Fund Repairs
If you own a home or vehicle then you're probably used to things needing a repair or two. When your refund check comes in you might use the money to finally fund some of these repairs. This will help you prevent further damage from occurring too, which is important if you want to save some money. Even a repair isn't in need then you might want to upgrade your home in one way or another. This will not only add convenience to your life but will add value to the home that will help you out if you are planning to sell in the near future. Of course, you can also use some of this money on smaller repairs. For instance, if you have an appliance or gadget that simply isn't cooperating the way it should, then you can send the item in or call in a repairperson. If the items are unrepairable then now might be the time to replace the things you consider to be a necessity.
3. Add to Your Vacation Fund
Instead of blowing the money on frivolous things that you know you don't particularly need, you might tuck it away in savings so you can gain some interest on the money before it is time for you to go on vacation. This money can be used to help with travel, hotels, food and entertainment. This should take a huge burden off of your shoulders when you're trying to budget the money for your vacation. This will also prevent you from having to put all of the expenditures on your credit card. With this safety net of money, you should be able to have some extra fun on your trip. It will also encourage you to actually take a vacation, which is great for your mental health and provides you with much needed bonding time with your family.
4. Invest
Instead of purchasing junk that you might end up throwing out in a few days, you might consider buying stocks or bonds instead. This, in most cases, will help your money grow so you can take advantage of it later on. Of course, before you purchase anything, you should get with an expert so they can help steer you in the right direction. This will also ensure that you feel more confident about your purchase before you make it. Of course, you should also do a little research on your own so you can understand more about the stock you're interested in. There are many other ways to invest too. You can even invest in property. So, make sure you know all of your options before you put your money into something.
5. Give to Charities
If you love to give money to charities, then you might want to start now. Since you have an abundance of money from your return, you can always turn around and give the money straight to a charity. Since the money is something you wouldn't normally have in your budget, you won't miss it. This donation can be used to cut back on your taxes for the current year too, which will allow you to get more money in the future. There are so many charities to choose from, so you can actually choose more than one if you'd like to. No matter how you choose to give, you'll certainly be helping out a great cause without harming your own budget. This will help you feel incredible for the rest of the year.
6. Consider Your Career
Sometimes, we don't have everything we need to be completely secure in our chosen profession. With a surplus of money in your account, you might take the time to invest a bit in the future of your career. For instance, if you do a lot of work on the computer then you might consider upgrading your machine, getting some new software or investing in accessories that will help you get more out of your software. In many cases, these purchases can be claimed on this year's taxes, so you can easily get some of the money back. Even if you don't need technology to be successful, you might consider investing in some new clothing to ensure you look professional. This may even help you land the promotion you've had your eye on for some time.
7. Improve Retirement Funds
If you are set financially, then you might consider putting your money straight into your retirement fund. If you don't already have one then now is one of the best times to consider starting one. Your first step is to find a bank that offers a great interest rate for their savings account. This might mean shopping around or even moving your money when you find better options. No matter how you choose to save, make sure you keep an eye on the account to ensure no money is missing. You can also utilize funds designed for your retirement like your 401k and so on. This should help ease some stress from your life while also allowing you to look forward to a happier retirement.
8. Place in Savings
Of course, you can also just find a great savings account to put your money into. This is perfect for anyone that might not already have an emergency fund. For most families, $5000 in a savings account can help with most emergencies that they might encounter. Your income tax refund could really do you a lot of benefit, especially if you don't need anything at the current moment. Your savings could also be used to cushion the blow of holidays and birthdays, as well as other occasions when you might have to spend more money on something. This can be one of the best investments you ever make and with the influx of money, you won't have to sacrifice anything to ensure the money is there and available to you.
9. Stock Your Pantry
Your grocery bill can be one of the highest bills in the house even if you are shopping on a budget. One of the best ways to help give yourself a little break is to take your refund and go shopping. The influx of money will make it the perfect time to stock up on all sorts of groceries. Some of the best items to have are boxed and canned goods that already have a long shelf life. You should also consider stocking up on meat. This can last up to six months in the freezer, so you'll be set for a wide variety of meals. If you're interested in meal prepping, then this is also the perfect time to get the ball rolling. You can stock up on seasonal produce and freeze your meals, so life is so much easier. This should help cut down on your grocery bill for several months, which will definitely help your budget seem more flexible.
10. Treat Yourself
Sometimes, it is simply best to give in to temptation though. This is the perfect time to treat yourself to something special for all of your hard work. Of course, this doesn't mean blowing the entire refund on yourself. However, you can go out and boost your wardrobe, purchase a new gadget or treat yourself to a spa day. Although it might seem like this is throwing away money, treating yourself to something is actually good for your health. It will also help prevent you from making spontaneous purchases when you don't have the money to do so. This is certain to save your budget from any hiccups that you might encounter.
Your income tax refund can work in so many ways to improve your life. These ten ideas will help you create a better lifestyle for yourself, while easing the burden of any present or future expenditures. With some careful planning, you can easily make your refund work for you, so you'll be able to get so much more out of the money you receive.