Although it might not feel like spring is on its way, it will be here before you know it. If you're a student, then you're probably already looking forward to basking in the rays while avoiding college work altogether. Unfortunately, many students end up putting off spring break because they simply don't know how to make it work with their budget. Luckily, there are lots of great ways for you to take on the fun of spring break without breaking the bank. So, get ready to have some fun, because these tips are certain to make your spring break planning a whole lot easier.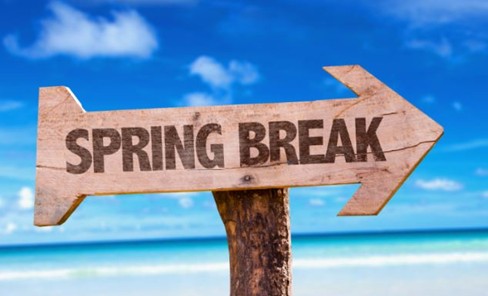 1. Road Trip
If you can't wait to get out of the vicinity of your school, then a road trip might be the best way to go. If you have a few buddies and a vehicle that runs well, then you're already on your way to success. You can easily split the cost of gas money while on your trip, so you won't have to bear the burden yourself. You might also consider taking turns driving, so you won't have to worry about a hotel, nor will you have to worry about not making it to your destination on time. With a few cheap snacks to tide you over, you'll be able to enjoy a quick spring break adventure without pouring hundreds of dollars into the trip. You may also be able to check out some awesome attractions that you didn't know about. This can be one of the best things about road trips. In fact, your discoveries might even overshadow the trip you had already planned.
2. Couch Surf
Hotel prices can really break your budget, especially if you plan on being gone throughout the trip. Instead of planning a trip where you have to stay in a hotel, try to plan one around the people you know. Many people will be more than happy to let you couch surf, especially if they haven't seen you in a while. You can even get in touch with students that attend different universities if you're simply looking for a cheap vacation away from your own school. Coach surfing can be one of the most rewarding experiences too, as it allows you to see how your friends and family live their lives. You never know, you might pick up a few traditions or other qualities that you will keep up with in your life.
3. Ditch the Restaurants
Unfortunately, restaurants can become one of the biggest drains on your budget when it comes to traveling. One of the best things you can do is avoid restaurants at all costs, even when you are traveling. This might take quite a bit of the convenience away from your trip and it may even hurt the enjoyment of the vacation. However, you'll find yourself not dipping into the red zone when you skip out on restaurants. Instead, hit a grocery store and purchase items that won't expire if left out. If your hotel has a refrigerator then you'll be better off as it will allow you store sandwich items with ease. On top of that, you can easily keep snacks around to keep you going through the day, so you can actually enjoy more of your vacation. Fruit is one of the best things to have on hand as it is refreshing and energizing. You can also keep a reusable water bottle to avoid plastic waste and over spending.
4. Choose a Cheap Destination
A lot of students have a set idea in mind when they decided they want to do spring break. However, if you think outside of the box a bit, you might be able to find a few deals that will complement your budget while making your trip even more enjoyable. Although some of the hot spots will have more action as far as other students are concerned, you might find some of the alternative destinations to be more relaxing and enjoyable. There are lots of helpful tips online to help you find the perfect places to visit too, which allow you to plan accordingly.
5. Share a Hotel/Motel
Traveling can be fun, until you receive the hotel bill. If you don't mind sharing a space, then this is the best way to save some money while enjoying spring break. Chances are, you might not spend a lot of time in your room to begin with. If you know a few people that you can easily get along with, then ask them to share with you. Most hotels will take up to four people per room, which will allow you to split the bill in such a way that you won't find yourself sacrificing when it comes to activities. Sharing a room can be tricky though, which is why you should choose carefully who you share with. You should also make sure to store your belongings in a secure place, so that you won't end up with missing items or on the butt end of a prank.
6. Take a School Trip
If you're not entirely sure about going on a trip on your own, then you might want to see what your university has to offer. Surprisingly enough, many schools will schedule a trip for students to join in. You will generally have to pay a flat fee for the trip so you will be housed, fed and entertained. You'll only need extra money for snacks and souvenirs. These trips also tend to have chaperons, so you can easily feel more comfortable about the trip, especially if you're a first-year student. Generally, the school works to find the best possible deals around, so you won't spend as much if you did plan the trip on your own. You'll also have the opportunity to meet other students, which is perfect for students who still haven't found their groove in their new surroundings.
7. Use Your Student ID
No matter what you choose to do on your spring break getaway, you should also keep your student ID handy. This ID card can truly help you find some of the best deals around, especially if you're traveling in an area that caters to students during the spring break days. Your student ID can actually help you get access into clubs in some areas, so use it wisely. One of the best ways to cash in on the discounts is to use it at restaurants. Many establishments will even have specials for students during the spring break season. Even if you aren't going far for your break, you can still make it work to your advantage. For instance, you might be able to score cheap concert tickets or even tickets to a movie just by flashing your ID card.
8. Leave Campus
For some students, a vacation isn't in the cards. This doesn't mean that you can't find the break you deserve. One of the best ways to do this is to simply leave your college campus. You can explore the city it is in, spend a day in the park, or simply go to the mall for a few hours. Try to leave campus for a few hours, if not all day, while vacation is going on. This will allow you to feel refreshed and will give you a break from seeing the same thing over and over. If you have a free bus pass, then explore as much as you possibly can. This will help you avoid spending money while allowing you to embrace the world around you.
9. Camp
One of the cheapest vacation options for students is to simply go on a camping trip. This will give you some time away from your studies. Camping gives you plenty of activities to enjoy including hiking. This will give you the fresh air you desire, while also helping you to reduce your stress quite a bit. This will completely refresh you so you can go back to school feeling great. If you don't have the equipment needed to go camping, then consider borrowing it from someone or renting it. You can also camp with minimal supplies, if you already know what you're doing. Apart from that, you should check out campsites to see where you can camp for free or a low price. You may even be able to get a discount using your student ID.
10. Read for Entertainment
Affording a vacation doesn't have to mean spending anything though. Some students might be comfortable just hanging out in the school library or their dorm room. These students should try to read throughout the school break. However, this doesn't mean bury yourself in your studies. Instead, check out novels that have piqued your interest for some time. You can even ask for recommendations from the librarian if you are at a loss for what to check out. Books can give you the illusion of a vacation, which is pretty exciting since you can check them out at the library for free. Books can also provide you with a sense of relaxation that you can't get elsewhere. You might also feel like your mental capacity has increased, which can help you with your studies.
Spring break can be a tough time when you're on a budget. This is especially hard for students who are expected to go out and enjoy themselves during this time. Luckily, there are a few things that you can do to enjoy your spring break that doesn't require you to spend a fortune. With any luck, you'll have the time of your life and won't have to eat ramen for the rest of the semester.