In this crazy world, many of us are just looking for a way to help simplify life. In fact, the entire week of August is National Simply Your Life Week, which is certain to bring even more motivation to get things on track. There are tons of articles about it and plenty of shows offering organizational advice and more. However, many of these articles are designed to get you to purchase, rather than help you choose which items you might actually make your life easier. These ten tips will help you carefully consider the items that might help you out, so you can begin the research process into buying the right item for you.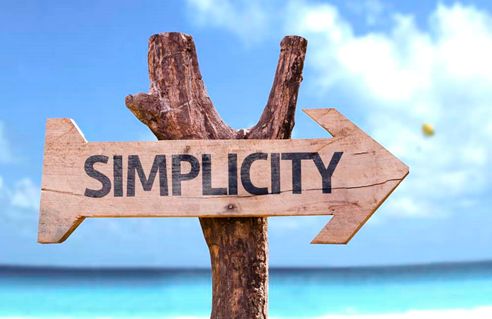 1. Robo Vacuum
If you spend a lot of time working, have kids that are always dropping things, or you simply don't like to vacuum, then a robo vacuum might be one of the best investments for you. Robo vacuums can be programmed to help take care of your small spaces while you sleep or you're at work. You can even run it multiple times a day if you need to. There are numerous vacuums on the market now too, which can really be helpful when you're shopping around. Prices on these robots have leveled out as well, so you might not spend more than you would for a regular vacuum cleaner. Of course, you will want to do your research before purchasing. You should also consider that the robot is not going to clean up all of the mess in your home. Rather, you will still have to vacuum from time to time.
2. Adjustable Duster
Dusting is pretty imperative if you want to keep your sinuses in order. However, dusting can be a pain in the neck. There are many places that you probably can't reach when you're working on dusting your home. That is why an adjustable duster is a great match for your home. You can use this to quickly move through the home dusting everything that might have acquired dust, cobwebs, or anything else that may need to be cleaned. There are numerous adjustable dusters on the market, so you should be able to find what you need at an affordable price. However, you should also consider a few DIY hacks that might save you some money in the long run.
3. Multi-Use Air Fryer
Air Fryers seemed to take the world by storm just a few short years ago. However, since they were introduced, there have been many evolutions that make these machines bigger and more efficient than ever. If you purchase a multi-use air fryer, you might find yourself using the other items in your homeless and less. Most of the multipurpose devices will have the air fryer ready for you to use. Some will have a dual basket which will allow you to easily cook more items at once. However, some of the new devices will also have an area to grill, roast, and so much more. You should do your research before choosing which device will suit your family as there are so many to suit your needs and your budget. Not only will this device simply your life, it might also help to improve your health, which is also a bonus.
4. Crock Pot
If you want to add even more convenience to your kitchen, then adding a crockpot to the mix will certainly do the trick. Crockpots seem to be the perfect companion for autumn and winter; however, you can get so much out of them all year long. This device allows you to slow cook a number of meal options so you can forget about cooking and instead enjoy your day. Crockpots are perfect for hearty stews and soups, while also slow-cooking meats. You can even make tacos, cobblers, and anything else you can imagine in them. The great thing about this device is it won't heat up your home, which will help improve your power bill immensely.
5. Silicone Bags
When it comes to storing your food or packing bags for lunches, you will fall in love with silicone bags. These bags are totally reusable, so you won't have to worry about shopping for the items anymore. On top of that, you will be helping to do your part to improve the environment. These bags are designed with durability in mind, so you can even use them to keep items in the freezer so you won't have to take up as much space as you would with containers. If you have other items to store, such as craft supplies, then you won't be at a loss with these bags either. Truly, you'll find that they go the extra mile to help make things functional and green.
6. Diaper Backpack
Whether you have a baby or not, a diaper backpack is going to be a great option to suit all of your needs. This backpack is designed to hold all of your baby essentials which will help you enjoy life on the go. The innovative design of the backpack allows you to easily get around without having to struggle with a bag that only rests on one shoulder. This bag is especially nice when you have toddlers as it allows you to go hands-free so you can keep up with everyone. Apart from working wonders for people with kids, these bags are great for almost anyone. There are typically compartments designed to help you hold drinks and food that needs to maintain its temperature. The large slots and ample pockets are good for an organization while also offering a secure place for your gadgets to rest.
7. Water Bottle
If you already haven't jumped on the reusable water bottle bandwagon then now is the time to do it. Reusable water bottles aren't just about the health of the world. Sure, they are helping to cut back on water bottles by leaps and bounds. However, these bottles bring so much convenience to life. You can carry them around anything to make sure that you have everything you need to stay hydrated. Apart from that, you can refill them anywhere. Some of them even have filtration devices so you never have to worry about the state of your water.
8. Key Hanger
When it comes to bringing simplicity to life, one of the best products to purchase is a key hanger. This simple item will help you spend a lot less time wondering where you put your keys every time you want to leave the house. You can even make a key hanger yourself if you're feeling crafty. There are lots of key hangers on the market as well. You can find one that simply hangs keys, or you can look for something that can help improve your household even more. For instance, they have key holders that offer whiteboards connected to them. This will help you keep notes, write down dates, or remind your family of important things that need to be accomplished. Another option is to find a key hanger with a mail holder. This can help prevent you from forgetting the items you need to send out or to keep that annoying pile of mail from building up.
9. Planning App
Although an app isn't a physical purchase, a planning app is one of the best things you can invest in. Whether you're managing an entire family or just trying to get things together at work, there are numerous planning apps that can help you along the way. There are many planning apps to choose from right now, so you may have a lot of research ahead of you before you can actually purchase the right match for your family. However, there is a little something for everyone available. You might also be able to sync your calendar with others to improve overall functionality within the home.
10. Car Organizer
If you spend a lot of time commuting, or you have small children, then there is a really good chance that your vehicle is going to be all over the place. This is why one of your greatest purchases is a car organizer. These also come in all shapes and sizes so you can customize them to suit your vehicle and storage needs. These organizers are incredible in the sense that they can help save you time and energy while ensuring your car isn't going to smell as bad since no hidden food or drink is going to accumulate under the clutter.
Simplifying your life doesn't have to be expensive. With these ten tips, you'll easily be able to products or DIY crafts than can help change the way you get through your day. This should help you find plenty of reasons to enjoy life even more as simplicity will be easier than ever to achieve.