It's almost time for the joy of Embrace Your Geekiness Day. A lot of people are really gearing up for this year because it might actually be possible to celebrate the special holiday as a community instead of alone at home. If you're excited to let your geek flag fly this holiday, then you might want to consider a few things before you spend too much money on the holiday. These ten ideas will allow you to easily have a blast without leaving your finances in a bind.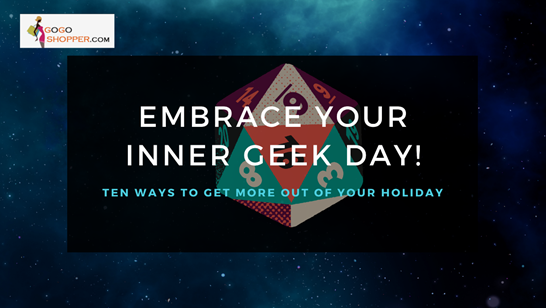 1. Share Your Passions with the World
One of the best things about Embrace Your Geekiness Day is you get to do just that. On this day, share with the world all of the geeky things that you enjoy. May it be comic books or tax codes, your geeky lifestyle is bound to strike someone's fancy. You might start with making some time to chat with friends virtually or in person. Your friend group can share their passions and listen to yours which can be a lot of fun for everyone. However, if you want to broaden your horizons, or just make new friends then you might also consider taking to chatrooms or message boards to have some fun.
2. Embrace Something New
Embracing all of your geekiness is fantastic. However, so is embracing something new. This holiday, you might also want to consider broadening your horizons as you celebrate everything about being a geek. For instance, if you are interested in computer science, then you might begin learning a new computer language. If you love learning, then check out a book on a branch of science that you know nothing about. Even if you want to keep things light, you can mix things up by trying a new comic book out or playing a video game that was recommended to you. This will certainly help increase your fun while allowing you to get more out of the holiday then you may have otherwise thought you would.
3. Create Fanart
If you are a part of a fandom or you just love something that is geeky, then you might want to take this holiday to learn how to create fan art. This can be a lot of fun, especially if you're just starting out. There are many different ways to enjoy fanart too. You can create stories based on your favorite characters, draw pictures, create graphic art, and so much more. While channeling the thing you love, you will be able to fully embrace your geekiness and find joy in the holiday. You might even feel confident enough to share your fan art with others.
4. Movie Marathon
One of the best ways for most people to celebrate is to embrace all of their favorite movies. You can find a movie on just about anything that you geek out on, which can help you to find the perfect reason to celebrate. Luckily, we live in a world where you can stream almost anything, which will add some convenience to your day. However, you might consider looking around for special showings of your favorite movies at theaters. Some theaters will even offer room rentals, which can help you enjoy your movies without having to put yourself at risk.
5. Join a Game
When it comes to geeky activities, some of the most popular options are games. From board games and role-playing games to video games and larping, a game is the perfect way to create some fun during this holiday. You should be able to find games of all sorts in your local areas; however, it might require a bit of investigation. The best places to try, if you're not certain where to look, are local comic book and game shops. You should be able to get information there, but you can also try bookstores as they often advertise for such things. If you're not sure about the shops in your local area then you might look around for social media groups based in your community. You may be able to make new friends while having fun. Another option is to join games online. You can find for almost anything that you would play in person.
6. Check Out a Museum
Whether you love to geek out over art, cars, or history, today is the perfect day to do it. One of the perfect places to do it is in a museum. If you have the day off or can make time in your schedule, then you might want to spend your day checking out a museum that is designed around the thing you love. Some museums might even have deals that allow you to embrace your geekiness at a reduced price. Of course, you might judge attendance based on the popularity of the museum as we are still in a pandemic. However, if you are vaccinated or feel comfortable then you might make up for the time you didn't get to explore such things last year when everyone was in quarantine.
7. Host a Trivia Night
If you have friends that are into the same things as you, then a trivia night might be the best way to enjoy the holiday. You can find trivia on just about every subject, so if you're not sure where to begin try looking up your favorite geeky things. Many pop culture items will also have trivia that can be purchased in a store, if you want to go that route. There are even some TV shows you can stream that will allow everyone to play trivia together with a professional host asking the questions. Apart from trivia questions, all you really need is a few snacks and drinks to make the night incredible. You can even ask friends to pitch in and bring snacks to help offset the cost.
8. Listen to a Podcast
When it comes to geeky things, you're bound to find a podcast for anything of interest. Podcasts are really popular now, so chances are you'll find yourself subscribed to at least one if you're not already. There are podcasts set up for almost every geek thing you can think of, so in order to fully embrace your geekiness you might consider looking around for a new podcast to help you enjoy the things you love. This will allow you to have a lot more fun while helping you to find content that you can enjoy even when the holiday is over. There are many websites dedicated to helping you dig through all of the podcasts to find the top options.
9. Dress Up
Another fun way to embrace your inner geekiness is to dress up like one of your favorite characters. Cosplay is a great way to truly embody the spirit of your geekiness while sharing in the fun with others. Even if you're just dressing up to take pictures, you can have a lot of fun with this activity, especially when it comes to making the costume. In some places, you may even be able to enjoy a convention where you can dress up as you please while seeing other people's costumes too. This will help you to boost your fun and community spirit during the holiday.
10. Shop Sales
Any holiday that celebrates the geek is going to be a holiday that consists of many different sales. During this holiday, you might have to do a bit of hunting around, but you should be able to find a few sales on geeky items. These might come in the form of coupons too, so make sure you subscribe to all of your favorite websites. Of course, before you jump into any sales, you should keep track of average prices so you will know what is actually going to be a good deal. One of the best things you can do is download an app that keeps track of these things for you. You can even follow items that you're interested in, which will also help you save some money.
Embrace Your Geekiness Day is designed to help you boost your confidence while ensuring you find joy in the person that you are. These ten tips will allow you to easily have fun while you keep your budget down. Hopefully, these tips will also help you discover a variety of new ways to celebrate being a geek.