Before you know it, it'll be Mother's Day, which means it's time to start planning for the ultimate gift. More often than not, mothers are more than excited to receive a handmade gift from the heart. There are so many items to choose from too, so you don't have to spend hours mulling over your options. These ten ideas are not only handmade and charming but won't harm your budget as you plan for the ultimate holiday experience. So, don't let the time tick down too quickly, as you'll want to plan ahead to ensure your craft looks incredible for the special day.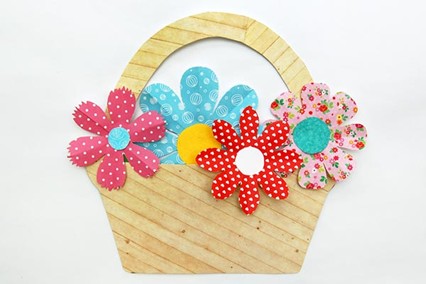 1. Paper Flowers
Flowers are one of the most common gifts that moms receive during the special day. However, real flowers are often incredibly expensive and don't last very long. One way to remedy both of these problems is to make paper flowers for the mom in your life. These flowers aren't hard to make either and you can choose from a variety of patterns to create all of mom's favorites. All you will need for this craft is colored paper, like construction paper, and some green pipe cleaners. Simply follow your favorite tutorial on folding and then attach the pipe cleaner to act as a stem. You can present the flowers on their own, or step things up by adding a vase to the mix.
2. Picture Vase
Speaking of vases, you can always go the extra mile and create a beautiful vase for a mom in your life. You can purchase a cheap vase from the dollar store or transform an old glass jar into something fantastic. One of the best ways to start on your task is to consider how you would like to decorate it. There are lots of options including glass paint, appliques and even tissue paper. When you choose your medium, set everything aside and hunt for the perfect picture. Your first task is to apply the picture to the vase, which is easily done with glue and modge podge. When the photo is dry, have some fun decorating it. You can even add rocks to the bottom to add even more pizzazz.
3. DIY Candle
Candles are one of the top gifts for any mom that loves to enjoy delightful smells all day long. However, candles can be incredibly expensive in stores, which can harm your budget. Instead of merely picking out a candle, you might want to try your hand at making your own. All you have to do is purchase a wax kit and use essential oils to add the scent you desire. You can even get creative and add colors to the mix. When you're finished making the candle portion of you gift, you can decorate the jar you place it in. This will not only add more personality to the mix, but it will also make it more fun to reuse the jar again and again.
4. Bookmark
You can't go wrong with a personalized bookmark for moms that love to bury their nose in a book. Bookmarks are incredibly easy to make and will allow you to have lots of fun with the craft. For starters, you can easily get to work by folding a bookmark that can be placed on the edge of the book. This can be folded and designed in so many ways that you can suit any interest. You can also use a thicker paper, like stock card, to cut traditional bookmarks and then design them to suit just about any interest. On top of that, you can also utilize magnets to create a simple look that isn't going to fall out of the book during a commute. If you love to braid, then simple string and time can help you make a woven bookmark that is certain to be showed off each day.
5. Spa Supplies
Most moms could use a little time to themselves to help them relax and enjoy the special day all the more. If you want to make your mom feel special, then set her up with a spa set and some free time. You can go all out for your set too. You might start by making your own soap, complete with fun shapes that will light up mom's day. Another must is a face scrub made from sugar, which is perfect for mom's that love to exfoliate. If mom likes baths, then a bath bomb can really make things fun. All in all, the set can come with just about anything you desire, so you can really spice things up. You might finish off with a new wash cloth that can easily be monogrammed with simple online tutorials. If you really want to step up your game, then make mom a soothing playlist to go along with the mix. It will quickly become her favorite Mother's Day.
6. Poetry
Share a piece of your heart with mom by writing a special poem. This is an easy craft that can be made to suit a wide variety of age groups. If kids are smaller, there are many templates to download that allow kids to color in a special sheet and then place adjectives and adverbs into a prewritten template. This method is easy to customize and will help children feel special. Children that are already capable of writing might enjoy a template that helps them follow a specific order while working. Older children and adults on the other hand might enjoy free styling the poem to ensure mom feels extra special about her gift. You can spice up the gift by placing it a frame for all to enjoy.
7. Key Chain
Key chains are another way to show mom you love her every single day. Key chains are simple to make too, so they can suit all age groups. One of the easiest ways to begin this craft is to buy a kit. Usually, the kit comes with templates that kids can cover and then place inside a plastic chain. Of course, there are other ways to make key chains. For starters, kids can draw a design on Styrofoam and then shrink it down in the oven. This usually adds some fun to the design and kids will love watching their design go from big to small. Kids might also want to braid a keychain. Another option is to work with leather or wood burning, but this option is primarily for teens and adults.
8. Hot Plate
If you have a mom that loves to cook, then a great option is to make her a hot plate for all of pots, pans and utensils. Hot plates are incredibly easy to make. One of the easiest methods to do this is to grab a cheap tile from a dollar store or department store. Choosing a solid title, particularly in white, will help make the process a bit easier. When you get the tile, you can add a photo to it, paint it or simply use some tissue paper to make it colorful. When you're finished with the design, simply add some modge podge to lock in the style. This tile will hold up in the kitchen and is easy to clean. Best of all, it will remind mom of you whenever she uses it.
9. Pathway Stones
Moms that love to garden will enjoy receiving pathway stones to help make the garden special. It might sound hard to make this craft, but it is actually much easier than you think. There are kits to make your pathway stones, so you can shape them and add foot or handprints to customize them. Once you finish up with the stone and it has dried, you can even add paint to the kit. Of course, there are tutorials online so you don't have to use a kit, which might save you a bit of money. If you want to go any easier route then you might look for larger stones to paint with your own designs. This is certain to make the garden colorful and meaningful.
10. PhotoBook
Last but not least, a photo book is one of the best options to share your love. There are so many ways you can make your own photobook that you're bound to have some fun choosing the way that suits you the most. One option is to use a scrapbook and paste the photos in. This is perfect for children as it allows them to do it in a hands-on way. Another is to make photo pages on your computer and simply print them out. Finally, you can use a professional service, especially if you want the memories to last. No matter how you choose to work your book, mom is bound to find joy in all of the memories you hand selected to share with her.
Without a doubt, Mother's Day is the time to make any mom in your life feel like a million bucks. These crafts are a great way to get started on creating an outstanding Mother's Day. Best of all, they will suit your budget and your household's crafting ability, which is bound to make the holiday even more exciting for all. So, don't let the time pass, as there is still a couple of weeks to make lots of fun crafts.