For the first time in decades, Oktoberfest celebrations across the globe are being canceled. This can be a major letdown to those that have joined their community in celebrating this German holiday every year. Just because the celebrations are coming to a close, doesn't mean that you don't have an opportunity to celebrate on your own. These ten ideas will help bring the Oktoberfest to your home, so you can enjoy social distancing while still keeping up with tradition and having some fun. These tips won't harm your bank account either, which will definitely make the celebration all the sweeter.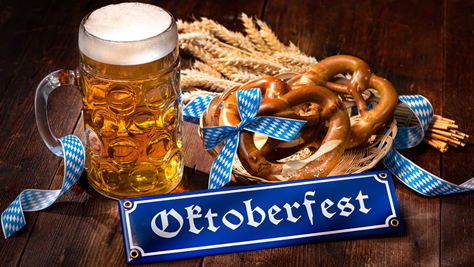 1. Watch Old Festivals
One of the best ways to get in touch with Oktoberfest is to watch some old festivals. If you're not sure about this activity, you should look up the iconic festivals like the celebrations that take place in Germany. You will find more than people drinking in these videos, as they will have shows, games, and so much more. You can even have your celebration with one of these old videos playing in the background. This will provide a more authentic experience and will help you to feel like you're a part of something special. The videos will even give you some ideas to make your celebration all the more fun for the entire family.
2. Order German Beer
One of the key elements to Oktoberfest is the beer. However, many people tend to celebrate Oktoberfest with beer that they find in their local grocery store. If you can, try to go the extra mile to order German beer. You might be able to find it at retailers that have a wider variety of beverage options. There are many websites that will cater to shipping the beer to you. This might seem expensive, but if you had budgeted to attend an Oktoberfest celebration then you won't be out any money here. You should consider your state's laws regarding shipping alcohol though, so you won't waste money if the items are sent back. Apart from that, you might be able to find domestic Oktoberfest varieties if you are in a pinch for something festive at a lower price.
3. Make German Food
Food is another big part of the Oktoberfest festival. Pretzels, sausage, and other popular German foods would normally be on the menu at most German festivals. Luckily, these items can be purchased and enjoyed in the home so you can still get part of the Oktoberfest experience. If you're feeling ambitious, then you can easily make your own sausage or pretzels at home. Of course, there are other amazing recipes that you can try out too. You might also want to peruse the German dessert section in your cookbooks, as you may find some treats that will definitely make your must-eat list. If anything, enjoying Oktoberfest at home, might broaden your culinary horizons so you can easily find some amazing everyday menu items for your home.
4. Order German Takeout
If you live in an area with German takeout, then it might be fun to try out a new German restaurant or an old favorite. This will allow you to truly enjoy the culture without having to worry that you're messing up a new recipe or making a huge mess in your kitchen. Some restaurants might even have deals pertaining to Oktoberfest, which could save you money or at least allow you to enjoy a more authentic Oktoberfest experience. By ordering from a German restaurant during the pandemic, you will also be helping out local businesses, which is great for the economy. You can also use delivery services to reduce the spread of the virus so you can feel more secure with your purchase.
5. Dress Up
Showing off your German attire can be a whole lot of fun. Even though you might not be showing it off with a group of people and you won't be a part of a competition, it can still be a lot of fun to dress up. If you shop quickly, you might be able to find some German costumes on clearance before Halloween sales begin again. However, you can also make your own authentic costume if you know how to sew. There are patterns online you can find to start your project. There are many ways you can still have fun with your costume without spending a lot of money on it too. For instance, you can purchase a shirt that features authentic clothing. You can also make your own tee to help add some fun to the occasion.
6. Learn Some German Words
Since you'll have a bit more time at home for Oktoberfest, you might dedicate the time to learning some actual German words. Oktoberfest actually takes place for a longer period of time, so if you dedicate this time frame to learning then you can easily become a beginner when it comes to the language. There are many online websites and apps that can help you begin your journey. There are even some apps that make learning language a game that only takes a couple of minutes a day. If you prefer to go the old school route, you should be able to find German language books at your local library. You might also be able to buy used books online for very cheap. So, spend this Oktoberfest giving the culture a close look as you take on learning the language.
7. Play Music
German music doesn't seem to get a lot of airplay, so you might want to stop and check it out during the Oktoberfest fun. Although eating and drinking is the major event when it comes to the celebration, music, and dancing is equally as important. You might start your journey with classic German music that you might hear during an Oktoberfest festival. However, once you feel you're ready to branch out then discover something new. You might find that there are lots of wonderful singers and amazing bands in some of your favorite genres.
8. Brew Beer
Rumor has it, there is going to be some beer and soda shortages soon due to the coronavirus. Even if this isn't true, it never hurts to brew your own beer. This experience can actually teach you a lot about the process that makes your favorite beers, which will make you appreciate them all the more. On top of that, you'll find that brewing beer allows you to customize the flavor so you can reinvent something that you didn't enjoy the first time you tried it. Best of all, brewing beer can save you money in the long run, which tends to be a plus for most people. When it comes to brewing beer, you can start out with a cheap kit that will probably only run you $30. If you enjoy the process, then you can always upgrade later on. Beer kits are fairly cheap too when you price the amount, they make in comparison to how many bottles you would get at the store for the same amount. It will also give you the opportunity to try out authentic Oktoberfest brew.
9. Decorate a mug
When you attend an Oktoberfest celebration, most of the time are you gifted a mug as a souvenir. Since you won't be able to get your souvenir this year, you might try making your own. You can have a lot of fun with it and even mention something about the pandemic or hosting your own celebration. There are actually beer mug kits available so you won't have to go the extra mile to secure crafting supplies if you don't want to. However, you can go this route too, as there are lots of tutorials online, so you can easily find something that suits your skill levels and creative intuition.
10. Go Virtual
If you do plan on celebrating Oktoberfest, then you don't have to do it by yourself. Instead, start up a virtual chat so you can all enjoy the celebration together. It is very easy to get together a large group of people to enjoy the holiday together on programs like Zoom. You can even change your background to show off something that is similar to what would appear at an Oktoberfest celebration. This can help add a social element to the festivities, so you will feel less alone.
You don't have to give up on Oktoberfest because of 2020. Instead, step outside of the box and enjoy creating your own Oktoberfest. This experience will definitely make you appreciate the Oktoberfest of yesteryear, but it might also help you find new and exciting ways to truly get on board with the holiday, so you can get more out of it in the future.