With all of the birds chirping and the sun shining, you may already have summer on your mind. Your skin, however, may not be anywhere near ready to handle all of the sun damage that it might take on during the hottest season of the year. There are a few things you should do to help get your skin prepared for the upcoming summer months. If you follow a few simple steps you can actually get your skin looking radiant before the season arrives, while still saving quite a bit of money. This should help you feel even more confident about the upcoming season and the way you look.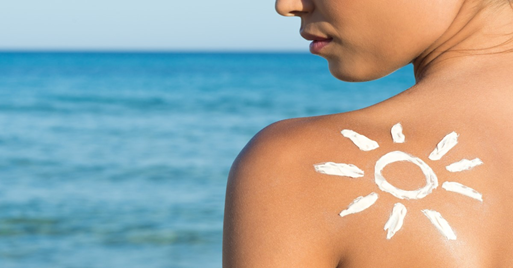 1. Start Hydrating
Winter is harsh. Our skin gets dried out, we spend too much time indoors, and it can overall leave us feeling yucky when it is time to expose a little skin to the sun. One of the best things you can do to help your skin look and feel amazing is to start hydrating. The first step you should take is to drink the recommended amount of water every single day. Your skin will start to improve simply by doing this. Once you get hydrated in this manner, you can add supplements to help you maintain that hydration. You should also consider eating water-based foods like fruits to help give you that hydrated glow that you're longing for. Other than that, you can start using lotions to get you on track. If lotions aren't doing the trick talk to a dermatologist for professional options or try out a hydrating oil.
2. Exfoliate
Another way to give your body what it needs to prepare for some sun is to exfoliate. Our bodies have skin build up like crazy and if we don't remove the excess skin, it just sits there and makes us look dull and worn. Exfoliating is pretty simple though and you can do it in so many different ways that won't cost you a fortune. To begin with, you can use an exfoliator when you scrub your body every time you wash. You can also use a more abrasive soap every once in a while. However, you shouldn't do this more than once a week as it may damage the skin. If you are still feeling like your skin needs a little help, then you might consider doing a peel. You can have this done professionally, which can cost quite a bit, or you can purchase one of the many amazing options available in stores. Some people even make their own peels at home using ingredients and tutorials found online.
3. Switch Moisturizers
One problem that you may be facing when it comes to your skin is your moisturizer. This can be a big problem when it comes to caring for your skin during the summer months. The thick moisturizers you might be using to heal your skin during the winter might not do you any favors in the spring and summer. You might even find that they cause your skin to become too oily, which can cause breakouts. One of the best options here is to swap to something lighter. Your dermatologist may be able to recommend something, or you might consider finding an option on your own. Of course, switching to oil instead of a lotion might also do you a lot of favors.
4. Eat Foods that Hydrate
A lot of people think hydration is all about water. However, when you start to work on your hydration, you should also consider eating foods that can help improve your hydration. For starts, you might consider snacking on fruits, especially melons as they offer so much water. Adding fruit like lemons, cucumbers, and strawberries should also be on your radar as it will help to make water more enjoyable while also boosting your hydration. You should also avoid foods that are too salty as this is going to dry out your skin. Concentrating on a diet can truly change the way you look and feel, which will make the upcoming summer months even more thrilling for you.
5. Utilize Cold Rinses
A lot of people tend to live for the hot water when they shower or bathe. However, this can be one of the main reasons why your skin isn't exactly on the best terms with you. One of the best ways to give back to your skin is to enjoy a nice cold rinse. If you're exfoliating your skin, then use cold water as your rinse away the skin as this will help to close the pores and soothe the skin so you can get more out of your exfoliation time. You should also use cold water when you shave as this will help to close the pore and leave your skin feeling amazing. Even when you give yourself a facial you will easily see more results when you enjoy a cold rinse after to close the pores and make your skin shine.
6. Get a Pedicure
Let's face it, your feet have probably been covered with thick socks and buried in your boots for the last several weeks. This can not only cause your skin to be dry and uncomfortable, but it also might cause fungus to grow on your nails. One of the best things you can do to help your feet look amazing is to get a pedicure. You might find a good pedicure set in stores or look around online for helpful tips. However, if you don't want to go to a lot of effort, then you can probably find a great deal at a salon to help you get the most out of your skin preparations. Once you have your toes covered, you will feel better about wearing sandals and showing off the rest of your skin, too.
7. Create a Facial Routine
Your face can really get hit the hardest when it comes to sun damage. So, one of the best things you can do to help bring some extra protection to your skin is to create a facial routine. A facial routine doesn't have to be a huge chore either. In fact, you can start by choosing the best soap for your face. If you need extra creams, then work from there. Once you have the right products, then you can easily start getting in the habit of working with your routine daily. You might also consider adding monthly masks to the mix. Of course, facial massages are also a must for your muscles too.
8. Choose SPF Makeup Lines
Putting on sunscreen is rarely on anyone's mind when they get dressed in the morning. However, sunscreen has been proven to be an important part of your day. If you tend to put on makeup frequently, then you can skip out on putting sunscreen on your face if you shop for lines that utilize SPF in their recipes. Many of your favorite makeup brands are working on adding sunscreen to most of their items now, but if you want to find the best SPF options now, then you can shop around brands by looking for reviews online. This will help you take one step out of your daily routine while ensuring you have protection all year long.
9. Find the Best Sunscreen for You
Shopping for sunscreen is a bit more than picking up the cheapest option on the grocery store shelf. Rather, you need to work on finding a good match for your needs. This may take some trial and error though, so don't be disappointed if you don't find the perfect match for you over the summer. You need to shop around to discover what feels best on your skin though. You will need protection based on your skin tone and sensitivity. Plus, some people may not be able to handle the scent of sunscreen, so make sure you take care of all of your needs.
10. Seek Protective Clothing
You can really do yourself a favor by choosing clothing that is designed to protect you. More and more brands are adding UV protection to their designs, which makes the clothing even safer for you to wear out. Currently, you will mostly find these items in the sporting section, but you can transform your wardrobe to make this work, especially in the summer. Many bathing suit options will offer UV protection too. So, when you're shopping, make sure you pay attention to the fine print and get the clothing that is going to go even further for you.
Taking care of your skin is a major part of your life, so it is important to know what works best for you. The summer months can be very trying on the skin, so making sure you keep up with these tips can ensure you feel nothing but amazing as the summer sunsets in and you expose your skin to the great outdoors.