You've probably noticed a whole lot of advertising on TV catered towards updating your furniture. Furniture stores know what they're doing. A lot of people are going through a spring cleaning phase and want to ditch the old and say hello to the new. While others are sitting on money from their stimulus check or income tax returns. However, it is important that you don't go crazy when it comes to spending money on new furniture. There are many ways to help you save money on the items you want, so you can easily get what you need while still having some money. These ten tips should help prevent you from overdoing it and maintaining a sense of calm even when presented with a deal that is too good to be true.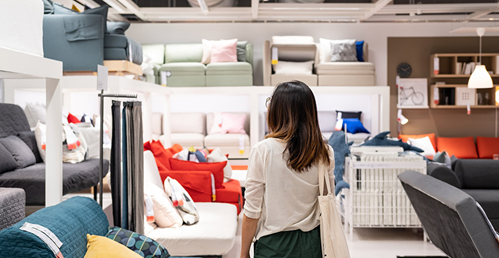 1. Always Shop Around
One of the most important things you can do before you make a big purchase like furniture is to shop around. If you aren't sure what you're looking for then visit websites and get a feel for the style you like. Then, take note of the price tag on each item. You can even put the name of an item into the search bar and oftentimes you'll get a result with similar items. If you like to shop locally, then bring a picture of the item you've been looking at. Some stores can order it for you if the price is right. Shopping around will also help you to know when you're actually getting a deal and when a store is just saying they're having a deal. Of course, if you can hold out, you may want to wait until Memorial Day so you can save during one of the biggest furniture sales of the year.
2. Read Reviews
In this day and age, we've been granted something incredibly important. That is the power of reviews. When you find something you like, look at reviews. However, make sure you look at reviews from other websites too. Simply type in what you're looking for and check out what people have to say on numerous websites so you can be certain you're not getting fake reviews. You should also read reviews on the retailer as well. This can be important as you'll need to know how a retailer is going to treat you as a customer, especially if something goes wrong with one of your items. Once you've read reviews, then you can easily plan your purchase based on the product itself, the retailer, and the item's price.
3. Evaluate Your Needs
Before you decide to go furniture shopping, you should evaluate your needs. To begin with, you should consider whether or not you actually need the new item and if you have the budget to pay for the splurge. Then, you should come up with a budget for your purchase, as you don't want to spend too much on an item if you can't cover the cost without it harming your finances. Another thing to consider is whether or not you need an item that is more for your circumstances now or if you're willing to make an investment for something that is going to be in your family for years to come. Space is another thing you should evaluate, especially if you're renting and may not have a big space for larger items in the long run.
4. Shop Second Hand
If you're shopping on a tighter budget or you want a vintage item, then you may want to consider shopping second-hand. There are so many different ways you can do this. If you like to go deal hunting, then you might consider shopping around at garage sales and yard sales. However, thrift stores and antique shops may be the best place to find some really incredible pieces. Some furniture stores might also have options for secondhand furniture, in most cases, these items are cleaned before they are sold, which adds even more convenience to shopping this way. No matter where you choose to shop, you should always be careful when shopping second-hand because of infestations that could cause you thousands to get rid of.
5. Late Shopping
Often, it is best to hold off on shopping until the end of the month or quarter. A lot of salesmen will try to meet their quota during this time, so you're more likely to find some deals that you wouldn't otherwise get. If you want to be strategic, then head to a store in the middle of the month and scope out items you like. Then, leave the store and do not accept any deals offered. When you return at the end of the month or quarter, the salesperson may offer you a better deal or allow you to talk him down so they can meet their quota or earn more of a bonus. You should still shop around and write down prices, just in case items are marked up when you return to check them out.
6. Negotiate
If you like the thrill of negotiating, then don't pass up on doing so when you go shopping for furniture. Obviously, department stores are going to humor you with this, but if you want to add to the fun of the shopping experience then you might try going to furniture stores that are family-owned. These stores will typically negotiate with you so you can enjoy a lower price. Even some larger name furniture stores will do this, so make sure to try to negotiate before you just accept this price. This can add an old-fashioned touch to the shopping experience while saving you money. There are lots of negotiation tips online too, which will definitely help you brush up on your skills.
7. Consider Fees
One of the main issues that you might face when shopping for new furniture is the fees surrounding it. Even if it looks like the furniture is in your price range, paying taxes on a higher-priced item might send your budget over by the hundreds. You might also end up paying way more than expected when it comes to service fees, ordering fees, and delivery fees. If you can, try to get the delivery fee waived or move the item yourself. You might also consider shopping during tax-free weekends or sales that will help cut back on fees.
8. Research Payment Plans
Many stores will try to lure you into a payment plan when you go shopping. Often, this is a technique to get you to spend well over your budget on furniture or to inspire you to purchase more than what you're looking for. This can be a major problem for those on a tight budget. The no interest fees are usually what draw people in, but typically if you look at a payment plan, you'll find that you end up paying more on your item than you would have if you paid for it upfront. The best thing you can do when you're considering a finance plan is to research it. Ask if you can see a contract, look online to see what others say, and talk to friends and family that may have experienced a plan. Most importantly, you should crunch the numbers to see where your budget stands with the payment plan and if you can actually pay off the items in a timely manner.
9. Shop Factory Outlet
If there is a factory outlet store near you then this might be your best option. Usually, factory outlets completely cut out any middleman prices, so you'll only have to spend money on the cost of the furniture. Sometimes, you can even find huge discounts on items that are only slightly damaged, as well. This can save hundreds, so locating stores near you might be one of the best resources during your shopping experience. There are some factory outlet options online, but you won't save as much as you might when shopping in person. You can quickly do a search for factory outlets for your favorite brands online, so don't hesitate to start your shopping journey there.
10. Consider Ready-To-Assemble Furniture
A lot of people try to avoid this type of furniture, but if you're a college student, renter, or you're just looking for an item to last you a few years, then this is going to be the best route to go. This type of furniture can be found in most department stores now, so you won't have to look far while seeking out your next purchase. There are also stores that specialize in such things, such as IKEA, which will allow you to buy trendy items that you'll actually want in the home. There are numerous brands other than IKEA now, so make sure you shop around to find the coolest items to suit your taste and your budget.
Shopping for furniture doesn't have to be a headache. Nor does it mean you have to spend a small fortune. These ten tips will help you find just what you're looking for, so you can get your furniture while feeling empowered in your decision.