Autumn is just a week away, but the signs of fall are already springing up all over the place. One of the first hints that you might be noticing is the leaves changing colors and falling. Although it's a beautiful sight, the cleanup efforts for this lovely change can be a pain in the neck. There are many ways for you to deal with all of the leaves that will soon be covering your yard though. These ten tips will help you save some money while helping you to get your yard nice and clean for the upcoming icy months. So, enjoy the beauty instead of stressing over how you're going to get rid of it.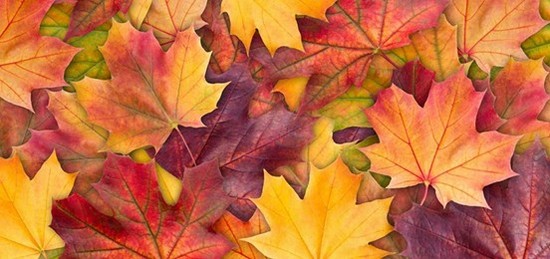 1. Decorative Bags
After raking up all of the leaves in your yard, you might wonder what you might do with them afterward. One simple idea is to stuff them in a decorative bag. Many stores will actually sell Halloween bags, which generally feature pumpkin faces. However, if you're feeling creative, you can always use a plain black bag and decorate it to suit your needs. You'll want to use a sturdy bag for this project though, so that you will be able to keep the décor up until Halloween is over. You can even choose bags that can be turned into turkeys or other Thanksgiving-related themes. Another option is to toss the leaves in a burlap bag, so you can make a scarecrow for the season. Your leaves should sit throughout autumn if you bag them well. This will make the leaves easier to recycle or compost later on too, which will make your life even easier.
2. Mulch Them
Even though the leaves might seem like a nuisance while you're cleaning them up; they're actually very beneficial for your yard. Leaves make an incredible mulch that will help your lawn and garden grow immensely. So, this year, instead of spending hours raking, just get out the mower and get to work. The blades from your mower will cut up the leaves, which will allow you to use it as mulch. You can leave the leaf cuttings where they are to help improve your grass. However, if you want to use them for the garden then you might consider adding a bag to your lawnmower to collect the shredded leaves. You can also just rake them up and move them where they need to be. The mulch from the leaves will definitely save you some major money though, as you might not have to mulch again for some time.
3. Composting
If you're into composting, then the leaves in your yard will give you some amazing materials to add to your compost. All you have to do is rake them up or shred them and gather them! From there, simply add them to your compost and wait for planting season to arrive. They will have all winter to decompose, so you'll have lots of fertilizer to use when planting season does arrive. This will allow you to have some awesome fertilizer too, which will make it one of the best planting seasons yet. If you don't have a compost and you're interested in getting one started, then you're certain to find it easier than you think to make one up for next to nothing.
4. Gutter Guards
There's no doubt about it, leaves and gutters aren't exactly a match made in heaven. This is especially true if you're not a fan of clearing out the gutters multiple times a year. If you live near a lot of trees, then you may even find yourself clearing the gutters more than once a month during the beginning days of autumn. Luckily, there is a solution to the problem. That is, gutter guards. This innovative contraption actually blocks your gutters from debris, like all of those falling leaves, while still allowing rain and snow to pass with ease. You can purchase gutter guards at an affordable price, but you also might be able to invent your own if you're feeling like a challenge.
5. Ditch the Plastics
When it comes to saving time and money, you might find that plastic bags aren't going to be your best option, especially if you just plan on discarding them. Plastic bags are surprisingly hard to work with. Simply putting leaves into the bags can take some time, which might leave you wondering if there is a better solution. Plus, the plastic bags aren't great for the environment, so you're just throwing away money while adding to your carbon footprint. If you really want to make things easier then consider using a tarp. Simply lay the tarp out on the ground and take the leaves into it. From there close the tarp and dump it into your compost or green waste bin. You can fold the tarp up and use it again next year or use it for other things around the house.
6. Craft With Them
You don't have to dispose of all of your leaves, which might add a touch of fun to all of the leaf madness going on. There are a ton of cool craft ideas that you can try out too, which can help keep the whole family busy when the weather doesn't warrant an outdoor play. One fun idea to try is a leaf bowl. You can actually shape your favorite leaves into a bowl by mod podging them onto a bowl you already have. Once they've dried, you'll have a lovely interior bowl that looks amazing. You might also frame some of your favorite leaves, which will make great autumn decorations. You might even include where the leaf was found and who discovered it. There are so many other crafts to choose from though, so make sure to browse around online so you can find a cool idea that will suit your family's interest or your decorative needs.
7. Use For Fireplace
Your leaf collection can actually be a huge asset in the winter months. If you have a fireplace, then you're going to be able to spend a lot less money on fire starters. Simply bag your leaves and then let them dry out. You can place the dried leaves in the fireplace to help make your fire more efficient on exceptionally cold days. This method will help you get rid of your leaves without worrying about composting. Plus, burning the leaves in this manner is eco-friendlier than just burning them all at once. Of course, if you're worried about smoke in the house due to the leaves then you might want to use them for your fire pit or even take them along to a campsite.
8. Make It a Race
Although doing the work to clear the leaves from your yard might not sound exciting, you can make it a fun family affair. For instance, you might gather up the family and have them work as a team to clear the leaves. You can even make it into a race to see who can clean up the most leaves at the fastest speed. Of course, you might find yourself dealing with a few leaf fights and some leaf pile jumping, but it will definitely help to make the chore memorable. Plus, it will help children learn how to take care of the yard, without making them feel like they're being punished or given an extra chore.
9. Insulation
If you have plants that tend to bloom in the winter, or annuals that you don't want to die out over the freeze, then you might consider using your raked leaves to keep them warm. Simply add some to your flower bed before a big freeze arrives and you'll be blown away by how much this can actually help. You can even do this for younger trees that you feel might not make it through its first winter. The leaves will help keep the ground from freezing, which can ensure your plant is able to sustain the cold. If you keep your leaves in a storage container then you can replace them in the bed as needed. However, you should make sure to remove them when the weather does perk up as they can stop your plant from getting the sunshine and water that it needs. If you have chicken coops then you can also use the leaves for insulation and bedding too, which can help save you some money over the winter months.
10. Recycle Them
If you don't plan on composting or using the leaves you collect in your yard, the next best thing you can do is recycle them. Most cities offer a yard waste bin, which will allow you to easily discard these items. Generally, the city takes green waste to a special facility that turns it into mulch that is used throughout the city. So, by recycling your leaves, you're doing your part to make your city look and feel amazing. This can definitely help with conservation goals your city might be trying to reach too, which means you'll soon enjoy fresher air because of it.
When it comes to getting rid of the leaves, you don't have to throw money at the problem. Purchasing fancy devices to clean them up faster or even hiring someone won't cross your mind after you try out some of these tips. You definitely won't feel as burdened by the process, which can make autumn even more inviting.