Earth Day is the perfect time to take part in Earth Day celebrations. You should find the holiday celebrated for the entire month though, which will give you even more of a chance to take on some of the tasks you've been hoping to do to celebrate our planet. Of course, with Covid still looming in our minds, you might still want to be careful when you choose activities. These ten ideas will help take Earth Day to a whole new level while ensuring you are still safe in your surroundings.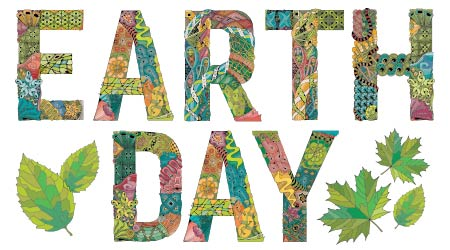 1. Earth Day Live
Earth Day Live is probably one of the safest things you can do during this celebration. In short, you will get to enjoy a wide assortment of productions that are broadcasted live. There will be some challenges, some lectures, and even a bit of music to help you embrace the holiday and learn more about the planet you live on and how you can preserve it. Earth Day live is simple to find online, so you can stream it wherever you are. It may even inspire you to join a charity or volunteer group to help bring the planet to a healthier state while ensuring we develop a more sustainable lifestyle.
2. Pick Up Garbage
If you're not sure where you can begin when it comes to helping out the planet then picking up garbage is one of the best routes you can take. There tends to be garbage just about everywhere, which isn't doing anyone any favors. So, getting out there and doing your part to clean it up won't just help the planet, but it can save animals as well. Of course, you really do need to take extra precautions when you're working with trash right now. You can find guidelines about this online to ensure you're taking all of the precautions necessary, especially since there are now face masks filling up many vacant lots and parks.
3. Plant Seeds
Doing right by the earth can be very easy if you're on a budget. One of the best things you can do is plant some seeds. You can easily get seeds for next to nothing in most stores. However, you can also get them free in many areas. For instance, some Cheerios will offer packets of flowers that are common pollinators for bees. You can plant seeds anywhere that you have available too. If you have a garden, you might start there. However, you can also start with planters if you live in a large city, as this will still help the planet while bringing a burst of beauty to your home. If you gain permission, you can also plant in parks or other public areas. If you intend on planting seeds, then you might start by concentrating on plants that bees love. This is especially true when it comes to areas that might have had a big freeze this year.
4. Lights Out
In order to celebrate Earth Day, you might take the day to turn lights out. When the sun rises, open your blinds, and let the natural light flow in for the day. You might even open up the windows and let the house air out. Apart from that, you might keep all things electric off for the day. Instead, read books inside, enjoy cooking on the stove or grill instead of microwaving, and so on. Of course, if weather permits, then you might also spend the day outside enjoying the planet and everything that it has to offer. This will definitely help you to create an enjoyable experience that you might want to implement every year for Earth Day, if not more often.
5. Earth Day Challenge
The Earth Day challenge is also a really big trend for this holiday. There is one major challenge you can quickly find online, but many different organizations will also offer their own challenges. So, you can easily find one that suits your needs. These challenges will include things like planting seeds, picking up trash, learning about sustainability, and so much more. You can even come up with your own unique challenge if you're feeling like creating something a bit more personal or a challenge that is based around the age group of your family.
6. Make a Green Plan
Another great way to improve on your Earth Day while still maintaining your own safety is to make a green plan for your family. In this plan, you might consider setting out rules for air conditioning use during the upcoming summer months. You might also make a lights out plan for some of the afternoon hours during this period of time too. This can help cut back on your carbon footprint immensely. Apart from that, a recycling plan is also a great option for keeping your family living a greener lifestyle. Other than that, you might consider creating a garden to grow some of your own food. You can also volunteer to help keep the planet cleaner or spend a couple of hours during the weekend cleaning up your neighborhood or a nearby park.
7. Community Events
If you're vaccinated or feel confident being around other people, then there are lots of community events that you might take part in. There are so many events planned nationwide, so if you're interested in participating, you might check out the Earth Day website to see if there are any in your area. If not, then you might consider looking to see if your own community is doing something that might not be registered with the website. If you cant find an event then you might consider coming up with your own. Invite friends and family to clean up a park or donate at an animal shelter. There are so many fun ways to give back so exercise your creativity and find something you love.
8. Free Trees
Believe it or not, but you can actually sign up for free trees, which will definitely make you enjoy the holiday even more. There are many free programs that will help you out with this. One of the main options is the Arbor Day Foundation. This foundation will send you ten free saplings a year when you sign up for the program. Other than that, you will find that there are programs designed to help children plant trees. However, many of these programs work through a school, so you might have to contact your child's teacher if you want to make this dream come true. Of course, a quick internet search will unveil a wide assortment of options that may suit your unique needs. There are also some random stores giving away saplings for the holiday. Lowes is one of the bigger chains offering this, but you do need to sign up in order to get your tree.
9. National Geographic Earth Day Eve Celebration
If you want to start the party faster, then you may consider enjoying the big celebration early. On Earth Day Eve, you'll be able to enjoy live music, listen to talks, and enjoy a wide variety of fun content in the name of planet Earth. This celebration will kick off around 8:30 at night, so it you're hoping your kids can be a part of it then you might have to show them the recaps of the show in the morning. National Geographic is hosting, so you will be able to help them raise money for good causes too. If you're curious about what is going on with the celebration, then you might check out the website to plan out your evening.
10. Virtual Fundraisers
One of the easiest ways to embrace Earth Day without leaving the house is to take part in a virtual fundraiser. A fundraiser will allow you to donate to a cause that you believe in. This will actually take Earth Day to a while new level too as you can donate to help improve the coral reefs, save the animals, promote sustainability, improve power sources, and so much more. These fundraisers will be all over the place, but you should maintain mindfulness when looking around as there will be scams going around, too.
Earth Day is a great way to show your love of the planet while having a good time. Although it might still be a little scary to leave the home without worry, these ten tips should help to keep you safe so you can embrace Earth Day and truly put in some work to help make the world a better place.