New Year will be arriving in the blink of an eye, and a lot of people are hoping to make 2022 all about their health. If you have a lot of resolutions regarding your health, then you might be looking into a lot of programs that could cost you a small fortune over the course of a year. There are many things that you can do to keep your health up that will cost you nothing or very little. These simple resolutions can really help you make the most of the year while improving your health with ease.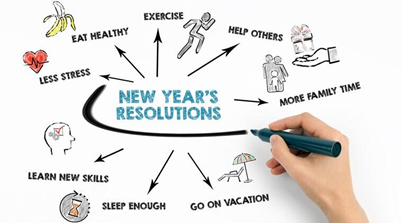 1. Ditch Eating Out
If you're ready to get serious about your health, then one of the best things you can do is ditch eating out. When you order out or even go to a restaurant, you aren't fully in control of the food that you're eating. Fast food restaurants are terrible for your health, which is common knowledge, but a lot of people feel that going to a restaurant can be a better alternative. More often than not, this isn't the case. When you do go to a restaurant, you're often served a larger portion than you would normally have. Plus, you're more likely to indulge in appetizers and drinks that are also high in calories. Ditching fast food will make you choose healthier options you can make at home while also cutting back on the amount of money you spend.
2. After Dinner Walks
Walking daily is incredibly important and can help you maintain a healthier weight day in and day out. However, when you choose to walk can also help you out. When you go walking after dinner, you are actually helping the digestion process, which can help your body out immensely. Walking after dinner can also help you get rid of the stress from the day while also allowing you to easily ease into relaxation mode so you can fall asleep with ease. Apart from that, it does help you get out some extra energy which can also help you with a more restful sleep while allowing you to feel like your day was more fulfilling. The best thing is you don't actually have to pay a dime to go for a walk, which can make the exercise all the more enjoyable.
3. Be Early to Rise
You might be surprised as to how much waking up early in the morning can help you and your health. Of course, this also means that you need to be in bed early so you can get the proper amount of sleep. Waking up early can help you in so many ways. One of the best things about waking up early is it allows you to get more done before you have to tackle your responsibilities. This can ensure you are able to start the day off on a positive note, which will definitely allow you to get where you need to be. Waking up early and going to bed early can also help you manage your weight. It can even improve mental health. This is only scratching the surface, so if you're on the fence about becoming an early riser, you might want to look up all of the benefits yourself.
4. Stand Up Often
So many people spend their day sitting may it be for work or just sheer habit. One of the best things you can do if you tend to find yourself sitting often is to stand up every twenty minutes. You can easily set an alarm to help you remember to get up, which can help hold you accountable for this goal. If you have a fitness watch, you can even use a setting to encourage you to get up. This can help you to avoid problems like blood clots, while also allowing your body to get up and stretch and burn a little energy. Once you get the hang of this routine, you might actually start incorporating some short exercises to help you burn energy and maybe even lose a little weight.
5. Say Yes to Coffee
Coffee has been given a bad reputation by so many, but if you actually dive into some research about coffee then you'll find it actually does have a lot of great health benefits. As a matter of fact, coffee can help reduce your chance of developing diseases like Alzheimer's. You can have up to three cups of coffee a day to improve your health and maintain your energy. However, when you do have coffee, you do need to be careful of a few things. Adding lots of cream and sugar to your coffee, for instance, can add some negative side effects to your health. Overindulging in these can cause you to put on excess pounds and may even cause other health issues. You might consider healthy sugar alternatives and nut milk, which offer nutrients without the fat or high-calorie intake.
6. Consider Therapy
So many of us have baggage that is weighing us down and preventing us from truly meeting our potential. For some, it may even be impossible to get through the day without dealing with the turmoil. Even if you don't feel like you have problems that need to be worked through, you might consider seeing a therapist. A therapist can help you work through the day-to-day stress, which will allow you to feel more joy in your life. You can even see a therapist if you're not sure where you want to go in life and need to talk through your options. On the other hand, you can also see a therapist if you do have some big plans but you're not quite sure how to make them happen. There are lots of affordable therapy options today. Some will even allow you to see your therapist online, so you never have to set foot in an office if that makes you uncomfortable.
7. Use Vitamins
A lot of people simply aren't getting the nutrients they need from their everyday diet. Even if you eat all of the recommended foods and try to keep your diet extremely healthy, you'll find that you still might miss the mark when it comes to your daily intake of vitamins and minerals. A simple daily vitamin can help you get where you need to be. However, there are so many other supplements you can take to improve your health. May it be improving your eye health or making your nails stronger, you can find supplements to suit your needs. Of course, you should talk to your doctor before you take anything just to make sure it aligns with your health.
8. Socialize
For the last couple of years, we have been pretty much stuck at home due to Covid-19. This can actually cause negative side effects on our health. So, if you plan on improving your health over the upcoming year, then one of the first steps you can take is to socialize more. Even if Covid-19 persists, you can easily keep on video chatting with those that you love. This will increase your health, but you should also make sure to hug the people that live in your home. A few hugs a day can help your health immensely. If you do find that going out is safe, may it be the lack of Covid-19 cases in your area or the vaccine, then you should make plans to get out more to socialize. Try to sign up for social events or pay visits to friends and family.
9. Meditate
If you aren't already taking some time out of your day to meditate, then this might be one of the best health options for you. Without a doubt, meditation is one of the best ways to help reduce stress, center your mind, and improve your health. Meditation is also totally free if you give it a try without paying for aids. There are lots of great apps and videos to help you learn how to meditate with ease, so you don't have to purchase anything if you don't want to add it to your budget. After meditating for a little while, you may find that it has many advantages, which is why it is one of the best resolutions to have for the upcoming year.
10. Skip the Fads
Just like every year, there are going to be some diet and exercise fads going around. As in the past, you will find that these hot new trends are going to be a total waste of money, so the best thing you can do is just cut back on trying them out. The best way to diet and exercise is going to be the way your doctor recommends. Spending money on trying out new supplements or apps, probably won't serve you well. So, figure out what works for your body, find an accountability partner, and work hard to make your goals happen. This will allow you to truly save money and reach your weight loss and fitness goals while keeping up with them, as most diet fads will only work a short while.
This upcoming year is going to be a great year to get your health in order. These tips are only scratching the surface but can help you to make the right resolutions to keep your body thriving without wasting a ton of money on meeting your goals. With hard work and frugality, you should be able to reach your fitness goals as we begin to recover from the pandemic.