There's nothing quite like starting your morning with a delicious cup of coffee. For many, this means getting up and heading to the coffee shop to get their favorite beverage. From the vibe of the cafe to the variety of options, it is easy to see why so many prefer to head to the cafe as opposed to making their own coffee at home. A coffee bar might just change this mentality though. When you set up your own space for coffee then you'll feel more inclined to make it at home and may even get more joy out of the experience while saving a lot of money.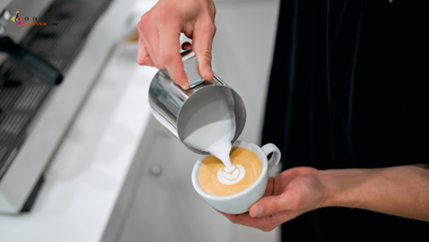 1. Invest in Storage
When it comes to your coffee bar, you'll want to invest in the storage you utilize. There's nothing quite like spending time making the perfect cup of coffee only to be met by a stale taste. If you're using beans or preground coffee to make your beverages, then coffee storage is a must. You'll want a canister that keeps out the air so your coffee will remain fresh for quite some time. You will have to spend a bit more money on storage canisters that keep things airtight. However, these shouldn't cost you more than $50 if you shop around. There are lots of reviews to scroll through as you look for the perfect canister for your coffee, so make sure to check them out before you commit. Storage containers should last you for quite some time, so it is a purchase you won't have to worry about making again for several years.
2. DIY Mugs
Having stylish mugs on hand is definitely a trend right now. However, spending money on these mugs won't help your budget. Name-branded mugs, like Rae Dunn, can actually cost you a small fortune if you're looking for specific texts. Themed mugs with your favorite characters can also set you back. However, you can easily make your own mug to help suit your own personal taste. You can purchase blank mugs at most hobby stores as well as the supplies you need to get creative for an affordable price. From there, you can make any mug you desire. If you enjoy the craft, you might even be able to make mugs and sell them for a profit.
3. Repurpose Furniture
If you have plenty of excess space for your coffee bar, then you might consider bringing in some furniture to place your bar. This doesn't mean you have to go out of your way to purchase new furniture. Instead, consider repurposing an item you already have in the home. This can be easily done and is a fun project to take on. For instance, you may add some chalkboard paint to create a menu, install lighting to highlight any nooks, or simply give it a new paint job. This is easily done with old dressers, display tables, or accent pieces. There are tutorials online to help you out, but this is a project you can wing and have fun with.
4. Repurpose Bowls
Bowls are something that can come in handy for many aspects of a coffee bar. For instance, you might want to put any coffee pods you have in a bowl to make accessing them easier. If you purchase individual creamers then this is also a great option for you. Apart from that, you can keep coffee liners, frothers, or anything else you may want for your coffee bar there. Another purpose for bowls is to store fruits or other snacks that you might want to pair with your coffee. If you don't like the bowls you have on hand, consider redesigning them with paints, covering them in fabrics, and other design methods that might appeal to you.
5. DIY Signs
Signs can really add to the aesthetic of a coffee bar. However, if you've ever looked into purchasing signs then you might find that it isn't always the most budget-friendly expenditure. Luckily, coffee shop signs are pretty easy to make with just a few craft supplies. You can use a small piece of canvas, wood, or even regular paper. If you're not feeling artistically inclined, you can print out images you like to trace and then paint. You can also make things unique by making your own signs which can include sayings, characters, or your favorite coffee brands to make the signs truly pop.
6. Decorate with Your Gadgets
You can't make coffee without a device, right? So you can all of these gadgets to help decorate your coffee bar. For instance, if you use a French Press, a drip, or a kettle to make your coffee then you can choose items that suit your personal style. These gadgets won't cost you a fortune and can definitely add to the vibe of the room. Apart from that, you'll find that you can also find machines like a drip machine or an espresso maker that also suit your style. If they don't, then you can work around them to create a style that will make your coffee bar look luxurious without the high price.
7. Shop Sales
No matter what you're hoping to shop for, you should always find a sale if you plan to save some money. Shopping sales are a great way to help you keep your budget in check while getting the items you desire. Of course, this might take some patience on your end. It might be helpful to know when things typically go on sale. Usually, you'll be able to find small appliances on sale during major holidays, but they're also reduced in price around back-to-school days and in the late fall when new models are released. Baskets and mug holders have often rotated on the sales floor and clearance racks of many vendors. So, make sure to keep your eyes peeled if you're looking for something stylish to make your coffee bar shine.
8. DIY Creamers and Syrups
One of the biggest appeals for most coffee shops is the variety of flavors that they offer their customers. You don't have to spend a small fortune to get the flavors you desire though. You can actually make a lot of creamers and syrups at home, which can transform the way you make your coffee. Creamer is incredibly easy to make and there are lots of tutorials online that will help you enjoy a healthier alternative to the creamers you typically use. Syrups are a little harder to make, but there are plenty of recipes online that can help you practice and make the flavors you need to enjoy coffee more. After you get the hang of it, you won't want to go back to store-bought syrups again.
9. Embrace Plants
If you want to make any space look incredible then you'll definitely want to embrace plants. It doesn't matter what type of plant you use, a burst of flowers or a comforting house plant can help improve the vibe of your space. On top of that, you'll find that the air is fresher when you have a plant nearby. If you want to keep things cheap then choose a plant that is easy to care for. There are many low-maintenance houseplants to check out; however, you can also keep it whimsical with some succulents. Fresh-cut flowers are also a great way to change the vibe of your coffee bar for the better. You might even consider growing plants that you can use in your coffee and tea, such as lavender.
10. Layered Storage
There never seems to be enough space when it comes to your possessions, which is why you want to think of layered storage for your coffee bar. You can use anything from small shelves to tiers typically used to display food. This will make everything look neat and well-presented without forcing you to lose too much space. When it comes to these items, you can use what you already have on hand, purchase from a thrift store, or even build them yourself. This will allow you to truly make the most out of the space you have to work with.
Creating a coffee bar can be a phenomenal experience, especially as you begin to skip the cafe and save money. These ten tips will help you get the coffee bar of your dreams while allowing you to truly enjoy the experience. It might take a while to get it all together, but you'll definitely love how it feels to have a coffee bar at your fingertips when you need a java boost.