April showers may still be a few weeks away, but if you're looking to enjoy the rain this year then now is the perfect time to stock up on all of the essentials. The market is constantly changing around rain gear and some of the items on offer are incredibly pricey. There are many ways around this though, so you won't feel like you're caught in the rain without any protection. These ten items can be easily found in most places and will leave you feeling comfy all day long.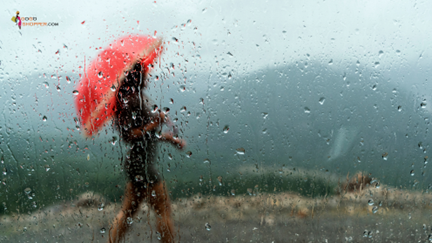 1. Anorak
If you've ever found yourself caught in the rain without a raincoat, then you probably know just how uncomfortable it is to spend your time in wet clothes. Although it isn't always feasible to walk around with a raincoat with you, there is another wonderful solution. An anorak is one of the best options when it comes to rain protection. These jackets are lightweight but water-resistant so you can simply put them on over everything you have on and enjoy a little more water protection. Most anoraks have hoods and can be purchased in a size that will even go over your bag. When you're finished, the jacket can be folded up and placed in a bag, left in the office or the car.
2. Shoe Covers
Shoes are pretty expensive and can easily be ruined in the rain. If you've ever found yourself sporting a new pair of shoes only to be caught in an unpredicted storm, then you might be leery about wearing anything new in the springtime. Not to mention, trekking mud into the home, office or other places of business can be frustrating and embarrassing. There are solutions to these problems though. All you have to do is grab a pair of shoe covers. Simply place the covers on your shoes at the first sight of rain and you're good to go for hours of clean and dry fun. When you enter a dwelling, slip the covers off and you won't damage anyone's property or leave yourself with a huge mess to clean up.
3. Umbrella
An umbrella is one of the most common items you'll need when going out in the rain. However, there are many stores that will try to sell you an umbrella for a lot more than you should be spending. You can find umbrellas at most department stores or dollar stores for around a few dollars. This can help you to save money, especially since most umbrellas have a very short lifespan anyway. You can also invest in an umbrella that folds down, so you can keep it in your bag, office, or vehicle without worrying about the space that it takes up.
4. Backpack Cover
There's nothing quite like getting to school or the office and finding all of your papers are soaked in rain. That is why a backpack cover is a must for the rainy season. These covers fold up into small containers, which makes them convenient to keep in your bag so you can have them whenever you go out. If you want to purchase a backpack cover, you won't have to spend a lot of money. You can also use the cover for other bags as they tend to be slightly adjustable. However, you can also make your own bag cover. All you need is water-resistant fabric and a cord or string to make the bag adjustable. There are tutorials online to help you along the way.
5. Wellies
If it rains often in your area, then you'll definitely want a pair of Wellies to get you through the season. Wellies are great because they will help to keep your feet warm and dry while also giving you plenty of traction to help prevent slipping. You can use Wellies whenever you go out and swap to a different pair of shoes to help you get through the day. Apart from that, Wellies comes in a wide variety of designs now, which will allow you to shop to suit your personal preference. Of course, you might consider waiting for a sale to shop for these items.
6. Umbrella Leash
Getting out in the rain isn't always fun for your pet, so you might consider a few options to help keep your fur warm too. Although there are pet booties and raincoats on the market, one of the most efficient things to add to your pet's list of supplies is an umbrella list. Umbrella leashes are relatively new on the market and may look a little funny. However, they're great for keeping your pet dry while you walk. These leashes offer a smaller umbrella that rests midway down the leash so your pet has appropriate coverage. In most cases, the leash is also adjustable to suit the size of your dog. You'll have to order this item online as most retailers won't carry it, but it's worth the investment. If you're particularly handy, you might also be able to make your own.
7. Waterproof Earbuds
If you don't like to go out without music keeping you company, then you'll definitely want to grab a pair of waterproof earbuds. These earbuds are actually better to have on hand anyway because they're less likely to break even when it's not raining. This can help provide you with protection from accidentally dropping the buds in water. There are lots of different options on the market currently, so you can find the perfect item for you. You should look up reviews before you purchase because not all brands offer what they claim to.
8. Waterproof Makeup
There's nothing quite as frustrating as spending time on your makeup, only to have it melt away when you go out. Luckily, we have waterproof makeup today that can help keep your appearance looking trendy and well put together. Waterproof mascara has been around for decades, but we're starting to see other forms of makeup available too. Some of these are also created with SPF to ensure you're also protected from the sun even when the weather is overcast. You'll find lots of brands offering this makeup, so make sure to shop around to ensure you find exactly what you need.
9. Portable Mini Dryer
Even with plenty of rain gear on hand, you may find that you still end up a little damp if it is raining hard enough. A portable dryer can work wonders for this. Many portable dryers won't cost you any more than $40 and work much like a space heater. You can place them near your clothing in the office and they will quickly dry damn pant legs. There are also portable dryers that allow you to place clothing inside of them, which are perfect for jackets, hats, or even socks. These dryers can definitely come in handy and can be left at the office or in your car so you can have them when needed.
10. Rainhat
Another must-have for your rainy-day excursions is a rain hat. Rainhats used to be a design that wasn't exactly flattering or comfortable. However, the rain hat has changed quite a bit over time so it might suit your needs more than it did in prior years. Rainhats now come in all shapes and sizes, which will allow you to find something that suits your needs. The hats are designed to keep your head dry and may even block out some of the wind. You'll definitely want to shop around to find a style that you can wear again and again.
Rainy days don't have to keep you stuck at home or force you to feel damp all day long. These ten items are definitely a great start to ensure you have everything you need to feel comfortable this spring. Best of all, you'll still have your rainy-day fund to keep you happy.