This year, prom is still a little iffy for many students. With plans not yet confirmed for a lot of students, parents and teachers are left to throw out ideas that may allow students to get something out of the tradition without putting everyone at risk. If you're still struggling with ideas for prom, then you may be able to find something useful with these ten concepts. With any luck, you will be able to take elements from some of these ideas to create a prom experience that won't leave students feeling like they missed out on a pivotal point in their high school career.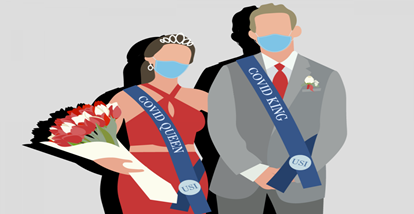 1. Crafty Masks
If your school has okayed a prom then it is pretty much going to be a guarantee that people will have to wear a mask. Although this might seem like it would destroy your wonderful style, you might find that you can really have fun with a crafty mask. Try to order a mask in the same color as your attire and decorate it to suit your style. You can even make a matching mask for your date. If you're looking for humor then paint a smile on your mask, as this will certainly lift some spirits. Schools can encourage mask-wearing then they can make a competition for the craftiest of masks. This can help raise morale while encouraging creativity. It may even make taking photos in a mask seem a bit more rewarding.
2. Mask Party
Since masks are pretty much an everyday thing for us now, you might want to consider making them the highlight of your prom. Creating a mask theme will take back the power of the year which will give students a little something extra to remember when they look back at their prom. Of course, if you're going to do a mask theme then students should think big. Students should plan out masks that really go over the top. As long as the mask covers the nose and mouth to prevent the spread of any illness the student may have, then the student is good. Masks can be planned around attire but will also work wonders when worn with unique costumes that compliment the look.
3. Parking Lot Party
Not all schools are willing to risk a big party right now and not all students are up for the idea either. However, if you still want to engage in a party without worrying about getting sick, you might consider a parking lot party instead. Simply meet up with all of your friends in a parking lot. Make sure you keep your distance, but while parked you can dance the night away without worry. You might still want to wear a mask, and you'll definitely want to get dressed for the occasion. Of course, you should check with your local stores to see if anyone will let you use their parking lot, so you don't get in trouble for loitering.
4. Digital Dance Party
When it comes to being entirely safe, a digital prom is a great way to go. This was pretty trendy last year as many people began to quickly look for alternative ways to enjoy their senior year despite the pandemic. A digital dance party can easily be created by students or hosted by the school, so go with what works best for you. In order to enjoy a digital dance, you will just need a computer with a webcam and speakers. Of course, you will also want to dress up and enjoy looking amazing with your friends. You might also consider ordering a nice meal to get the full effect of the occasion. There are many ideas you can incorporate into your digital prom experience too, so make sure to browse around online to find some cool ideas that will suit your needs.
5. Outdoor Prom
If your school still wants to host prom but is worried about the risk, then an outdoor prom might be the best way to go. This won't take away too much from your prom day as you can easily find a venue that offers the elegance of your typical dance venue. You can also find caterers that are more willing to work with you considering they won't be as at risk. Having an outdoor prom offers a wide assortment of theme options too. Decorating for an outdoor prom won't break the school budget either, which is an added bonus. Plus, the weather is usually nicer around the end of the school year, so having the fresh air to enjoy as you dance might be even more rewarding than you think.
6. Host Separate Proms
One quick way to remedy the population at prom is to have separate proms per class. Usually, juniors and seniors are allowed to attend one prom, but this might cause for a packed area. Instead, let the seniors have a fancier prom, while the juniors can still enjoy a smaller prom, or cancel junior prom entirely. This should help to keep the population down and might even bring more enjoyment to the classes. If you're still worried about it being too crowded, then considering hosting proms at different times. Students can request a specific time so they can hang out with their friends. This might even help to keep the mood of the celebration even more enjoyable.
7. Get Photos Professionally Taken
If prom is canceled this year, but you still want some sort of memento from your junior or senior year then having photos professionally taken might be the best way to go. Many photographers are eager for work right now with the pandemic going on, so you will most likely find someone willing to offer a good price. Plus, you will be helping someone maintain their career as the world is in crisis. One of the best options is to have your photos taken outdoors. This will help to keep everyone safer while still allowing you to look and feel phenomenal. However, you may be able to request classic or themed photos so you will still get the same prom feel. This will allow you to have some memories to enjoy when you look back on high school.
8. Host a Vaccinated Party
Right now, many states are opening up the covid-19 vaccine to anyone that wants it. So, if you're 16 years old or older, you can get your vaccine and ensure you're protected before prom time arrives. Of course, there are going to be many people that aren't interested in the vaccine. So, if you really want to enjoy a safe party then invite over your friends that are vaccinated. You'll be able to go mask-free without worrying about spreading anything around. Plus, it'll feel like an exclusive club. You might even make your prom pandemic themed to add a sense of humor to the big event. You will be safe to go to prom if you're vaccinated, but if prom is canceled this is a great alternative idea.
9. Alternative Options
If prom isn't something your school is willing to risk because of the close nature of dancing, then you might want to request an alternative activity. Some schools have been offering outdoor events for their seniors which allows them to have some fun even though they have to sacrifice such an important event. Many of these alternative days tend to be field days where students participate in games and other activities. Of course, you can always look around for ideas to suggest to the school to make the party more fun for your group. You might also look to other schools for inspiration.
10. Prom at Home
The concept of prom at home was born last year and seems to be carrying on this year. You can still enjoy a small prom with people that are in your safety bubble. This is a small group of people that you are exposed to already and you know are also taking precautions when it comes to their health. For your prom, you can do makeovers, get dressed up, and order food that you normally wouldn't. Once your prom prep is over, put on some music and dance the night away. You can even video chat with other groups to help make prom come to life.
Missing out on prom is hard for many students to handle, but there are alternative options available to you. So, if you find that your school isn't hosting prom or you need to offer alternative ideas, then these tips should help you to brainstorm. With any luck, this will be the last year that we have to worry about missing out on these big milestone events.