Spring is finally here, for most of us. Although the excitement is real, your happiness might tank when you remember you have a yard to upkeep. If you can't do much with your yard during winter, or you simply choose not to, then you probably know that you have a lot of work to do in the near future. Yard work can cost a pretty penny too, especially if you have a lot of expectations and plans for your yard. If you're not a big planner then these ten low maintenance ideas will help you enjoy your yard even more without having to put in the work or money. So, don't stress over getting your yard into shape, because these ideas will create a stunning look that everyone will have to compliment.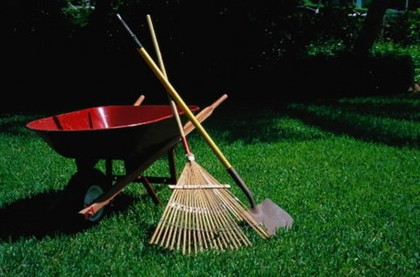 1. Consider Mulch Beds
When grass isn't on the table and you have a yard that seems to look drab, a mulch bed is a great answer to this timeless problem. Mulch breaks down to improve on the soil in your lawn, which will allow you to grow all sorts of plants in it. Best of all, the mulch beds will give your yard a sense of definition, so it doesn't just appear to be chaos. Mulch beds help with water consumption as they soak up water and release it slowly to the plants that are being supported in the bed. Apart from that, you don't have to mow mulch, so you'll save a whole lot of time in the long run. Mulch can be pricey, especially when you're first placing your mulch beds. However, if you buy in bulk from a company or landscaper then this will save you a bundle.
2. Choose Native Plants
A lot of people tend to go out and spend a fortune on plants that they expect to grow. In some cases, the plants simply can't grow in the climate, which forces the person to put in a lot of time, money and energy for nothing. Other times, the plants require so much water and attention that they can't properly be kept up with. One of the best ways to remedy this problem is to stick to plants that grow naturally in your area. You can usually find a list of this information online, but if you're having trouble then talk to someone at your local garden center. These plants are great because they will take very little effort, since they have adapted to survive in your climate. They will also help improve the natural environment, which is great for the ecosystem. Best of all, you won't have to spend lots of time watering them.
3. Go Artificial
Grass can be a beautiful thing to grow on your lawn. However, the price of growing grass can really put a hole in your budget. If your yard is large and you're not sure that the grass will take, then you may bypass grass altogether. If you don't have time or the water budget to deal with grass, then this is also a game charger. However, if you love the look of grass then not all hope is lost. There's a lot of different turfs that can be placed in yard that will not only make the yard look amazing but will also save you lots of time and money. The initial price of laying down your choice of turf might seem like a lot, but this artificial grass never needs to be mowed, water or even weeded. So, you'll cut down on your water and maintenance budget quickly.
4. Fall in Love with Rocks
Adding rocks to the yard is one of the biggest and most cost-efficient trends around. Doing this is a great way to give your yard the landscaping you desire without having to worry about dealing with the extra things that the yard tends to require. For starters, your yard will look great without having to be watered and mowed. You may have to weed occasionally, but this won't happen often. You can still add plants to the home too, but you will have more control over the area and can easily disguise it with rocks if the plant doesn't make it. You can find rocks at a decent price, but you can also add to your collection whenever you go somewhere that might have a few cool rocks.
5. Pave It
Without a doubt, if you want a yard that requires you to do nothing then you may as well go ahead and pave it over. This will give you plenty of space to work out, hang out or simply ignore the great outdoors. Concrete tends to be cost efficient, so you can even hire professionals without harming your budget too much. Best of all, when the yard has been paved over, you won't have to spend another dime on it. This pavement makes it great for above ground pools, skating, basketball and more. You can even spice things up by coloring the pavement to suit your artistic needs. You may be surprised by how cool this looks.
6. Make it Livable
Your yard doesn't have to be all for show. In fact, you can easily move things around to suit your needs, without even considering the landscaping. For instance, if you like to host barbecues, then set out some tables, barbeque pit and other forms of entertainment. Lawn furniture is also a given, especially if you love to get fresh air in the evening. If you're feeling like spending some money then add a pool, may it be above or below ground. Toys, workout equipment, hobby items or even just art can all make your yard look incredible too. So, don't fret the hard work as these tips are sure to make you feel like you've gained an extra room.
7. Use Evergreens
One of the best ways to get more out of your yard is to utilize plants that aren't going to phase out during certain seasons. Evergreens are one of the best options for you. These plants will make your lawn look great all year long. They also won't force you to do any extra cleanup during the autumn and winter months, as they will maintain their beautiful green color. These trees continue to keep your home shaded no matter what time of year it is. On top of all that, they are incredibly easy to care for. You may not even have to do more than an occasional watering, depending on the area that you live. This is sure to cut back on the effort you put into your yard and will save you money since you won't have to add new items to the yard each season.
8. DIY Barbecue/Fire Pit
If you love to spend time outdoors, then a barbecue or fire pit is sure to make your time outside even more amazing. These items cost a bundle when you purchase them at a store, but you can save big simply by building your own. There are lots of ways you can go about this too. For instance, if you're going for a simple design that does its job, you can finish the project in less than a day. There are more intricate designs to choose from too though. Best of all, you can use your choice of brick and other supplies to make the barbecue or fire look charming in your yard. This can help save money too, as you will know what supplies you can choose based on your budget.
9. Water Smart
One of the biggest expenditures many people have with their yard is the water they use to upkeep it. There are many tips and tricks you can use to cut down on the amount of water that you use each day. One such way is to use an irrigation system. This will deliver more water to your plant with less evaporation and water waste. You can also use hydroponics, which help improve the health of your plants, but takes a bit away from the appearance. Of course, knowing more about your plants can help cut back on problems too. Many plants need different amounts of water, so watering accordingly can help you and your plants.
10. Work Slowly
Another major problem people have with their yard is they get incredibly ambitious and try to take on too much at once. This causes many people to buy plants that they don't have time to put in the ground, which causes them to die and therefore wastes the money. Purchasing supplies upfront for projects can leave you losing money too as you don't often know how the project will fit into your yard once you have the other items you desire in. The best thing you can do is start small and move one step at a time. This will not only allow you to follow through on projects but will help you to see how much effort is going into your yard.
This spring, you don't have to let the nice weather inspire you to spend too much money on your lawn. These tips should help you cut back on your spending and hard work, while still creating a yard that is easy on the eyes. So, enjoy working with the land you have, but don't let the excitement of the season force you to spend a small fortune.