Working on a bucket list can get pretty hard when the weather cools down, especially if most of your items involve outdoor activities or travel. There are many things you can do to work on your bucket list when you can't get outside or the time off to travel. Luckily, these bucket list items won't cost you a fortune and might even give you a boost of confidence along the way. So, don't let your bucket list collect dust just because you're trapped indoors as you are sure to have some fun accomplishing the items on this list if they aren't already on your bucket list.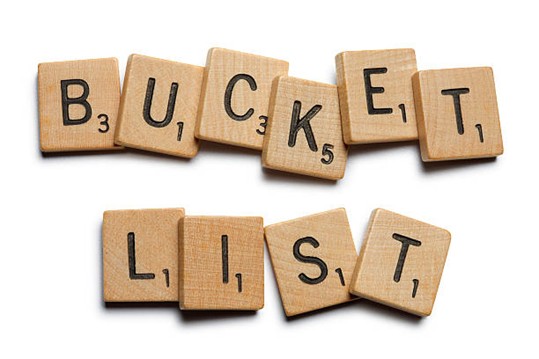 1. Write the Novel
If you've always dreamed of writing a book, then autumn is the perfect time to give it a try. The chilly months are a great time to grab your favorite warm beverage and cuddle up with your laptop to let your story come out. Often, many people claim that the chilly months give them plenty of inspiration to get their heart and soul out on paper. To make things even better, November is actually National Novel Writing Month, or NaNoWriMo, which should give you the inspiration you need to get your book started. You can join in on a lot of groups that will help push you to write as much as you possibly can. There are even publishers who are excited to except work from this period of time. You might only get a section published, but it is still a start to make your bucket list shine.
2. Break a Habit
No one is entirely happy with themselves, so you might want to use this time to break a habit of your choice. It actually only takes 21 days to ditch a bad habit, so if you can work on something for a little less than a month you can make big changes by the time New Year's rolls around. There are lots of things you can work on without even having to set foot outside. For instance, you can quit something that might be harming you, like ditching smoking or eating junk food. If you're willing to put in a little more work, you can build a good habit in just 66 days. So, you might want to try something like picking up yoga, aerobics or any other workout program that you can do indoors. You can learn to cook every night instead of going out. You might also try building a habit of calling friends and family more often.
3. Pick Up a Hobby
A lot of people have hobbies on their bucket list, which makes autumn the perfect time to invest in this aspect of your list. For instance, if you want to learn an instrument then use the time you have indoors to do so. You might start by purchasing or renting an instrument to see if you actually like it. Then, you can check out free lessons online so you'll be on your way to marking this off of your list. Another great option is to learn a new language. There's lots of free ways to do this too and you'll have ample time to practice during rainy days. Apart from that, you might consider picking up knitting or any other hobby that can be beneficial around the home.
4. Break a Record
If you have a lot of time on your hands then you might want to use it to break a record. This can be accomplished in a couple of different ways. You can easily pick a record out of the World Record Book and try to beat it. There's a whole lot of fun records, so you don't even have to pick anything too tough if you don't want to. This will give the whole family a goal to work towards and will land your name in the world record book if you succeed. Another way to accomplish this is to choose a personal record to break. This can be for just about anything. For instance, if you are particularly proud of your running record then try to break it. This is an amazing way to challenge yourself, so you can feel fulfilled in everything you do.
5. Attend Oktoberfest
One big event that happens during the autumn is the traditional Oktoberfest, which is a famous German celebration. Of course, going to an actual Oktoberfest in Germany isn't exactly on the frugal side of things. Luckily, there is a number of Oktoberfests that take place all over the world. You may even find one in your own community. This will give you a great experience to enjoy while showing you some culture. Of course, you might want to look into the Oktoberfest near you before you buy tickets. Some are family friendly while others only allow people in who are of drinking age. If you don't want to visit an Oktoberfest that is close to your home then there are actually a lot of popular Oktoberfests in many countries that you can check out. These are usually family friendly and offer a lot of other forms of entertainment, like rides and shows.
6. Hit the TBR List
Nothing will say autumn quite like curling up with a good book and a cup of coffee or tea. This season, you might want to go through your To Be Read list in order to mark it off of your bucket list. If you don't have a TBR list right now then now is the time to get one. You can find many suggestions for books to read based on your personality online, so check out some reading websites to see if you find anything you like. You might also want to check out books based on books that you liked previously. Without a doubt, you won't have a hard time building up your list, which will give you plenty of things to do when you have plenty of time to hang out indoors.
7. Sleep Beneath the Stars
There is nothing like sleeping out beneath the stars when the air is nice and crisp out. Autumn can be one of the best times to go camping or simply to sleep out under the stars in your own backyard. The weather won't be so cold that you'll freeze, so you should be good just to use your own jackets and blankets to keep warm or even basic sleeping bags. There is actually a lot going on astronomically during the autumn months too. You might get a closer look at some of the planets in our solar system or new constellations. You can even check out where to look using your favorite astronomical websites or apps.
8. Help Someone Out
A lot of people don't just want to do for themselves when it comes to their bucket list. So, if you want to mark something good off of your bucket list then you might want to try volunteering during the cold season. Autumn and winter tend to see a spike in homeless shelters, soup kitchens and other services. So, if you want to make a difference then this is the place to start. You can also donate food and water or simply give someone on the street a nice meal. There are other volunteer programs to check out too. For instance, you might consider Habitat for Humanity, which is still putting in a lot of work to get families in homes for the holidays. There are many things you can do to help others out too, so don't hesitate. You don't even have to branch out from your own inner circle as there is usually someone in need.
9. Experience Foliage Somewhere New
One of the best parts of autumn is seeing all of the foliage change colors. However, if you are witnessing the same foliage year after year then you might want to take a trip to see how the foliage looks in other places. This might be the perfect time for a weekend road trip, or a long day's drive. There are many iconic places that you might want to check out, but it could be just as rewarding to hit the wide-open road and see where it takes you. You will be able to admire the beauty of the world around you. You may even find new places to vacation when you want a quick getaway from home.
10. Save for a Trip
If you don't really have anything on your bucket list that you want to complete in the autumn or winter then you might want to use this time to save up for one of the bucket list items that isn't on the frugal side of the spectrum. For instance, you might want to start up a swear jar. This will help you put money back while working on changing a bad habit. Another idea is to place change from transactions into a jar. You might want to switch to cash to complete this one, which could save you even more money. There are lots of ways to save though, including simply putting back money every week. No matter what you choose to do, it can help you mark off one of your buck list ideas faster than you expected.
Working on your bucket list should be a fun process, so don't let the weather or the money stand in your way. These ten ideas should help you find the perfect way to work on your list without venturing too far from the comfort of your own home during the cold months.