It doesn't matter if you're a teacher or a helper, coming up with classroom party ideas can be tough. Usually, teachers end up having to do a lot of the planning or choosing parents to lend a helping hand. On the other side, some parents are more than happy to cut their child's teacher some slack and take over the job. If you're on either side of the spectrum, you may be looking for some quick ways to make the Halloween party cheap, yet fun. Luckily, there's lots of great ways to do this. So, grab your favorite costume and get ready to party in style for a lot less.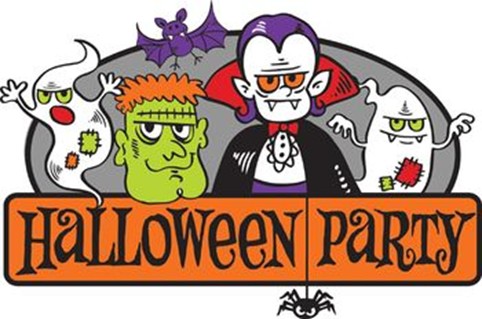 1. Ask Parents For Help
Whether you're a teacher or a parent, you shouldn't have to bear this burden alone. So, don't be afraid to reach out to other parents. You can easily send out a memo to other parents asking to bring in treats. If you're a teacher and you have a list of parent's emails this is probably the most efficient way to go. Parents can bring in spooky treats to help make the party a success. Some can even stop by to help keep the party in order. The more helping hands you are able to rustle up, the easier you're going to have it when it comes to planning and organizing. The excess help will also cut back on spending, for an individual person. Thus, the party will be a lot better without forcing the teacher to sacrifice even more money out of budget.
2. Make Halloween Masks
One way to keep the kids entertained during the party is to allow them to create their own Halloween masks. All you will need for this is large paper bags or paper plates and some form of string or popsicle sticks. You can also pull our craft supplies that the students already have or bring in a few extras to add even more fun to the activity. Students can use their imaginations when it comes to their masks. They can be anything from their favorite monster an astronaut or dinosaur. The best thing about this activity is it ensures every child will have a costume to where to the party. If you want to add an educational element then have the kids right now a story about the character they created.
3. Wrap the Mummy
A quick and easy game to play with kids of many ages is wrap the mummy. All this game takes is a few rolls of toilet paper. You can split your class into a few teams for this experience too, to help the game move along faster. Once you have teams, one child will become the mummy and everyone else will use the toilet rolls to wrap up the mummy. You can limit toilet rolls to add difficulty to the game too. If a student wants more toilet rolls they will have to pass trivia questions to get it. The fastest team to entirely wrap up their mummy wins the round. The game can be repeated until every student has had a turn as the mummy. Then, the team who wrapped the most mummies the fastest is the overall winner.
4. Paint Pumpkins
A lot of people know how to get bulk deals on pumpkins, so you might want to purchase small pumpkins for your class to paint. Of course, you can also request parents send them to help save money. Either way, this is a great artistic activity for your Halloween party. You can even have the kids make hats and other accessories out of paper and cheap fabrics. Of course, if you want to keep things simple then the kids will have lots of fun with some basic washable paints and q-tips for application. You may even have the kids display their creations in your classroom window until it is time to break for Thanksgiving.
5. Decorate the Class
Instead of spending a lot of time decorating the classroom for the kids to enjoy, you might want to have the kids join in on the fun. You can hand out coloring sheets as an easy way for kids to show off their personality. Of course, you can also take things a step further. One easy way to do this is make a giant spider web out of yard. Kids can then paint their own spiders and place them in the web. You can also do body tracings and have the children turn themselves into monsters by coloring them and cutting out the traced image. Then the monsters can be placed around the classroom. You can even make jack o lanterns out of paper plates. Another fun idea is to stuff the top of tissue paper to make little ghosts that can be hung from the ceiling.
6. Organize Trick or Treating
Trick or treating is one of the best parts of Halloween for children. It's a little hard to organize a day of trick or treating for kids, but you can have a little fun with it for half an hour or less. This can be done by contacting other teachers to see if they will participate in your trick or treating adventure. The other teachers can simply give out candy or school supplies. Of course, you can spice this up a bit too. Teachers can pass out coloring sheets, mazes and word searches that can all be used to keep the kids entertained during the rest of the party. This activity can also be transformed into a scavenger hunt. Teachers can give out clues to help your class find the ultimate prize. You can play around with the ideas to suit your needs and to create an amazing experience your class will remember forever
7. Costume Contest
If your school allows children to dress up for the holiday or on a specific day, then hosting a costume contest is always a great way to let the kids have fun. You can organize the contest like a fashion show so everyone can see the costumes in a fun way. You might want to bring some dress up clothes for children who might not be able to afford a costume, so they can participate too. After everyone has shown off their costume, you might want to host a secret vote so everyone can choose who they thought had the best costume. You can even organize it into multiple categories to ensure there are multiple winners.
8. Spooky Music and Dancing
Children, especially those that are quite young, love to dance and have fun. Thus, playing spooky music and having the kids dance might be a great form of entertainment for your classroom's party. One of the best ways to handle the music is to look for kid-friendly playlists online. You might also want to use a streaming network to come up with your own playlist. Once you have the music in order, try to come up with some spooky dances. You can even ask the kids to come up with a dance that is specific for their character. This will bring lots of laughs and will ensure everyone has a lot of fun.
9. Halloween Stories
Story time is one of the best times for younger children. Luckily, there are lots of great books to help you out. You can get a list of Halloween inspired stories online so you can purchase your own or ask your local library to get them for you. Children will love listening to stories about their favorite characters enjoying Halloween, especially if you accompany story time with snack time. If you have an older group then you might want to have them make up their own stories. You can even have them play a story game where everyone carries on with the story where the last person left off. It is a great way to work on creativity and will help children bond while enjoying their Halloween party.
10. Themed Snacks
One of the aspects of Halloween is all of the amazing treats that you can enjoy. You can easily whip up a few treats in the shape of spooky creatures using rice crispy treats or cookies. Of course, you can also get really crafty with foods that are designed to actually look spooky. For instance, you can easily come up with spaghetti to use as worms. You can also use grapes as eyes. These snacks are perfect for a haunted house. If you're shy on ideas to whip up there's tons of ideas online. You can also ask other parents to bring in their own take on Halloween treats.
Your classroom can have a spectacular Halloween party if you set your mind to it. Best of all, you don't have to spend a lot of money to help make your students happy. These ten ideas will help any teacher or parent plan a classroom party that will make the rest of the school jealous.