If you love autumn, then chances are you've already planned on making a trip to an orchard to do some apple picking. As you know, this activity isn't the most frugal item on your list of things to do. However, you can take the price of admissions and use it to your benefit simply by treating your apples right. There are a long list of things you can do to get more out of your apples, so you don't have to feel bad about spending so much just for the apple picking experience. So, hang tight, because these ten tips are sure to make your apple picking experience even more enjoyable, especially since you can reap the benefits for months.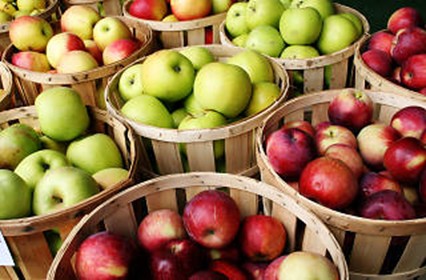 1. Pick Properly
One of the key components to picking apples is to actually pick them properly. Many people will just grab any apple in sight, especially if the apple is large. They also toss them into their apple basket, which is another no-no when it comes to this activity. Luckily, it doesn't take long to read up on ideas to help you pick your apples properly. One of the first clues is to check an apple for ripeness before you pick them. You want to choose apples that won't be going bad in a week, so if an apple is considerably ripe then you may want to leave it, or choose it to eat right away. When placing your apples in your basket do it gently. This will help prevent bruising which will keep your apples from going bad too quickly. Another thing to look out for is bugs, which can completely ruin your apple before you even get it home.
2. Store Properly
Another way to get more out of your apples is to store them in a cool and dry place. The refrigerator isn't the best of places for this as there is usually too much moisture, which will cause your apples to rot faster. If you have a dry basement or cold storage area, then this might the best place for them. You might consider placing them inside cardboard to keep them even drier. Another option is to store them in rows. This will prevent one rotten apple from causing the rest of your batch to go bad. There are many great storage tips you can find online too, so if you're looking for the best way to preserve your apples then look around. You might find an option that is entirely convenient for your home.
3. Pre-make Pies
One of the main problems people run into when going apple picking, is they just don't know what to do with the abundance of apples. Eating them all before they go bad isn't always an option. Luckily, the holidays are rapidly approaching, so you might want to grab a few of your apples to bake into pies. There are many great pie recipes out there, so you can even explore to see which one you like best. You can pre-make your pies in two different ways too. The first way is to just make the pie filling and freeze it for the special occasion. However, if you have some free time on your hands then you might want to make the pie dough too. Then, you can assemble the pie and place it in the freezer. On the big day, all you'll have to do is pop it in the oven. This is perfect for gifts for the holidays too, so don't let your apples go to waste as there's plenty of delicious recipes to try out.
4. Apple Cider
During the cold months, you'll have more than just hot chocolate to turn to in order to warm you up. Apple cider is one of the best drinks to have on hand for the autumn and winter holidays. It is also a great drink for the kids when the temperature drops during outdoor playtime. You can easily transform your abundance of apples in some apple cider that will please everyone that pays you a visit. The best thing is, this drink can be made in a huge batch and then frozen to individual portions so you can have a warm treat before work every day or whenever you're having a moving marathon on a cold night. You'll be thankful for this amazing beverage and how great it makes you feel.
5. Applesauce
If you have kids then transforming some of your apples into applesauce might just be the best way to go. This isn't a long process and can give your kids a healthy snack that they will enjoy. The apples work great as baby food too, so you can get even more out of your cooking session. Applesauce isn't entirely hard to make and you can even use your slow cooker to do the job, if you're shy on time. Best of all, like most other things on the list, applesauce freezes well so you can keep a back stock of it without worrying about it going bad.
6. Apple Chips
Snacking on greasy potato chips can be satisfying, but isn't exactly great for you. This is especially true in the colder months when you're not going to be as active. Instead of snacking on these chips, you might want to try something a little different. All you have to do is thinly slice your apples and bake them. You can add a little sugar, cinnamon or anything else that strikes your fancy. The result of your baking experience will be delicious chips that have the crunch that you love while adding a healthy touch to your diet. You can even pack these in the kids lunches to make their lunches even better. These chips aren't just delicious, but they'll be just as satisfying as their potato counterparts.
7. Jam
Without a doubt, when you have an abundance of food to get through, preserving it is the most traditional way to go. So, you might want to check out some jam recipes to see what you can do with your stock of apples. You can easily mix the apples with other forms of fruits and spices to add to your flavor palette. Jam is fairly easy to make too, but if you've never done it before then you can find easy tutorials online. You might even consider trying your hand at making apple butter once you get your jamming techniques down. Making jam will allow you to keep your apples for much longer. They will also make great additions to breakfast or sandwiches.
8. Apple Cider Vinegar
Over the years, apple cider vinegar has increased in popularity. It is said to have a wide variety of health benefits as well as heavy cleaning qualities. So, you might want to use some of your apples to make your very own apple cider vinegar. Although you might not enjoy the smell a whole lot, this can help you save money and will ensure you have a huge stock of the hottest item on your grocery list. There are lots of recipes online to guide you through the process, so don't be afraid to try a few different things to see which works best for you.
9. Fruit Leather
If your kids are into fruit roll ups, then you might want to try to make them some fruit leather. This is a healthier and homemade snack that most kids will go crazy over. The best thing is, you can easily make fruit leather from apples. This takes a special process to make, but don't worry you won't be spending all day in the kitchen to make this treat a reality for your kids. The best thing you can do is surf around for recipes and find one that looks easy for you. You can also check online videos and follow along through the process. Once you get the hang of it, you'll be making fruit leather in your sleep. You'll also have to pat yourself on the back for making something healthy and delicious that your kids won't be able to refuse.
10. Apple Stamps
Your apples don't have to be all about the food though. Instead, you might want to make some stamps from your apples. This is especially great as the apples begin to age and feel more leathery than fruity. All you have to do to make an apple stamp is cup it in half. Kids can dip each half in different places to create apple prints on paper. Each apple will have a unique design, which is a great way to teach your children about apples. Apple stamps can be used for random fun, but you might also consider using them to make decorations for Halloween or Thanksgiving. The apple prints make the perfect look for a placemat for your guests. If you get fabric paint, you might consider using the stamp on a cloth napkin for a seasonal look that everyone will think costs a bundle. Your creativity is the limit here.
Apples can certainly be one of the best aspects of the autumn months. These ten ideas will help you choose the best apples and how to preserve them. This should give you a little more to show for all of your hard efforts. It might even make you want to go apple picking more, so you can transform your bounty into spectacular holiday gifts that everyone will adore.