Backyards and summertime seem to go hand in hand. However, if you live in an area that is too hot to bear spending the daylight hours in the yard, then you might be wondering how you can cool things down a bit. There are some expensive solutions to this problem, but if you don't mind getting creative, you might find some simple and frugal options too. These cost-effective ideas will help to make your backyard a friendlier place when the summer heat arrives. This should allow you to spend more time entertaining outdoors, while also encouraging pets and children to enjoy the fresh air and wonderful environment that your yard brings.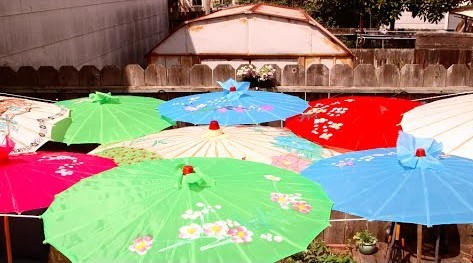 1. Add an Umbrella
Believe it or not but adding an umbrella to your backyard can do a world of good. Umbrellas can be purchased in all shapes and sizes too, which will allow you to customize your coverage based on your yard. Many people will purchase a special umbrella that can be used over their seating areas, like detached swings or patio furniture. However, you can also find yourself umbrellas that actually offer coverage for the yard. Some people even attach umbrellas together to help make a unique canopy over popular areas of the yard. This type of coverage can add a whimsical effect to the space and is also easy to bring up and down to ensure you maximize the space in your yard with ease.
2. Plant Trees
Trees are one of the most important things to plant when you're hoping to keep things cool. A shade tree is more than valuable in any yard. However, if you're starting fresh in your yard, you might find that planting a tree won't help you out any time soon. These things take a lot of time. So, you might want to make an investment and have a landscaper bring in a tree that is already partially grown. This will cost a bit more money than you might want to spend, but the effects the tree will have are more than worth it. The tree will not only keep your yard cool but can also help to cool down the house. Plus, it works wonders for your soil and will provide you with lots of fresh air. A tree can also add value to the home
3. DIY Canopy/Awning
Finding new ways to bring shade to the yard is one of your best options to keep things cool. It isn't always cost effective to add permanent covering to the area though, especially if you have a garden that does need some sunshine. One of your best options is to craft your own canopy. This is actually much easier than you think as you only need a material to use as beams and some fabric. You can even use a tarp if you're dealing with a lot of rain. Another easy solution is to add some awnings to your home. If you place these items over your windows, you can easily keep the house cooler with the awning too. There are many companies that will install awnings, but you can build your own from wood and waterproof fabric with ease. This is bound to add even more personality to the home as well.
4. Covered Porch
A porch can be a great place to hang out and enjoy the fresh air. However, if your porch doesn't have a covering then you might find yourself feeling the heat. Luckily, it isn't hard to add a covering to your porch, which can definitely make your free time even more enjoyable. If you're feeling ambitious, you can even enclose the porch. This makes a great space for animals to hang out and is also perfect for keeping bugs at bay. All you really need to cover your porch is some wood or a tarp. Then, choose a tutorial that suits your needs. This makes a great summertime project too, as you will instantly be able to see the difference in temperature when it is all said and done. You might even feel more inspired to decorate your porch once you have the covering complete and ready to go.
5. Treehouse/Fort
These days, it gets harder and harder to get kids to play outside. Of course, this can be a challenge in itself if the weather is scorching hot. One of the best ways to get kids outside and playing is to build a tree house or fort for them to play in. This can be a pricier project, but if you use wood from older projects and so on, you should be able to cut some of the costs. You can also have the kids pitch in to help out with the project in order to make it more fun. Once the tree house or fort is complete, kids can play inside of the item to stay cooler while outside. The play area will also cast down extra shade, which will keep the entire yard cooler. Without a doubt, this might be one of the best investments around, because it will encourage kids to live healthier lifestyles while keeping everyone a touch cooler.
6. Fan
When you're hanging out in the heat, one of the best things you can do is add a fan to the equation. There are many ways to pull this off too. For starters, if you have a covered porch with easy access to electricity, you might consider having a ceiling fan installed. This will help circulate air while making your lounge space even more inviting. This can come in handy during cook outs as well, since the fan will help keep smoke from settling in the seating area. Another way is to simply connect an extension cord from inside the house and hook up a portable fan when you're outside. You can also get battery operated fans. Some of these fans even mist, which can keep things even more refreshing.
7. Misters
Another great addition to any yard is misters. These amazing items hook up to your spicket outside and can be placed just about anywhere. Some of the more popular places for these items are the fence line or on the edge of the home, near the porch. Misters will let off a small amount of mist that works to help people cool. It can truly add some fun to kids playing outdoors too. Of course, misters will work wonders for the garden. If you go away for a few days, then all you need to do is put your misters on a timer and you'll be good to go. On top of that, you can easily add misters to areas your dog frequents, so you won't have to worry about your pet overheating in the sun while outdoors. These items are incredibly affordable too, which makes them all the more appealing.
8. Add a Rug
You might be surprised just how much of a difference a rug can make when you're trying to keep cool. There are lots of great outdoor rugs to choose from. However, if you have a rug you already like then you can easily waterproof it to make it the next addition to your outdoor space. Rugs tend to keep the room cooler or warmer, because they prevent our feet from touching the extreme temperature. Thus, a rug on your deck or even on the porch can ensure you will feel a bit better about being outside. Plus, it can add the perfect level of color or design to a space, which will add even more to your outdoor living room.
9. Add a Cooler
Sometimes, all you need to keep cool is an ice-cold drink. So, instead of letting all of the cold air out of the house from going back and forth, you might just add a cooler to the backyard to keep things easy. Some coolers can hold ice for ages, so you won't even need to maintain it much. Other coolers are perfect for gatherings and so on, or for occasional days spent in the sun. Of course, you can always invest in getting a mini fridge for the porch, if you do spend a lot of time outside. This will truly help to cool down your temperature, while allowing you to feel right at home.
10. Add a Pond
Life tends to be a bit cooler when there is water nearby. That is why a pond is one of the best things to add to your yard. This doesn't mean that you have to have a huge pond in the yard. Rather, you can easily have a pond smaller than a kiddie pool if you want. No matter what size pond you choose, the wind hitting the water will actually keep the area a bit cooler. Of course, it will also add lots of charm. There are tons of cool tutorial videos online that will help you choose what kind of pond you'd like to build. You can even add fish if you think it is suitable for your yard. The pond is bound to add value and beauty to your space, so you will want to spend even more time outside.
Enjoying your backyard during the summer months doesn't have to leave you covered in sweat. These simple tips will help to improve your yard, while also helping to keep you cooler than ever. Best of all, you won't have to fork over a fortune in order to make these quick and easy renovations a reality.