June is National Rose Month, which can be exciting for anyone that can't get enough of the beautiful flowers. This month is especially popular when it comes to planting roses. However, if you find yourself with an abundance of roses in your yard, you might wonder what you should do with all of the beautiful flowers that are blooming. There are so many great things you can do to get even more out of your roses though. These great options will help prevent your roses from going to waste while adding a little extra joy to your life without forcing you to spend money.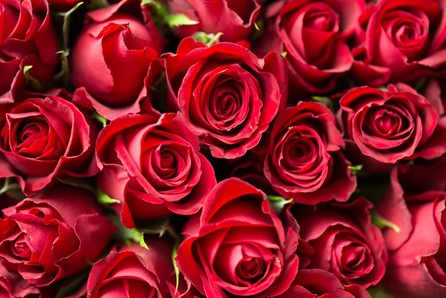 1. Rose Oil
One of the most efficient things that you can do with your roses is to use the petals to make rose oil. This oil is actually very easy to make and can be stored for quite some time. There are a ton of rose oil tutorials online too, so you can try out a variety of methods to see which one works the best for you. Once you have your rose oil made, you can use it for so many things. For starters, rose oil can easily be used to bake and can add a surprising flavor to cakes, cookies, and breads. Another great use of rose oil is in cosmetics. You can also use it for crafts like making your own candles, which will certainly make Rose Month even more valuable.
2. Bouquets
When it comes to keeping things simple, you can easily turn your excess flowers into a wide variety of bouquets. There are lots of tutorials on making bouquets too, which can come in handy if you want to keep things exciting. Bouquets can be made with a small number of flowers or large portions of flowers, depending on what you desire. Best of all, you can easily sell off the bouquets you don't want to keep in order to earn a little extra money. Of course, you can also donate bouquets to high school or college graduates, nursing homes, hospitals and more. This will help you give back to the community while also allowing you to celebrate all of the lovely roses you're growing.
3. Rose Beads
Rose beads are a great fashion option that will help you get rid of some of the petals that have gathered in your flower boxes. This might not be the easiest craft, but once you get the hang of it, you'll find yourself wanting to make these beads all of the time. There are lots of tutorials online to choose from, which should help you make the perfect shape for your beads too. Once you get the hang of it, you'll be making beads with ease. Of course, when you've made your beads, you might want to start making plans for them. They make great bracelets and necklaces, but you can also show them off as earrings. The beads will also offer a subtle scent that should make your day even more fantastic. If you have an abundance of beads, then you can easily sell them or make them into jewelry to sell later on.
4. Rose Candles
If the smell of roses makes you happy, then you might want to combine the scent into a candle. You can do this with rose oil or with rose petals. There are lots of tutorials online to make your own candle, so all you have to do is mix things up by adding the rose to the candle tutorial. If you're working with rose petals, you can create a cool effect that will make the candle more of a showpiece. These candles make great gifts too, so you can find a cheap way to present others with holiday presents or simple thank you gifts. Best of all, you can really add to the candle by adding your wax to a special jar that complements the roses. For instance, a mason jar will add the rustic look you desire while a teacup features a pristine style worthy of your dining room.
5. Rose Tea
If you really love freshly brewed tea, then you're going to enjoy making your own rose tea with the petals you have at home. There are so many delightful recipes for rose tea, so make sure to browse around and see what you can find. Of course, one of the easiest ways is to simply brew some tea and then steep it with rose petals. You might have to toy around with the various teas to choose one that you like though. However, once you get the perfect recipe, you're bound to keep using the tea whenever you can. You can even make a cold rose tea to help keep your summer months a lot cooler. Another option is to make ice cubes infused with rose petals, which will add a more subtle hint to your beverage of choice. You might also find yourself adding rose to other beverages, such as lemonade as your love for the beverage grows.
6. Pressed Roses
One of the most beautiful things you can make for your flowers, especially those that have special meaning, is to press them. This will allow you to enjoy the beauty of the flowers for many years. A lot of people like to press roses in books to create a beautiful image when the book is first opened. This is usually done in memory books, journals or religious books. However, you can always press flowers to be used as décor. For instance, if you get a glass frame, you can press flowers inside of the frame to make a great background. You might also consider placing some rose petals into other glass décor items. This can make the perfect keepsake for just about any occasion too.
7. Rose Sweets
There are a lot of amazing desserts that you can make at home with roses too. One of the most popular is probably rose candies, which are rose petals covered in sugar and other delicious things. These can be tough to make, but there are lots of great tutorials out there if you're willing to put in the elbow grease. Another popular thing to make is rose ice cream or frozen yogurt. This can be a tasty treat that works wonders in the hot summer sun. Cake is another exciting option that is delicate enough for a special occasion, but tasty enough to make any child smile. There are tons of recipes online though, so let your imagination run wild enough to satisfy your appetite.
8. Rose Cosmetics
Roses are one of the best ways to create cosmetics that will truly change the way you feel about your skin. Luckily, rose petals can go in just about everything, which will definitely make crafting even more fun. One of the first things you should consider making is rose lotion and soaps. These can be time-consuming tasks, but once you get the hang of things you should be set to turn out the crafts fairly quickly. Facial scrubs are another must. You can easily make sugar scrubs with rose to help add the perfect scent to your morning routine. Of course, this is only scratching the surface of the things you can make with roses, so look around online to find a ton of other cosmetic options that will add the delightful scent of rose to your day.
9. Graft Them
Of course, you don't have to settle with using your roses to make things that are bound to disappear. You also have another option. In order to increase your garden stock, you can always graft some of your flowers onto others. This can be a great way to toy around with colors or add to your garden stock. Grafting doesn't have to be intimidating either. As a matter of fact, there are a lot of great tutorials that can help you find your way if you're having trouble. You never know, your grafting might help you create new bushes that you can sell to others hoping to start their own rose garden.
10. Potpourri
Nothing makes the home smell quite as wonderful as potpourri. Luckily, it is very easy to create your own potpourri mixture that contains the wonderful scent of roses. There are numerous ways to make potpourri too, so you can experiment to find the best ways to bring out the rose scent in your mixture. Of course, if you don't want to make a complete potpourri, you can add rose petals to a special bag that will allow the scent to escape without getting crushed rose petals everything. This is truly a great way to give your drawers an excellent smell that you will truly love.
National Rose Month is a great time to embrace the roses in your garden. One of the best ways to do this is to help your roses not go to waste. These ten ideas will help you to make delightful items from your roses while also allowing you to make some money off of the items. This will truly make National Rose Month even more rewarding.