Although spring is still a few weeks away, some schools have already scheduled Spring Break. This can be a tricky time for every family because it is a full week in which you need to keep your kids busy in order to completely avoid chaos. This can be very tough if you're on a tight budget that doesn't have a lot of wiggle room for vacations and entertainment. Luckily, there's a few things you can do to cut back on the amount of stress you have during this time. These quick tips will help you find something entertaining for the family to do together, so you can avoid all the mishaps of a vacation as well as the price.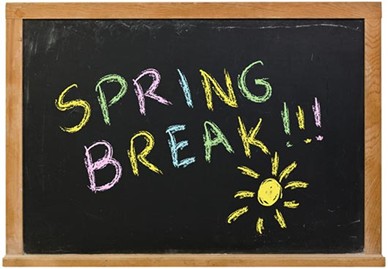 1. Vacation at Home
Vacationing at home or having a staycation can really help the family relax without forcing you to fork over a whole lot of money. One of the more common ways to have a staycation is to rent a hotel and pretend to be a tourist for a day or two. Staying in a hotel will help you avoid heating and cooling costs for the week and will give you access to a pool that will keep the kids busy for free. Of course, if your budget doesn't allow you to do so, you can always just explore your community as if you're on vacation. You never know what little secrets you'll uncover, which might be something you plan on frequenting with your family in the future. You can keep things even cheaper by pitching a tent in your backyard and having a campout without the fees that go along with it. No matter what you do, try to keep the environment as vacation friendly as possible.
2. Visit Grandparents
Another cheap option, in most cases, is to take a visit to grandma and grandpa's house. This will allow the kids to have some bonding time with your parents. Often, this is a great time for parents to unwind and feel a little nostalgic about their childhood. However, it can also be a great time for children to learn about their roots. If your family lives close by then this is a simple day trip that won't cost you a whole lot. Of course, if they are far from your home then you might want to make sure to stay at your parent's home, which will allow you to save on hotel costs as well as food money. Make sure to treat them to a little break too by cooking and cleaning.
3. Take in a Movie
Movies are a great way to help the kids clear their minds after working so hard at school. It is also a quiet activity that will help you get some peace of mind too. Often, theaters will have deals during Spring Break to entice people to stop by. This might be your best chance to catch up on some of the new releases that your kids have been wanting to see. Of course, you don't have to go to the theater if it isn't in the budget. Rather, you can watch movies that you already own. This activity is easy to spice up with snacks like popcorn, candy or healthy alternatives. If you're bored with your movies, then there's always cheap rental kiosks or online rentals you can stream in your own home. You might even be able to rent a few blockbusters that haven't made their way to DVD yet.
4. Enjoy a Park
If the weather permits, then a park is a great way to keep the kids entertained at no extra price. You can let the kids run loose to play on the park's equipment or simply to enjoy the large fields that are perfect for running and their favorite sports. You might also want to consider purchasing or making a kite to fly at the park. The spring wind is one of the best times to let your kite loose. If it's free to go fishing then grab a few poles or make your own. Whatever you decide to do, make sure to stop and smell the roses as spring is the perfect time to enjoy life and engage in a better connection with Mother Nature.
5. Hang out at the YMCA
The YMCA is a great asset when it comes to Spring Break. This amazing facility will probably offer extra classes as well as day camps to help make Spring Break less boring for your children. The YMCA is great about offering sports facilities for children, which will help your children run off their excess energy. Apart from that, there will more than likely be arts and craft activities too. If your child is struggling in school, then you might see if your YMCA is offering tutoring sessions during the break, so your student can get a jump start on the new school year. The swimming pool is always usually open during this time, especially if it is indoor, so you can take advantage of this aspect of the club during the break too.
6. Help Around the House
One of the best ways to make the break efficient is to have your children work on chores. This will help keep them busy and active, so they won't get as bored easily. Of course, you can always try to make the chores fun by creating games that they will enjoy. This will allow you to get your Spring Cleaning done in a hurry, which will make life a lot easier for the whole family. You might want to make sure the chores are age appropriate or it may create even more work for the whole family. Apart from indoor chores and common activities, the kids might have a lot of fun working in the garden. This is the perfect time to get the garden started and will allow you all to enjoy the fruits of your labor faster. Another fun chore is to paint rooms that might need a fresh coat. You can usually get a good deal on paint at this time, so it might be fun to let the kids redecorate for a fresh start they will enjoy throughout the rest of the school year.
7. Sign Up For Spring Activities
The spring time is usually pretty busy when it comes to activities. Spring Break is a great time to sit down and discuss the activities that your family would like to sign up for. You might not limit your discussion to just spring activities though, as it is also a great time to plan ahead for summer and autumn. Once you get a good idea of what your children would like to do in their spare time, you might find out when sign ups are for the sports they are interested in. You may also want to check out the prices for dance, martial arts and musical courses. Once you have everything ready to go, you can work on a time table to help everyone get on a schedule that will suit each activity. Since you won't have homework and other tasks to stress about over this week, you can easily knock this difficult task out of the park in no time.
8. Community Events
Usually, the community comes together to offer events that are exciting for kids to enjoy. You might want to check out your community center's website to see what will be going on during their vacation week. They tend to offer events that are either family friendly or great for certain age groups. Many of these include arts classes, story time and movie screenings. You might also find a festival or fair planned around this time. Generally, these events are cost efficient too, so you won't have to worry about spending a small fortune to keep the kids happy.
9. Mini Trip
Another way to keep the kids happy during the break is to take them on a mini road trip. You can map out a quick trip over a few counties, drive to a nearby town or simply head to the countryside for a picnic. The distance you go depends on your budget, so you don't have to stress about overdoing it. If you want to spice things up, come up with a scavenger hunt to keep the kids' minds active while they are sitting. You can also create fun games to keep them occupied. Make sure to take frequent stops for the kids to stretch their legs too. There are a few great tips to help make road tripping with kids fun and convenient, so make sure to utilize them if you're driving further than an hour or so.
10. Jumpstart Homework
Your kids might not be happy about it, but you should have them work on their homework each day. Many teachers enjoy assigning homework before spring break begins, so students have a large project to get through during the break. This can be frustrating, but also convenient as it gives your child something to do in order to keep their mind active. Even if your child doesn't have homework, you should create some for them. This is especially important when it comes to mathematics as students may forget what they learned over the course of a week. Creating a reading goal can also make spring break fun, especially since the book can be your child's choice, rather than their teacher's. If you can get your child to sit down and work on their homework for at least 30 minutes, they should be able to transition back to school with ease and will have less on their plates after the break.
It's hard to keep kids busy during Spring Break, especially if you aren't planning a vacation. Luckily, these ten ideas will work to help keep them busy on a tight budget. So, you can forget all about the headaches you pictured getting while the kids are home, as they will be so busy you'll almost forget they're home.