Autumn is finally here, which means the weather and the things that grow are going to be making some major changes. If you love your garden, then you might utilize this time to make some changes of your own. Luckily, it doesn't take a lot to transition your garden from one season to the next. However, autumn does open up a lot of opportunities if you're looking to create a beautiful garden in the spring. These ten ideas will make your garden more efficient and easier on the eyes without forcing you to take too much money away from your budget.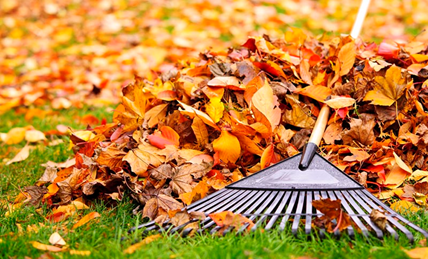 1. Add Hugel Beds
Hugel beds are a fun project that you can do that will not only make your garden stand out but will also add a touch of sustainability to it. If you've never heard of a Hugel bed, then there is no reason to feel intimidated. It is essentially a flower bed, which can easily be made with a few pieces of wood. However, these beds are a bit different because they use layers of soil and debris to help keep your plants alive. You have to do a bit less with these beds because the way the soil rests in the box actually adds to the health of the plant. When working on this project, you will want to collect debris from the yard, including fallen twigs and leaves to help fill the beds. Before long, the rest of your yard will look tidy and your Hugel beds will be prepped for spring enjoyment.
2. Start a Compost
If your garden doesn't already have a compost, then now is the perfect time to make one. With all of the falling debris in your yard, you have many of the best elements to help get your compost off on the right foot. All you need is some sort of storage container, to begin with. This can easily be made out of wood if you have some spare pieces lying around. Once you have a container, fill it up with all of the debris from the yard. You can also add things like coffee grounds, food peels, and so on. If you want to make your compost work for you faster, then add some worms to the mix. The compost will allow you to easily get rid of excess debris throughout autumn and winter too, which will make your life a lot easier.
3. Build a Greenhouse
If you're looking to add a little something extra to your home, then a greenhouse is the way to do this. With the weather cooling down, you might find that autumn is the perfect time to get outside, enjoy the weather while improving the sustainability of your home. A greenhouse will allow you to grow products all year long. This is perfect for households that do rely on homegrown food to be put on the dinner table. A greenhouse doesn't have to be an intimidating project. Rather, it can truly become one of the easiest things for you to do. There are lots of tutorials online, but you can also purchase a greenhouse that is simple to put up in a few easy steps. A greenhouse can pay off too, especially since you can sell off excess produce.
4. Plant Bulbs
Those spring flowers don't just pop up on their own, especially if you're looking to have flowers that grow from bulbs. So, if you'd like to improve your flower game in the spring, then now is the perfect time to get outside and plant some bulbs. Bulbs are actually incredibly easy to grow if you plant at the right time. So, it is crucial to actually stop and take some time to plan out and research the best time for the items. Once you understand your planting window, you can truly get started on having the perfect garden.
5. Plant Fall Vegetables
You don't have to give up on growing produce just because the weather is cooler. Now is a great time to start on crops that grow in cooler weather. You might want to start out by looking up the crops that you can plant in your climate. Usually, a local gardening website will have more than enough information to help you out here. You should be able to find seeds for fairly cheap too. After your garden is planted, watch it grow. You might be surprised how quickly some items will pop up. Of course, having delicious produce you can count on is one of the main perks of this, especially since fall and winter vegetables are perfect for hearty soups and stews.
6. Bird Sanctuary
Although some birds might pick up and leave over the winter months, many will still stay behind. It is important for the birds to have a safe place to go when the weather gets harsh. If you love to watch birds, then you might get a kick out of building a bird sanctuary. This doesn't have to be anything big or elaborate either. You might start with a few birdhouses or some form of coverage that can help the birds get out of the weather and stay warm. Feeders are another great idea as this will help them when they cannot find food in the winter. Of course, bird baths for water sources will help out immensely too. With your bird sanctuary ready to go, you might be surprised by how many birds you see in the spring. You might even have a few nests popping up.
7. Build a Fire Pit
Autumn is a wonderful time for spending some time outside in the garden. However, in the evening hours, you might find it a bit too cold. A fire pit is a great way to keep your family warm as you bond outdoors but will also add a cool aesthetic to your garden. Autumn is one of the best times to create a fire pit too. The weather isn't overwhelmingly hot, which will allow you to feel more comfortable as you work. You are also more likely to find firewood and other supplies to get your fire going. There are lots of plans online to help you build the fire pit of your dreams, so have a little fun with the project. You're bound to enjoy it throughout the year, so you'll be glad you decided to put the effort into it during the autumn months.
8. Bring in Solar Lights
The days are about to get a lot shorter. So, if you're looking to light up your garden without adding to your power bill then you might consider adding a few solar lights to the garden. This will not only make it look pretty, but it will also help with security in your garden. You can find solar lights anywhere, including dollar stores. If you're not interested in putting in a lot of work into a project, then you can always use the lights as is. However, if you're looking to get creative there are a lot of fun things you can do with the lights. For instance, you can easily place stringed lights into a pot to create an overflowing effect that looks amazing.
9. Autumn Flowers
You don't have to give up on flowers during the autumn months. Instead, you might consider adding some perennials to your garden. You can find an assortment of beautiful flowers in most home improvement stores, which is probably going to be your best option as it might be too late for seeds. All the same, you should be able to find some awesome deals on these flowers, especially since they won't last long. Generally, you will find flowers with lots of autumn vibes too. So, try out some yellows, oranges, and reds. You may want to look and see what works best for your climate though.
10. Incorporate Décor
Your garden can easily become a part of your décor for the autumn months or Halloween. Consider adding pumpkins to the garden to provide a seasonal look that you won't be able to resist. You can later turn these pumpkins into jack o lanterns to suit the holiday. Bringing hay and other items into the mix is another great way to add some fun. Apart from that, you can even use the plants to help make your décor even spookier. Try placing vines over tombstones, mixing in zombie's hands into the flower bed, and so on.
Your garden can be one of the best assets to your home in the autumn months. Not only that, but it will provide you with a great form of exercise while enticing you to get some fresh air. So, enjoy your garden this autumn as you help to transition it to create the perfect vibe for your home and the season.