Decorating for Spring can be a lot of fun. However, many people spend a bit too much money when they choose to upgrade their home's appearance for the season. With trends changing every single year, you might find it hard to keep up if you like to keep your home freshly decorated each year. These ten decorating tips will help you fall in love with the way your home looks without forcing you to spend a small fortune. Best of all, it will make your home feel as if it is filled with spring charm, which can help lift your mood.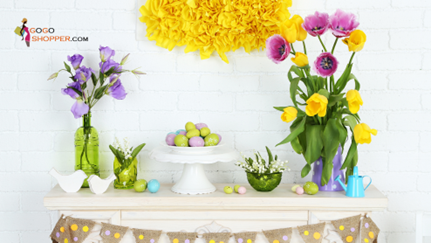 1. Warm Colors
This Spring, pastels aren't going to be the top of the trends. Rather, warm colors are going to be where most of the trends are. One of the easiest ways to add some warm colors to the home is to add a coat of paint to your walls, or even just your front door. You don't have to go all out and paint everything though. Instead, just add an accent wall. This will help prevent you from spending a small fortune while also making it easy to swap up the color when you feel bored of it. If you don't want to commit to a color, then consider just adding some warm accents to the home. Replacing a rug, adding in warm pictures frames or artwork, and replacing blankets and throw pillow covers with warm alternatives can make the trend a breeze to enjoy.
2. Landscape Art
Landscapes are going to be a huge trend this spring, so if you don't have any in your home then you might consider adding a couple as accent pieces. This doesn't mean that you have to spend a small fortune on items you might not want to leave up all year round. If you're interested in landscapes, then your first stop should be a thrift store. You would be surprised by how many landscapes you can find for a cheap price there. Some might need a little work, like replacing the frame, but this should be easy enough. You can also try to create your own landscape. You might be surprised by how easy it can be especially with the numerous tutorials available online.
3. Mirrors
You might be surprised but mirrors are also a big trend this season. That doesn't mean that every mirror is going to suit the trend. Currently, one of the biggest trends is to use the mirror as an accent. This might take some recreating on your end. Antiques, especially, are going to bring a lot of compliments, especially when mixed with your modern decor. You can refinish a mirror with ease, so try to shop cheap if you can. One of the best places to start your journey is a thrift store or yard sale, as you should be able to find some cool options that will allow you to truly tap into your creativity.
4. Sustainable Items
The need for sustainability has become much more obvious over the last few years, which is why sustainable decor has also become incredibly trendy. This spring, you can feel confident about bringing out all of your sustainable items to help you create a better home environment. Of course, you might have to go looking to find decorative items, especially those at an affordable price. One of the most common items you can find is blankets that are sustainable, which make great decor for living rooms and bedrooms. You can also make your own decor out of recycled items. There are lots of ideas online, so surf around if nothing comes to mind.
5. Watercolor Inspiration
Adding a touch of watercolor to your home is one of the easiest ways to stay on trend this Spring. Of course, putting up a watercolor painting or two can do the trick with ease. You can even paint your own to help keep spending down. However, there are numerous ways to bring a touch of watercolor to the home. You might consider adding in accent pillows that offer a watercolor edge. You can also purchase pillow covers and blankets that create the vibe. If you're working in the kitchen, you can add in tea towels or oven mitts. There are even crafts you can do to create decor that will suit the trend while adding some fun to your day.
6. Flower Accents
Does anything truly say spring quite like flowers springing up everywhere? If you love this aspect of spring, then you might want to consider adding a few flower accents to your home. This can be one of the easiest ways to decorate, especially since you can clip flowers from your own garden and display them wherever you please in the home. Of course, flowers in a vase are the classic option, but you can also lay them on a table or accent piece or press them to ensure they last longer. You can also make paper flowers to help bring on even more style that lasts longer than ever.
7. Artistic Lighting
Your home's lighting can also be a major source of fashion this season. Largely, stand-up lamps that offer an artistic vibe are being added to the room as a functional accent piece that is certain to please. However, if you don't have space for floor lighting then swapping a light fixture out can take things to a whole new level. You can also swap out the bulbs to give you even more style. If you don't want to spend a lot on this, you might check out clearance sections, thrift stores, and yard sales.
8. Window Shutters
Window shutters haven't been trendy in the last few years, but this year we're going to see some big trends with shutters. You can add them to the interior or exterior of your windows to add to the style of your home. Give your shutters a bold color and you'll be well on your way to even more fashion. Of course, you can also take the shutters off the windows for even more trendy options. Shutters can be added to the home as a rustic sign or as a way to help climbing plants thrive. There are numerous craft options for shutters too, which can help you have some fun when it comes to your home's style.
9. Accent Pieces
Accent pieces are going to be one of the best ways to help you get the most out of your home's personal style. This season, you will find accent pieces that are a little out of place tend to be the height of fashion. For instance, if you have a modest room, then you might consider adding a luxurious chandelier to the space. You can find an old chandelier at a thrift store and add accents to truly make it pop. You can also consider adding a vintage chair to a modern or minimalistic space. This will definitely help you bring out the space perfectly. This is only scratching the surface as there are numerous other ways you can transform a space with an accent piece.
10. Crisp Whites
This season, crisp white colors are going to be everything when it comes to home decor. Luckily, adding crisp white to the home is incredibly easy. One of the best routes to go is to simply give your white walls a little touch-up. You'll be surprised how much of a difference this makes in your space. Painting your cabinets white can also transform the home with ease. Of course, an easier way to add to your space is to incorporate white accent pieces like throw pillows, blankets, vases, and other decors. Before long, your house will seem cleaner and more spacious.
Spring can be a wonderful time to decorate the home. That is why these ten tips can truly help you to make the most of your home without spending a small fortune. These tips may even help you to move into the summer months with a stylish home you'll love sharing with guests.