September has arrived and hints of autumn are already in the air. If you're looking to make this autumn one of the coziest yet, then there are a few essentials that you might want to invest in. Luckily, these ten items won't break the bank, so you can get more out of the cooler months. Many of the items will last for a long period of time, so you won't have to worry about investing in them again, while other items will take the place of some of the monthly purchases you already make. This should help balance your budget while leaving you happier as autumn passes by.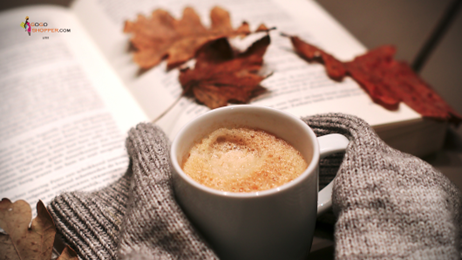 1. Loose Top
Keeping warm is what the autumn months are all about. In prior seasons, form-fitting tops or cropped sweaters dominated the fashion industry. This season is all about loose tops, which will give you the feeling of wearing a blanket while you're out and about. It doesn't matter what kind of warm top you choose either. A cardigan, wrap, hoodie, or traditional sweater will all do the trick. This will make it easier for you to shop around and find a style that suits your personality and comfort needs. Even if loose tops aren't in season next year, these items can still be worn comfortably at home. This trend should also move through winter and these items will pair well with a larger coat to bring more warmth to your day.
2. Amazing Moisturizer
With the crisp autumn air headed your way, you'll want to make sure you have a moisturizer that is going to work magic on your skin. Before you choose the right moisturizer, you should do a little research online. Visiting a dermatologist can also help steer you in the right direction, especially if you're dealing with skin problems. When you're shopping around, you should keep in mind some of the ingredients that may be harmful to you. There are lists online that can help you find the right match for you, to ensure your shopping experience is better than ever.
3. Coffee Subscription
Chances are you're already spending quite a bit of money on coffee. Whether you're heading to the café to grab a latte or you're brewing at home, coffee can be pricey. Shopping for coffee can be frustrating too because there are so many options to choose from and it's hard to say what is actually going to taste great. A coffee subscription will take the guesswork out of shopping for coffee. A subscription will give you new options to try every couple of weeks to a month or will have your favorite coffee shipped directly to your home. This will save you time and money while ensuring you always have a warm brew to make autumn all the more exciting.
4. Cozy Sheets
Nothing is quite as inviting as sliding into bed at the end of a long, cold day. A good pair of cozy sheets will help you feel all the snugger. Today, there are so many sheet options on the market that can help you feel like you're living your best life. For years, polyester cotton blends flooded the markets, which they still do today. If you're ready to break away from sheets like this, then you might consider bamboo as an option. Bamboo sheets are sustainable, antimicrobial, and can help you feel cool all night like. 100% cotton is also a nice breathable option that can help you stay comfortable all night. If you like to stay extra warm during the colder months. There are many websites dedicated to helping you find the best possible sheets for your needs.
5. Cool Thermos
With the cold months headed our way, a thermos is going to go a long way to keep you feeling comfortable and satisfied. With the market saturated in thermos options, you'll find so many choices that it will be easy to find a cool thermos or three. There are many Etsy stores that will allow you to order a custom tumbler that works to keep your drinks piping hot for hours. Of course, you can also purchase thermoses from some of the highest-rated brands. These are commonly found in stores, so if you keep your eyes peeled you may even come across some on sale.
6. Audio Book Subscription
Autumn is one of the best times to read but sitting down with a book isn't always possible. One way to take in more books during the autumn months is to enjoy an audiobook subscription. This will allow you to find the books you like and enjoy them whenever you can. Audiobooks are perfect for working out, commuting, cleaning, and any other time your hands are busy, but your mind isn't. You may be able to find some audiobooks for free, but ultimately if you're looking for best sellers or new books then a subscription is probably going to be the only way to go.
7. Wireless Earbuds
Whether you're a podcast fan, love audiobooks, need a soundtrack wherever you go, or like to take calls without having to hold onto your phone, a good set of wireless earbuds will help you enjoy your day-to-day life. Wireless earbuds are such a convenience that having a good pair will definitely allow you to find so much more enjoyment in your day-to-day life. These are handy while commuting, walking, running, or even just lounging around the house. Apart from that, they are really handy in the winter. You won't have to fumble with them once in, so removing your gloves to adjust is a thing of the past. They can also block some wind from entering your ears which can stop those pesky ear infections that the autumn chills tend to bring.
8. Aromatherapy
Nothing says comfort quite like walking into a home that smells warm and comforting. Aromatherapy is one of the best ways to perk up the senses and move gently into relaxation mode. You can find aromatherapy in many different ways, which allows you to work with the items that you personally love. One of the easiest ways is to just purchase candles. This can be a bit pricey though and may leave you with containers you'll need to reuse for something or recycle. An alternative to the candle is a wax melt. You can find wax melters in many different styles to help you show off your personality. Melts are pretty cheap too and will leave your home smelling delicious. Another great option is essential oils. Some say the right combination of essential oils can change the mood and improve overall health. However, some may have adverse effects on children and pets, so make sure to do your research before you buy.
9. Baking Kit
Baking is a great way to keep yourself busy during the autumn months. Not only does the warmth of the oven keep the home feeling comfortable, but it gives the house a nice aroma that is welcoming and cozy. A book baking kit can help you get started on your baking journey for the season. If you're new to baking, then you can actually purchase a baking kit to help you bake most of the things that interest you. If you're a seasoned baker, you might consider just purchasing the pieces that you want to help build the baking kit of your dreams. You should always put in a little research when you invest in these items though, which will ensure you're not throwing your money away.
10. Crock Pot
If you don't have a crock pot on hand, then this is an autumn essential that is going to take you far. Crock pots come in a variety of sizes, so you might want more than one, especially if you find yourself cooking meals that require multiple cookers. You can also find them with a wide variety of designs, which is great if you like to show off your personality. With a crockpot on hand, you're ready to create healthy soups for all the colds the kids are bound to bring home, hearty stews, dump meals, as well as your favorite pumpkin spice lattes that will cost you less than the café.
Autumn is the time to be cozy at home. These ten essentials will help you to feel more at home in your space while adding an extra level of convenience to your day. Best of all, they won't force you to spend a bundle that is great for your budget and your wellbeing.