Thanksgiving is a great time to get together with family and friends to feast and enjoy one another's company. Although it is fairly easy to entertain most adults, you might find that keeping the kids of the group busy might pose a problem. This can be an issue as idle hands tend to lead to mischief for most age groups. Thus, coming up with some ideas to keep everyone entertained is a must. These ten ideas are simple to set up and will help keep all age groups busy. With a little extra effort for the kids, your holiday should go off without a hitch and will make everyone happy to have participated.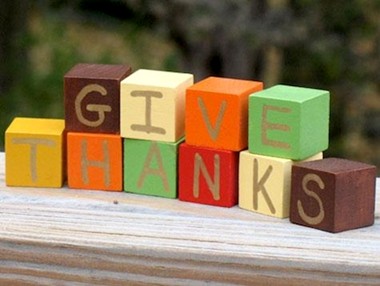 1. Embrace the Parade
The Macy's Day parade and other parades that occur across the country are a great asset when it comes to entertaining the kids. The parade offers dancing, singing and huge floats of some of the most popular characters around. Sitting the kids in front of the TV for this event is bound to be a success in most cases. However, if you want to spice up the parade even more, you can set out items for kids to make their own parade. One of the easiest things to do is set out craft supplies and some paper plates. Kids can draw their designs on a paper plate and attach them to a balloon with tape to fly them in their own parade. You might also encourage children to come up with their own song and dance to perform after the meal.
2. Craft Table
Crafts are one of the easiest ways to keep kids entertained for hours on end. If you have basic craft supplies on hand, then there are so many things that kids can do to keep busy. One great idea is to make a snack turkey that kids can take home for them to ease some of the travel boredom. All you need is an assortment of snacks that come in a different color. For instance, popcorn, M&Ms, candy corn, nuts and more work great. The children first draw a turkey face on the palm of the glove, then they fill each finger with a colorful snack. The palm can then be filled with popcorn and closed off to create a delicious treat. Construction paper will allow kids to make turkeys using their hands as a stencil. You can also fold paper to create pilgrim hats. You might also consider starting some winter crafts to allow children to make gifts for the upcoming holidays.
3. Table Games
Sometimes, you simply need to get the kids to sit down for a little while. This can be especially important when you are getting items in and out of the oven, but also while everyone is sitting down to eat. One solution to this problem is setting up some simple and fun games to keep the kids down for a little longer. One simple option is to print out holiday themed placemats. The placemats can have something to color, mazes, word searches and more to keep kids focused on something. Another great option is to set up a tic tac toe station. You can even lay out a blank paper table cloth, so that kids can decorate and play as they please. Bingo is another great option for the kids, especially since older children can take turns calling out the numbers.
4. Holiday Themed Games
Of course, getting children moving can also be a great way to keep them entertained during Thanksgiving. One of the best ways to do this is to transform some of the more popular party games into Thanksgiving themed games. For instance, you can easily transform a paper bag into a turkey. Then crumple up colored paper to act as various foods. Toss the colors around the room and see which child can fill their turkey with each color the fastest. You can also print out images of turkeys and fasten them to reusable cups for turkey bowling. Another fun idea is to play pin the feathers on the turkey, which is also an easy game to freehand or print out. Pumpkin Twister might keep the kids laughing too, and all you have to do for this game is replace the colors with holiday themed names. Thanksgiving charades can be fun for the entire group as well, and will help bring more meaning to the specific holiday. Finally, you can purchase a cheap dart game at any dollar store and play target the turkey. There are so many options out there though, so look around online to see which games will suit your needs.
5. Let Them Decorate
Decorations can be a huge part of the holiday season, so let the kids jump in and help out. For instance, before the meal begins, kids can create center pieces and napkin holders that they can proudly show off to guests. Name markers are also an easy option that older kids can help younger kids with. Once these are finished, then the kids can jump into action and help set the table. You can even have the kids paint or color in turkeys to be placed on the wall. Another simple option is to have them string popcorn for garland. No matter how the kids decorate, they're certain to have busy hands while having a bit of fun.
6. Football Game
For many families, football is a major part of the holiday season. From the game after feasting to a family game in the cold weather, football easily ties in with the holiday. One of the easiest ways to keep kids entertained is to draw them into the football game too. Kids can start out by making banners for their favorite team or tracing logos. Then, when the game is on, kids can either watch too or enjoy playing in the same room as the adults. You might also consider getting a soft, inside friendly ball that will allow children to play inside while the game is on. While the adults play outside, kids can join in on the game or have a game of their own. The exercise will help keep children happy and will burn off some of their excess energy from being indoors.
7. Storytime
Most children love story time and a holiday is the perfect time to incorporate stories into the festivities. There are plenty of Thanksgiving inspired books to check out, which are certain to draw the kids in for some fun. You might also ask older children to share their favorite memories of Thanksgiving as well as their interpretation of the holiday with the younger children. Some children might even enjoy writing down the Thanksgiving story and illustrating it. Older children can write down stories for younger children as they illustrate their story. These adorable books can be shared with adults for light reading after the feast.
8. Movie Time
Sometimes, a little TV time is in order. Luckily, there are a lot of Thanksgiving themed movies that you can put on for children to keep them entertained for a while. You might play some of these movies during a free play time to help distract long enough to finish up with the meal and set up. However, one of the best times to put on a movie is after the meal or during nap time. Kids can enjoy some quiet time watching the film, while the little ones lay down with a pillow and blanket, for a stress free nap period. This can also be a great way to help kids relax and digest food after the meal, as it will prevent crankiness and so on.
9. Put Them to Work
One of the best ways to keep kids busy is to actually put them to work. You can find a kitchen job for almost every age group, so don't be afraid to ask kids to contribute, especially if they are being rowdy. Kids can cook a wide variety of things, based on age, so find something easy like stirring up pudding or mixing ingredients for a cake. Kids will love learning how to cook and will feel a sense of pride over the item they made. When the meal is over, kids can also help with the cleanup. Clearing the table, rinsing items and even loading the dishwasher are simple tasks for children that will keep them moving. Younger children can also take coats from guests, offer appetizers and drinks, as well as other host inspired tasks. The extra work might also help them understand how much goes into a holiday, which might also encourage good behavior and leave them with a sense of usefulness.
10. Santa Letters
With the end of the meal, comes a new sense of excitement because it means Santa Claus will soon be on his way. Thus, one of the best ways to have kids settle down is to ask them to work on their letters to Santa. You can even purchase special stationary and colored pens to make the task special, if you want to spend a little extra money. Older children can even help younger children write their letters to make the process more of a bonding experience. Writing the letters isn't just a great way to help keep kids entertained, but it will also help relatives get an idea as to what the children are interested in, which will make the gift giving season a bit easier. When the letters are complete, let the children take them to the mailbox so they can be on their way to Santa and his elves.
Thanksgiving can be a lot of fun with enough activities to keep everyone happy. These ten ideas should help cut back on the time kids have to feel bored, which should help the holiday go by smoothly. Without a doubt, keeping the kids happy will help the entire event feel more festive and engaging. It will also give the adults time to mingle and relax on this special occasion.