Diwali is practically here and if you're celebrating you might be wondering how you can save some money on this event. There are actually quite a few things you can do to make Diwali frugal, so you can stick to the roots of the holiday instead of stressing out over the amount of money you've spent. Of course, if you do plan on spending money there are ways to show restraint, so you don't end up blowing your budget. These tips should help you find the perfect way to enjoy Diwali while also making sure you have money to enjoy after the festival of lights is over.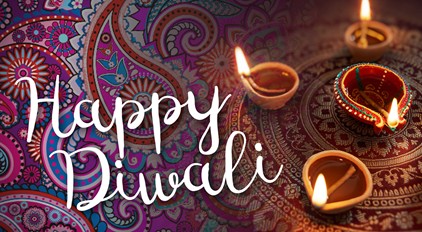 1. Know Your Budget
Like with any holiday, one of the best ways to keep your spending under control is to know your budget. The earlier you set a budget for your Diwali spending, the better of you will be. Try setting a budget at the beginning of the year, so you have time to put back money to spend on the holiday. If you already have the money set back, then you won't have to stress over using credit cards and so on. This will also give you a chance to shop throughout the year, so you don't have to spend a large portion of money at once. Having a budget also allows you to keep track of your spending too. If you keep your Diwali money in a separate area, then you can't go over your budget and will be able to balance your books much easier. Of course, if you're not used to making a budget for such a thing then it might take a little practice to know just how much you can and should setback for your holiday expenditures.
2. Shop Airfare Deals
October is a great time to shop airfare deals, so you might be able to travel fairly cheaply during your Diwali celebration. However, even if you aren't able to secure great tickets for the season, you might still be able to find some incredible deals during the week of Diwali. This time is always great for shopping spring and summer airfare, so secure tickets for your adventure if you can. Of course, you can always plan ahead and buy your tickets for next Diwali, especially if you plan on going abroad. You might even make it an activity to get together with the whole family to plan out your trip. You can start off your plans by looking at events that are going on in the area, so you will know which areas you can afford after you pay for the airfare.
3. DIY Rangoli
One of the main elements of Diwali is the beautiful and colorful decorations that can be just about anywhere in areas that celebrate. A lot of people might find it hard to come up with a Rangoli to show off their festive attitude, but it can be much easier and cheaper to make than you think. If you don't want to freehand your design, you can cut print and cut out a stencil to help you create the design of your dreams. You don't even have to purchase special colors for this work of art either. You can easily purchase sidewalk chalk in bulk to create the lovely designs. You will also want to place your design in an area that doesn't receive a lot of wind or foot traffic, so it can hold up as long as possible. Of course, you should also take a picture of this item to ensure you can share it with those who can't visit or if the item does end up blowing away before the holiday is over.
4. Clean
Diwali is a good way to start fresh, so cleaning is a major part of the holiday. It is also a great way to keep you busy which can help prevent you from spending too much money. You might want to start off with simple cleaning, but the goal is to give your home a proper scrub down so everything will be fresh for the upcoming year. You might want to work with one room at a time too, which will ensure you have the patience to tackle everything. With your home nice and clean, you will feel incredible. You might also be too tired to hit the stores to do some Diwali shopping, which is certain to keep your budget looking great.
5. Craft Your Own Diya
Lighting candles for the holiday is another popular activity. However, if you purchase a lot of candles or spend a fortune on diyas from the store, then you're bound to cut into your holiday budget quiet a bit. It is actually very easy to make your diya though, which can make the holiday better than you'd expect. These lamps can be made with a wide variety of clays, so you can choose whichever option suits your budget. Kids can even make a diya out of playdough to add fun to the event. Once you've made your diya and baked it then you can paint it to suit your needs. Then, all you need is some oil and you'll be set for the big event. You might enjoy making a new one every year or making several to show off your personality. No matter what you choose to do, this craft is certain to add fun to the event while also saving you a whole lot of money.
6. Make Wise Resolutions
Another great aspect of Diwali is it gives people the chance to make resolutions for the upcoming year. If you celebrate Diwali and New Year's, then this gives you a great opportunity to get a jump start on all of the goals you intend to reach in the upcoming year. It also gives you a chance to push a little harder to meet last year's goals. Of course, one of the best things you can do during this time is come up with wise resolutions. This can help you improve on your financial situation as well as your health. You should choose resolutions that aren't too farfetched as well. For instance, you can stop a bad habit, save more money, or lose some weight.
7. Use Leftover Candy
This year, Diwali happens directly after Halloween, which means you're going to have some extra treats if you plan on celebrating both holidays. Instead of going out and purchasing more treats to give out during this holiday, you can easily bring your leftover Halloween candy to the next holiday. Your friends and family will love sharing the treats. If you don't want to pass out Halloween candy, then make festive containers to share the treats with others. The candy will make a great gift for the children in your life too, which should add joy to the occasion. Before you know it, you'll be rid of the tempting Halloween candy and you'll have saved quite a bit of money on treats for the holiday.
8. Invest
A lot of people love to give out gifts during the holiday, while others also enjoy treating themselves to some fun. Rather than spending money on these things, you might consider using the money to invest instead. This will give you a chance to grow your money instead of using it on items that you will only enjoy for a small period of time. If you don't want to only spend money on yourself, then you can purchase small investments for your loved ones. This is especially great for children who may one day need the money for college and other large-scale purchases. Make sure to do some research before you choose to invest though, as this alone will save you money and make sure you're going to grow your money in the best possible way.
9. Make New Clothes
Diwali is all about having things fresh and new. So, you might want to invest in new clothes for the holiday to help bring you luck in the upcoming year. If you don't want to spend a fortune on clothing, then you can easily save some money by making your own clothes. There are lots of great patterns you can purchase at a discount and many fabrics are more than affordable. If you really want to get into the spirit of the holiday, then you might also want to look at patterns to create some traditional Indian clothing. There are also tutorials online that will help you make lovely items that you can wear throughout the celebration.
10. Watch Celebrations Online
There are so many amazing Diwali celebrations that take place in many areas of the world. If you don't have a celebration in your neck of the woods, then you might want to look online to see some of the celebrations unfold. In this day and age, many people will film the fun and upload to popular websites like YouTube. You can also catch some of the action on news channels. No matter where you choose to watch the celebrations, you'll be able to save a lot of money by doing this. Watching other celebrations will help save you money on fireworks especially. Although many areas do prohibit the use of these items due to the fire hazards they bring, some areas do allow them but often hike up prices to make more profit. You also won't have to worry about hosting a party of your own, unless you intend to share the celebrations with others. All in all, watching the celebrations online can even give you the feeling of being there yourself, which will add fun to occasion that you otherwise wouldn't get to enjoy.
Diwali can be an exciting holiday for all, especially if you know how to keep the event frugal. If this is your first year enjoying Diwali, then sticking to these tips might help you from going overboard despite your excitement. Hopefully, you will be able to find lots of luck and happiness in the upcoming year and throughout the celebration of lights.