It's hard to believe that we're already barreling through the first week of November. Black Friday will be here before we can finish up our turkey feast and find our loose fitting sweats. Luckily, there have been some major Black Friday leaks lately, so you won't have to hit up as many stores as you normally would. These stores are offering some great deals that will help you sleep soundly at night knowing Santa has really outdone himself this year. So, check out the lists and see which stores you'll be running to on the big day and which you'll be accessing from the comfort of your own web browser.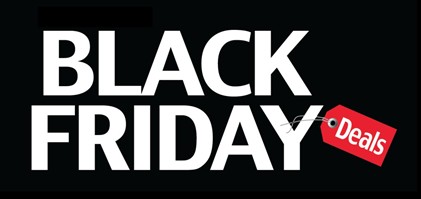 1. Amazon
Amazon is pretty much notorious for being a mixed bag when it comes to Black Friday deals. Of course, the website offers so many products that it is hard to say which will go on sale. You might find some toy options that are unbeatable, but you also might be browsing through lists of chef hats and supplements you've never even heard of before. We do, however, know that Amazon will be dropping some major deals on Amazon products. So, if you're in the market for a Kindle, Fire Stick, Echo and so on then this is the perfect time to stock up. Some deals might even include bulk ordering, which is bound to add to the thrill of shopping. Amazon is also keen on throwing in a few TV and laptop deals, but you have to be fast on these items. Other great items to check out are movie bundles, cookware and home security items. Generally, Amazon starts its deals pretty early and allows them to last past Cyber Monday, so make sure you dedicate some time to your watch list for the online vendor.
2. Walmart
Walmart is notorious for not having a Black Friday, but rather offering their big sales on the evening of Thanksgiving. So, you might not fill up on too much food if you're wanting to partake in some of its biggest deals. This year, there is a lot of talk of deals on Vizio TVs, laptops and iPads, which might be worthy of waiting in long lines for. Walmart is generally good about offering some great deals on toys too, particularly when it comes to the hottest items of the year. Small appliances are another hot item for Walmart customers, so grab something that will make your next holiday meal easier. On top of that, you can find lots of small items that are great for stocking stuffers or random gifts for colleagues and extended family. If your Walmart sells guns, then you might want to check out some of these hot deals too. Walmart is being a bit quieter about their deals though, so keep your ears open and your eyes peeled.
3. Target
Target is another top competitor for Black Friday, so you'll want to be up early to get to their big deals. The store has already announced a Nintendo Switch Bundle that will give you a game and console for the price of just the console. They have also announced XBOX and PlayStation bundles which will make any gamer scream for joy this holiday season. One of the hotter items is the VR Bundle as this technology is just picking up steam. The Google Home Mini, which is fairly similar to Amazon's Echo will also be half off while supplies last. Finally, they will have a pretty good deal on streaming sticks, including popular brands like Roku and Amazon. Target has been known to offer DNA testing kits during their Black Friday sale, so keep an eye out!
4. Dell/HP/Apple
Your favorite computer stores have also been hinting at some major deals on Black Friday. However, you might want to log in on Thursday just to see if you can score an early deal. To begin with, Dell is offering up to 50% off on select laptops, which might be the perfect gift for a teenager or college student. One of the top Vizio TVs will be going for $350 with a $100 gift card added to the mix. HP is offering 20% or more off some of its gaming laptops, which is perfect for all of the PC games that are being released around the holiday season. Of course, there will also be deals on other laptops and accessories. Apple is still keeping their Black Friday list quiet, but you should be able to find some satisfying deals on the iPhone X as well as older tablets since newer models have recently been released.
5. Kohls
Kohls was one of the first stores to happily display their Black Fridaylist for the year. Some of their more popular items are huge deals on toys, kid's tablets and fun clothes, including themes like superheroes, Disney and Harry Potter. The store is particularly happy to show off their advent calendar inspired sock bundles. These bundles include 12 pairs of socks, so customers can countdown the days until Christmas in warmth with their favorite characters. If you're looking for jewelry for a special someone then Kohls will be having doorbusters on jewelry and watches. Finally, you'll be able to find some awesome deals on small appliances, which make great gifts for those on your list that you're not sure what to shop for.
6. Costco
Costco is notorious for shutting up shop on Thanksgiving, but that doesn't stop people from lining up for its amazing deals. This year, you'll find some laptops for up to $500 off, which is certain to add some pep in your step after your long wait. Apart from this awesome deal, you should be able to find some great discounts on Apple tablets and XBOX. There are lots of great deals on Vizio TVs too, which are nearly half off in many cases. You should be able to find some deals on larger home appliances too, so if something is on the fritz now is the time to act. On top of that, Costco will feature many great deals on home security systems.
7. Sams
Samsung fans are going to want to find themselves at Sams on Black Friday. During this time, shoppers that purchase and activate a new Samsung phone will receive a $300 Sams gift card, which is bound to help you purchase so many of the other items on your list. Sams is also known for giving out some major deals when it comes to tires. This is great timing since the roads will become more dangerous around this time. If you're in need of a mattress then Sams is also going to be a fantastic place to shop, which is great considering actual mattress sales won't happen again until later next year. On top of that, you'll be able to save a small fortune on holiday décor including Christmas trees, wrapping supplies and themed gifts.
8. Best Buy
Gadget fanatics tend to lurk around Best Buy very early because they know the deals are going to be worth the pushing and shoving. This year, Best Buy isn't revealing too much about their sales, but in the past they have been consistent with offering similar products. So, if you're in the market for a new TV then Black Friday might be one of the best places to look. Since they aren't a department or wholesale store, you might have more of a selection to choose from. Of course, with stores like Sears closing down left and right, Best Buy might be the place to look when it comes to household appliances. You will also have deals on movies, music, games and consoles. Best Buy is notorious for throwing in gift cards with purchases and they often offer free shipping for online items.
9. Home Depot/Lowes
Home improvement stores like Home Depot and Lowes have become major hot spots during Black Friday in recent years. This year, both stores are offering competitive deals which might leave you flipping a coin as to which to shop at first. Home Depot is dropping major prices on their Christmas décor this year, so if you're in need of an inflatable don't think twice about shopping here. They also have up to 40% on their overstock items and appliances. There is even an awesome deal on power tools, which allows you to get two free power tools with the purchase of a specific tool kit. Lowes is making a name for itself too with discounted prices on fans and tool kits. This can make home improvement over the holidays a breeze. On top of that, you can find huge savings on appliances as well as free delivery. Lowes will also be offering low prices on holiday décor that you won't be able to resist.
10. Big Lots
If you're looking for a little less hype on Black Friday, then you might want to start your day off with a trip to Big Lots. This already discount friendly store will be ready with lots of great deals on furniture. In fact, you can find some extraordinary prices on couches, tables and beds. The store will also be hoping to move some of this holiday décor, so make sure to stock up so you can be the brightest home on the block. One of your best options will be toy shopping here as they have a Buy 2, Get 1 Free deal on toys. They might not have the hottest items on the list, but if you're shopping for other children or stocking stuffers then you'll save big.
As Black Friday nears, it is hard not to feel a little excitement in the air. These tips on the upcoming sales are certain to help you make a game plan that will help you get all of the deals you're looking for. Whether you're shopping for personal gain or for your holiday list, there's bound to be something on this list that you simply can't resist.