Although it might still be October, you're probably already thinking about your holiday checklist. This might be a good thing, as shopping early can actually help you save a bundle on some of the items that you'll want to purchase for your friends and family. It might seem a little too early to shop around for such items, but these ten reasons are bound to convince you to get a jump on your holiday shopping straight away. No matter when you choose to do your shopping, it is important to keep these elements in mind when you think about shopping during the rush season.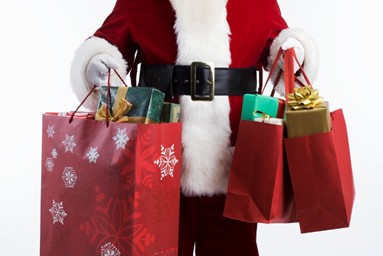 1. Eliminates Credit Cards
One of the best and most frugal aspects of shopping well before the holiday season is you won't need to use your credit cards quite as much as you would when the rush season begins. This is largely because it gives you more time to shop on your income. Starting early means you can purchase slowly, so you can shop on your budget opposed to making a mad dash to get everything at once. Even if you're just buying a toy or clothing item each check, it will help cut back on the mass purchases. Thus, you won't end up with a large amount of money on your credit card. This cuts down on the payments you will have to make, so you can enjoy even more shopping. On top of that, you won't have to worry about as many interest charges, which saves you even more.
2. Low Stress Shopping
As soon as Black Friday arrives, it feels as if the pressure is on to make as many purchases as you can before the holiday arrives. You're not the only one feeling the stress either, which causes more people to spend time at the store. This can be frustrating as everyone seems to be in a bad mood as they work to complete their list. All of the tension can certainly add up, which adds even more stress to the situation. Before you know it, you're totally out of the holiday spirit and you might not be in the right mindset to find the deals you need to get the items on your list. Shopping early helps to eliminate this pressure. You can get most of your shopping out of the way before the rush begins, so you can avoid the crowds and stress with ease. It will also keep you from missing out on certain items that might be on your list.
3. Take Advantage of Sales
It might seem like there is a ton of great sales during the holiday season. However, if you take the time to investigate the sales then you might find the prices aren't actually as good as you think they are. Between price hiking during the holiday season and a rush to get the perfect gift, sales during this time can be tricky. Shopping early actually allows you to purchase items you might want at a better price. For instance, during the back to school sales you might find a deal on a laptop that will beat anything you find during the holiday season. During these sales, you might find your best option on clothing too. Toy sales are usually always better before the holiday season too, so shop around whenever you catch a good sale. All year, online retailers tend to offer unbeatable deals. Your best option is look around for a sale on a Tuesday morning, as this seems to be when the best deals are offered. If you find a great deal every Tuesday, you'll be well on your way to completing your list before December even arrives.
4. Check List Method
Creating a list for your holiday shopping can be one of the best ways to maximize your savings and to ensure you get a little something for everyone. However, when you wait to shop your list might hit the back burners as you rush to get a little something for everyone. The list method also allows you to figure out what you're shopping for, so you can grab an item when you see it opposed to when the rush begins. This can be pretty important for kids' gifts, as many of the toys seem to fly off the shelves as soon as they are labeled a popular gift. This might force you to surf online auctions, which can cost you quite a bit more. The list method keeps you from over spending too, as you can easily sit down with your budget to figure out what you want and what you can spend.
5. Stock Up On Toys
December is actually the worst month for purchasing toys. The sales offered during this month tend to be more along the lines of everyday prices, which can become a burden when you're on a tight budget. You'll actually see more sales on toys before the holiday season begins, so shop early whenever and wherever you can. This is especially true when it comes to toys that are going to be popular during the holiday season. Most of these items will fly off of the shelves in late November and throughout December. Thus, shopping early also allows you to make sure your child has the toy of their dreams under the tree, without the hiked-up cost.
6. App Insights
The earlier you begin your holiday shopping, the earlier you can start taking advantage of some of the insights today's shopping apps can give you. You might want to start researching shopping apps to see which can work best for you. There are apps that can give you money back on the purchases you make, while others will actually alert you of sales, so you can rush to secure the item. These apps can help you make the most of your budget during the holidays. The apps that help you find deals can ensure you get the items on your list without having to waste gas and time going from store to store. Meanwhile, the sooner you begin your shopping, the sooner you will get your rewards on rebate apps, which can go towards even more shopping.
7. Outlet Stores
Another way to find some early deals on your holiday shopping is to head to an outlet store or mall. These stores tend to have older items in them, but they often offer great prices that you might not be able to refuse. These stores are particularly great if you're looking for common brands in shoes, clothes and accessories. Of course, you can also find amazing tech deals at these stores. You might even find items for colleagues or other people on your list that you're simply not sure what to shop for. There are a few tricks to shopping at outlet stores too, so do some research before you go on a spree. Shopping before the holidays will give you more items to choose from though and won't leave you stressed while you look around.
8. Research
Starting your shopping season early can be incredibly advantageous to you as well. This gives you a bit more time to do research on some of the items that might be on your family's wish list. This can really come in handy when it comes to items in the technology department. You'll be able to do the research needed to see if you should actually invest in the device. You may even be able to find some amazing deals in the meantime. This will also give you a chance to get a leg up when it comes to popular items. Usually, you will find a few articles on this year's "it" toy before they start flying off of the shelves, which might give you enough time to purchase yours or preorder online.
9. Clearance
One of the best ways to save big on the holiday season is to start shopping clearance as soon as you can. Generally, if you start early, you can grab holiday décor on clearance, especially online. Of course, you can also find some gifts still on sale. One of the most common things to find on clearance are beauty and bath sets, which can still be given out the following year. A few of these sets on clearance are certain to please colleagues or extended family members. You might also be able to get a great deal on wrapping paper too, which can cut a huge chunk from your budget. After Thanksgiving, a lot of retail stores will offer discounts on some of the holiday items, because they want to move them out of the store as quickly as possible.
10. Crafting
Shopping early also gives you the chance to take inventory of what you have and who you still need to purchase for. This will allow you to know who you need to craft items for in order to save some big money. Best of all, if you shop early you can find some of the best deals on items to make your crafts. This can help cut back on spending quite a bit, especially if you're making bulk crafts for people. Some of the best things to make are cookie ornaments, hot chocolate snowman and so on. If you shop early enough, you can even find some of the items that are popular for making wreaths and so on.
Shopping early for the holidays can make all the difference when it comes to saving money. These ten tips will help you see just how important shopping early can be for your budget. So, don't waste any time, because your holiday list is already calling you.