If you haven't already noticed, pumpkin season is in full swing. If you have the pumpkin fever, especially when it comes to decorating, then you might be wondering what on Earth you can do with all of the pumpkins you've acquired. Perhaps you are simply trying to figure out how many pumpkins you can actually afford to have in the home, or you don't want any of your produce to go to waste. No matter what, these tips will ensure you get your money's worth out of your pumpkin collection, which will make the season even sweeter. So, don't fret about your love of pumpkins this season, because you're certain to worry less about money when you follow these resourceful tips.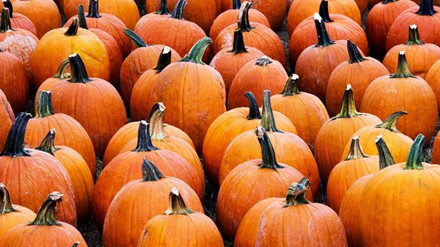 1. Décor
Pumpkins as décor have been trending for quite a few years now. You can do a whole lot with pumpkins too, so let your imagination run wild. If you want to keep your pumpkins on display for a while then try to create non-invasive décor. Generally, just placing pumpkins out on display will allow you to keep your décor looking great for some time. However, you might also want to consider painting your pumpkins. This will ensure the pumpkin maintains freshness inside, while still allowing you to decorate. Of course, the most traditional design is the Jack-O-Lantern. This design actually does allow you to use bits of the pumpkin too. However, you should make sure you don't carve your Jack-O-Lantern too early as it may decay before the holiday is over. There are also methods you can take to help preserve your pumpkin longer.
2. Lattes
If you find yourself spending a small fortune at your local coffee shop during pumpkin season, then you might want to take matters into your own hands. You can easily make your own pumpkin spice lattes using items you can easily get at the grocery store during this season. One of the best things you can do is grab a few pumpkins and cook them up in your crock pot. This requires minimal effort on your end too. All you need to do is add some spices like cinnamon or nutmeg and let the pumpkin do the rest of the work. Once it is cooked, add the pumpkin to some espresso and milk for a tasty treat. There's lots of great recipes online to help you portion out the treat. Once your latte is created, store the rest of your pumpkin mixture in the refrigerator or freezer.
3. Seeds
Seeds are some of the most nutritious snacks that you can indulge in. Thus, your pumpkins are going to be able to give you a large amount of snacks that you can use for months to come. Most people prefer to bake pumpkin seeds when creating snacks. You can add sweet or savory spices to them too, which will amp up the flavor. These treats can be eaten on their own or mixed into a trail mix to maximize their nutrition. Of course, if seeds aren't your thing then you might consider just planting your seeds during the appropriate months. This will allow you to grow more pumpkins, which can help you save quite a bit of money when next season comes along.
4. Facial Masks
One of the least popular options for pumpkins are skin products. However, you might be surprised by how many nutrients pumpkins can provide for your skin. On top of that, the delicious smell will help you feel festive and relaxed while you work on your beauty. If skin products are right up your alley, then you might want to begin looking up recipes to see what other products you need to create this mixture. More often than not, you'll find many of the items in your cupboard or on sale at the grocery store. These mixtures can be stored for some time too, so you should be able to enjoy pumpkin creams for longer than you expect. Of course, you should make sure you are not allergic to any of the ingredients in your recipe before officially using it, as you might not enjoy fighting an allergic reaction on the face when the weather is so dry.
5. Baked Goods
Pumpkins and autumn go together just as well as autumn and baking do, so why not combine your love of both into one amazing hobby. You can make all sorts of things out of pumpkins too, so you won't grow tired of baking with this delightful gourd. One of the more common items to make is pumpkin pie, which is always a hit at Thanksgiving. You might even consider making serval pies at once and then freezing them until the holiday arrives. You don't have to stick with the classics though. Rather, you can try making pumpkin cookies, cakes, breads and even pastries. You're certain to have a blast working on your recipes too. All of the baking will help warm up the home too, which will cut back on heating while adding coziness to the overall environment.
6. Savory Dishes
Baking sweets isn't your only option when it comes to pumpkin. As a matter of fact, there are so many savory dishes that you could probably try something new every day of the fall season. One of the more popular options is making soup out of the gourd. This can be done in so many different ways, so have some fun with your pumpkin. You can also try making dishes like ravioli or pasta with a pumpkin sauce. These tend to be hits with children too, so you can hit a homerun when you experiment with your meal plan. Meals like stews, roasted meats and more can even be incorporated to your pumpkin meal plan, so hop online and see which recipes strike your fancy.
7. Chips
Snacking can get a bit boring if you choose the same snacks over and over again. So, this season you might want to consider whipping up a seasonal dish that will make the whole family happy. Pumpkin chips are a breeze to make and offer so many nutrients that your family will feel amazing while the snack in on the table. All you have to do for this dish is cut the skin off of the pumpkin then bake them to perfection. You can also utilize your air fryer for this dish. Your pumpkin chips don't have to be bland either. You can coat them in sweet or savory flavors to keep your family satisfied with the snack for months to come.
8. Puree
If you're not entirely sure what you would like to do with your pumpkins, but you also don't want them to go to waste then there is a great option to help you out. You can easily whip up a pumpkin puree. Puree can be used in a wide assortment of dishes. In fact, you can use it to make jams, baked goods and even savory dishes. Best of all, you are able to can your puree and have it available whenever you need or want it for years to come. Puree is incredibly simple to make too. You can even make it in the crockpot if you don't have the time to spend on it. This should allow you to make the most of your pumpkins while also satisfying your pumpkin cravings no matter the season.
9. Catapult
When it comes down to it, you can always have a little fun with your pumpkins. This activity is certain to brighten the whole family's day, which is something to celebrate in itself. All you need is to construct your own catapult. You can do this in many different ways, so you can always try out a few cheap methods to see which way works best. You can also form a competition to see who can build the best catapult. This is a great time to help the children learn some engineering skills. To save more money on this, you might try to use recyclables wherever you can while constructing. Once you have the catapults ready to go, make sure you find a place that has wide open spaces for launching your old pumpkins. You can take turns or compete to see who can send a pumpkin flying the furthest.
10. Gardening
Another great way to use up your old pumpkins is when gardening. One of the coolest ideas is to use a pumpkin as a floral pot. This will add more nutrients to the soil and will help keep your autumn décor doing strong for quite some time. You can plant the pumpkin in the ground complete with flowers when it begins to decay too much. The leftover pumpkin will fertilize the plant with ease. You can also place your pumpkins in your compost, so you can use it as fertilizer later on in the year. Of course, as mentioned before, you can always use the seeds from your pumpkins to grow new pumpkins when planting season returns.
Pumpkin season can be one of the best periods of time for fans of this amazing gourd. However, if you spend too much money on pumpkins for the home, you might end up worrying how to get more out of your purchase. These ten ideas should make your pumpkin experience even more enjoyable while teaching you a few tricks on avoiding waste.