Once Halloween is over and the sugar rushes have calmed down, you might be interested in celebrating another amazing holiday during this time of the year. That holiday is Dia De Los Muertos, or Day of the Dead, which takes place on November first and second. This holiday, which is often looped in with Halloween décor, celebrates the deceased. It is a great way for a family to enjoy the memories they shared with those that have passed on. This holiday believes that spirits return to reunite with loved ones on this day, which can be quite a beautiful thing to celebrate. Luckily, you won't have to pour a fortune into this holiday either. So, check out these ten tips to get yourself started on the fun.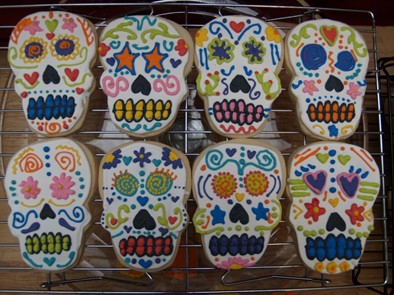 1. Use Halloween Leftovers
One of the best ways to save money on this holiday is to use your Halloween leftovers to cut the price. For instance, you can easily use your face painting supplies to create beautiful skull designs that will make the holiday fantastic. Many of the Halloween décor on offer today is actually related to Dia De Los Muertos, so you can always leave your holiday décor up for a few more days to add even more charm to this holiday. Candy can also be used for snacks during the holiday too. Of course, if you're running low on supplies then this holiday immediately hits the huge Halloween clearance sales that you'll find at most department stores. So, you can always stock up then and use the new supplies for this year and the upcoming years.
2. Enjoy a Community Event
One of the best things about Dia De Los Muertos is it is a very community-based holiday. You might not find a whole lot of celebrations outside of Mexico, but as the holiday becomes more popular you might find more community events popping up in your area. You might want to look around to see if anyone is hosting an event for the holiday. Joining these events can save you a small fortune and will allow you to truly embrace the holiday. These events usually include music, dancing and food which will make you fall in love with the special event all the more. Some celebrations might even include traditional clothing and stories about loved ones that have passed on.
3. Build an Altar
Dia De Los Muertos is specifically for celebrating our passed loved ones. So, one of the best ways to celebrate this holiday is by creating an altar to celebrate the loved ones in your life. Some believe that relatives cannot return without their image on display during the holiday, so make sure you have an alter that will do your loved ones proud. You don't have to spend a fortune on doing this either. Simply set up a table and dress it up. You should place pictures on the table, but some other items you might consider include favored objects, flowers and even food. Candles are also a great way to add beauty to the altar. This is a great alternative to traveling to cemeteries to visit relatives as this can be costly and timely if your loved ones are laid to rest far away and in multiple locations.
4. DIY Picture Frames
Honoring your loved ones can be a lot of fun when you display their photos. This is one of the best ways to bring up stories that will make you recall fond memories of so many people. Of course, you might want to spice up the images before you put them on display. One way to do this is to make your own picture frames. You can do this out of a wide assortment of supplies too. For instance, if you have a carpenter in your life then you might consider making one out of wood to honor them. You can also decorate with buttons, glitter or anything the loved one enjoyed during life. These frames can easily be made of cardboard or popsicle sticks too as they don't need to be permanent. When you're finished with your frame put it on display and allow everyone to marvel over the personality and image of the person you loved.
5. Grow your Own Flowers
Flowers, particularly marigolds, play a huge role in the celebration. Thus, you can spend a small fortune on flowers during this time if you start to shop around for them. Luckily, it's not too late in the season to plant your own marigolds for the celebration. You might want to grab a plant that is already blossoming now, but you should be able to keep it thriving throughout the autumn months. You might even be able to grow the plant in an indoor planter. This should give you a fair number of flowers to make your celebration grand. It will also save you a lot of money on preparation costs. Best of all, you'll have flowers to enjoy throughout the season.
6. Holiday Inspired Food
Like with most holidays, you can really add a touch of the celebration into the food you make. One popular design that is easy to utilize is the candy skeleton. You can bake just about everything from cookies to cakes and decorate the dish in this theme. You can even use natural food coloring to keep things healthier. Of course, some of your other options are traditional Mexican dishes or foods that your loved ones may have wanted on the table. You can have a lot of fun with these treats so try to mix things up. You might even step away from the foods you made around Halloween to ensure that you don't end up getting tired of the dishes.
7. Host a Bash
If there aren't any community events and no one you know is having a party, then you might want to host your own bash. This doesn't mean you have to fork out a lot of money either. Instead, you can easily plan a party that will cost you next to nothing. You should start by inviting family members, so you can use stories and shared experiences as a form of entertainment for the crowd. To cut back even more, you should ask everyone to bring a dish to represent one of the loved ones in your life that has passed. This should keep food under control for the party. You can easily come up with playlists with songs that loved ones enjoyed, which might even encourage dancing. Another cheap option is to watch home videos to remember those that have passed. To keep kids occupied, you can print out candy skeleton color pages or have them make their own with a paper plate and other craft supplies. Before you know it, your party will have lasted long into the night without adding too much to your budget.
8. Purchase Bulk Candles
Dia De Los Muertos tends to be a holiday that requires a lot of candles. From altars to mood lighting, you're going to want to have an abundance of these candles ready to go for your two-day celebration. So, you might consider purchasing them in bulk. More often than not, people prefer to make their own candles to save money. However, in this case it will save you a lot of time and money just to purchase tea candles in bulk. You'll end up getting the best possible deal, especially since many of these candles will be on Halloween clearance. You can even purchase some of the spookier candles for the holiday if you want. If you have too many candles then you can always use them for the upcoming holidays, which is certain to help improve your budget for those holidays too.
9. Enjoy a Movie
If you don't want to do a whole lot on the holiday, then you can still celebrate by staying in and enjoying a movie. There are a few movies based on the holiday, which can help you learn more about the special day. Of course, there are also many frightening films that follow the Halloween theme. Many stations should be broadcasting these movies, but if you can't seem to find anything then you might check out your streaming channels or rent online. There are even a few children's movies that will help the whole family have some fun.
10. Learn More About the Holiday
As with any holiday, knowledge can help to bring more meaning to the special occasion. If you're new to Dia De Los Muertos then you might want to take the first day of the holiday to brush up on some of the information about it. You might be surprised by the deep history of this holiday and how it has been incorporated into more than just Mexican culture. Knowing about the holiday might help you to celebrate it too. There are lots of great books on the special occasion, but you can also browse around online for videos, articles and other information on the holiday.
Dia De Los Muertos has been growing in popularity over the years, so it might soon become a part of the typical November celebrations. These simple and frugal tips can help save big time on your holiday fun, so you can have a blast while celebrating those that you love.