Back to School season is here again and the sales have already arrived in most of your favorite stores. Many people struggle with knowing where to shop for the best deals, which can be as difficult as navigating through the packed stores. Luckily, Walmart, Amazon and Target all offer online options that can help you cut back on the amount of time you spend shopping. This should help cut back on the amount of time you spend stressing over school supplies, so you can make the most of the time left with your kids. These ten tips should help you find the majority of your shopping needs, whether you shop online or off, so take a deep breath and prepare for a brand-new year while surfing for the best deals on your child's school needs.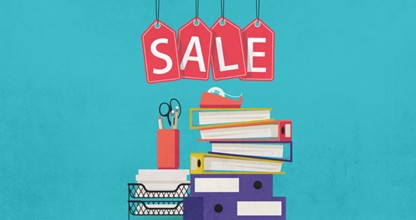 1. Basic Supplies
There's a whole lot of basic supplies your child is going to need for school, but these items can add up in the long run. One item that is on the list for most students over the age of ten is pens. You can find outstanding deals on bulk pens on Amazon and Walmart, so you can split up the pens amongst multiple children or even the household. However, if you shop for these bulk pens on Amazon you will have to shop with them as an "Add-On" item, which means you will need to spend $25 to get them for the actual price. Target, on the other hand, does offer the cheapest price for smaller packages of pens. To be more specific, you can find a pack of ten BIC pens for less than a dollar. Walmart is your best bet when it comes to pencils. You can purchase a pack of 12 for less than a dollar, but other more expensive pencil options still range lower in price than Amazon and Target. Walmart and Target both offer amazing deals on paper, with Walmart being only slightly cheaper. Amazon, on the other hand, is not the place to shop for paper.
2. Arts and Crafts
Most children are going to need arts and crafts supplies, especially if they're in primary school. When it comes to crayons, Walmart has a larger brand name set for just $.87. Both Walmart and Target have a set for $.50 though, so if you don't need bulk you're safe to shop at either store. Amazon's crayons are pretty pricey though. Amazon and Target aren't the best options when it comes to children's scissors. So, shop Walmart for these items, especially if you're looking to spend around a dollar. Glue is another staple for most school lists. The best place to shop for glue is Target with the price ranging around $.50, whereas Walmart's is $1.44. Amazon's glue is much more expensive though, but they do offer better bulk deals if you want to buy for the whole household.
3. Organization
Keeping organized is an important part of schooling, especially for students in secondary school or college. So, you'll want to grab a few items to make your student's work look great. Notebooks are the perfect item for keeping notes in order or just journaling to improve the schooling experience. Target is one of the best places to grab simple notebooks for students, as you can grab a spiral notebook for a mere $.29. Composition books, which are often required for English and Science courses can be purchased at Target and Walmart for $.50 apiece. Binders are a crucial part of most student's lives too. These items are a bit of a mixed bag though and range from $3 to $20, so you can shop around to suit your taste and budgeting needs.
4. Nap Time
If you have a preschooler or kindergartener in the home, then you might already be frustrated with the search for the nap time accessories that the school requires. One of the most crucial items to have for your new student is a nap mat. Luckily, both Target and Walmart offer these mats for $10, so you won't have to spend a small fortune on them. However, if you're interested in a mat, blanket, pillow combination then you can purchase these items for around $20 to $40 on Amazon and Target. If you're fine with the simple mat and blanket combination, then you can grab a blanket at Walmart for $5-10 which includes some of your child's favorite characters. You can even find some options that roll up and serve as pillows too.
5. Lunch Supplies
Lunch can be one of the most important aspects of your child's school needs. It can also be one of the priciest too. Walmart and Target both offer a wide selection of lunch boxes for $6-15, which should suit most students' needs. Of course, you can find a more intricate design for around $20 which is perfect for older students and those that participate in athletics. Amazon offers a lot of other options for older students too, which can provide you with a wide variety of compartments and cooling tech. Another great option is bento boxes, which can help you provide well-balanced lunches for your children. Amazon offers an amazing bulk deal that will only set you back $15 and will provide you with enough boxes for the whole family and then some. Sandwich bags are another great option for kids' lunches. Target is the best place to grab these for $1.79, but if you're looking for more protection Walmart offers the cheapest price on double-zip bags for around $5. Of course, snacks are going to be touch and go, so shop around to suit your needs.
6. Backpacks
Backpacks are pretty much crucial for every student and they can be one of the costliest items to pick up. However, this year there are many great deals to choose from. All three stores offer unique looks, so you should be able to shop around and still find something that meets your needs. However, if you're looking for the cheapest option then Target and Walmart are both offering deals as low as $15-20 for some cute styles. Of course, if you're shopping for a brand name, like Jansport, then Walmart is your best option in most cases. Students that are required to bring clear backpacks to school have several options too, but Amazon offers you the cheapest price at $8.99 with free shipping for Prime members.
7. Other Essentials
Of course, your student is going to need extra items that aren't on the list and a few items that are specifically for the classroom. One of the most common items that teachers ask for is tissues. Luckily, these prices are pretty even across the board, so you can purchase them wherever you choose to do your shopping. If your student is keen to decorate his or her locker then you're in luck when it comes to prices. There are lots of options available but Walmart offers a large set for a mere $4. This set comes with a white board, mirror, shelf and so much more that will make your student's life more efficient. Protractors and compasses are also popular items for most junior and high school students too. These items are pretty evenly priced too, so shop for them whenever you go out for other supplies. Finally, Target offers pencil sharpeners for a mere $.50 that will help your students stay prepared in class without leaving their seat.
8. School Clothing
Clothes are probably the most frustrating and expensive element when it comes to Back to School shopping. However, this year you'll find some amazing deals that won't break the bank. Target offers a full range of deals that will help you fill your child's wardrobe. For instance, you can purchase leggings, tees and even uniform polos for just $5 apiece. They also have denim and full gym outfits for just $8. Walmart offers a wide range of cheap options too. You can purchase uniform dresses and khakis for less than $10 and bulk polos for $18. If your student can dress casually, then you might check out the wide variety of tops, dress and denim that they have for $5 to $15. Amazon is a mixed back when it comes to clothing and prices tend to be a bit higher, especially since the service offers name brands. So, if you choose to shop Amazon for clothes be careful and look around for deals before adding to your cart.
9. Shoes
Students are going to need new shoes to top off their wardrobe too. However, you shouldn't fret about spending a fortune on these items. Instead, you can shop for great shoes at Walmart, which offers prices between $3-20. These prices even include athletic shoes, which most kids will need to get through gym class and their athletic activities. Target shoes won't set you back a lot either. You can find cool options between $9.99 and $30, so you should be able to ring in under budget here too. Amazon also offers many great deals on shoes with some of the lowest prices ranging around $13. Amazon also allows you to choose name brand options that you might not be able to find as cheap in other stores.
10. Electronics
Electronics are a large part of today's student's lives. One of the most important elements for students in secondary school is graphing calculators, which can cost you a fortune if you're not careful. Walmart offers some of the best deals on these items, with one of the most popular brands costing you $82, opposed to the $109 that Target and Amazon offer. However, if you want to save more money, you can purchase this calculator refurbished on Amazon for $62. Of course, regular calculators can be purchased at all three stores for just $3.99. Laptops are another great item to have, especially when it comes to high school and college students. There's great deals around the board, but Walmart offers some of the lowest prices for new models. If you hope to send your child to the dorms with a mini-fridge then Target and Amazon offer the best options at an affordable price.
Back to School shopping doesn't have to be a nightmare every year. Instead, you can take advantage of the amazing deals that these stores offer. Although one store doesn't stand out more than any others, you should be able to run off of these tips, so you can maximize your savings whether you shop online or in store.