National Christmas Light Day is on the way, which is around the time many people begin to put up their holiday lights. Whether you're decorating now or later, there are a few things you should keep in mind if you're looking to save some money on lights. If you're not careful, your holiday lights could eat into your spending budget, which might cause you to have to cut back on other aspects of the holiday. With these simple tips, you should be able to enjoy your holiday with ease which will help you to feel jollier.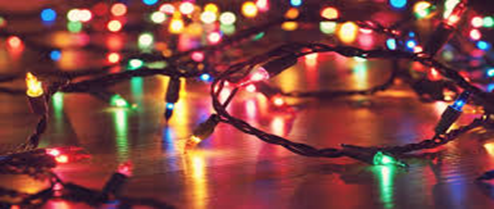 1. Use What You Have
With seasonal sales happening earlier than ever, you might want to spend some money to get yourself in the holiday spirit. Sure, there are a lot of amazing things to check out this season, but next year they won't be as trendy so you'll be stuck with even more things to put into storage. If you already have a pretty good selection of holiday lights to use then try to use what you have. Sure, you might do a light check to make sure everything is still working, but after that, you should be good to go. By doing this, you'll save yourself the hassle of shopping for items that you already have. You will also save quite a bit of money, especially if new lights are something that you don't exactly need.
2. Skip the Cheap Stuff
There's no doubt about it, you're going to be able to find some pretty cheap holiday lights this year. Some may even be under the $3 mark, which is pretty tempting for most people. Unfortunately, these options aren't going to be sustainable in many ways. For starters, they're going to eat up more energy than a lot of other holiday lights will, because they aren't made with LED lighting and aren't really made to help you save. Another thing to consider is the lights lifespan. Are you going to be able to use these again next year? The answer is probably not and even if you can do you want to spend another year with lights that are going to drain your power. In the end, the truth of the matter is, these lights will probably be landfill soon, which isn't great for you or the planet.
3. Invest in a Timer
It isn't always easy to remember to turn the lights off at night, especially since they are only up a few weeks. Leaving the lights on all night long can be a huge drain on your power too. One of your best options is to get a timer for your lights. This will allow you to keep them on during the peak hours of the night, while turning them off when no one is going to be driving around to look at them. You can even set them to come on at certain times, so you don't even have to worry about it each night. This can help give the illusion that you are home
4. Use Accents
There is no rule saying you have to use lights everywhere. Instead of spending hours stapling them to the roof and home, why not just use them as accent pieces? You can place them on other decorations to help illuminate them, add them to entry ways for a little extra light, or even square off the yard with them. By doing this, you will need less lights, which will help you to save some money on holiday spending. You will also need to use a lot less power, especially since you won't have to illuminate them every night for people to enjoy your directions. This allows you even more freedom while cutting back on the spending you may have other wise done.
5. Look for Solar Powered Options
Believe it or not, but there are solar powered options to check out when it comes to holiday lights and decorations. You might have to look a little harder, but a simple internet search should get you where you need to be. These options aren't necessarily expensive either, which will help you save money in the long run. If you don't want to deal with the solar powered lights, then you might consider getting a small solar hub. This will allow you to power any décor that you have, which will definitely save you even more money.
6. Embrace Fiber Optics
When it comes to decorating the home, especially the interior, you might consider using fiber optics to give you a little more style. Fiber optics create a stunning effect in the home which will allow you to feel the warmth of the season all the more. You can find fiber optic decorations, trees, and even interior lights, which gives you a lot of fun options to work with. Fiber optics aren't harsh on the eyes either, which will allow you to truly enjoy the beauty that you are seeing. Best of all, fiber optics are one of the cheapest options to work with, which will allow you to embrace the holiday without spending a small fortune.
7. Utilize the Light
If you plan on decking the halls with lots of lights, then you may also consider utilizing the lights to help you save money. For instance, if you have your Christmas tree on, as well as the rest of your décor, then turn off the lights you would normally use. Unless you are reading or working on something that requires light, this should be enough light to create a wonderful atmosphere. You can also use this technique at night. Instead of leaving your porch light on, consider using the holiday lights to illuminate the yard and home. This will definitely cut back on power usage to ensure your home saves as much money as possible.
8. Unplug During the Day
No matter how many holiday lights you put up, you should consider unplugging them during the day. Even when you turn an item off, it still has the capability of pulling energy from the plug. These energy vampires can cost you a small fortune if you're not careful. One of your best options is to plug things into a surge protector if you can. This will allow you to shut them all down at once, which is definitely handy if you're in a rush. By unplugging everything, you won't see as much of a spike in your power bills, which can make your decorating seem a lot more fun.
9. Research Lights
One important step that you should take when it comes to purchasing new lights is to research your options. In this day and age, there is a lot to choose from which makes decorating seem a little bit harder. Research can help you to find the perfect light for your home's needs though and will allow you to pick options that will stay with you year after year, so you won't have to worry about shopping for more in the near future. When researching, you should look up brands, types of lights, quality, and so much more. After reading reviews, you should feel more confident about your purchase.
10. Enjoy Other's Lights
If you're on a tight budget or you simply don't feel like putting in the work to get your holiday lights up, then there's no harm in just checking out other people's lights. You might consider walking around the block to check out all of the options near you. Of course, there should still be many lightshows available to view too, but you might have to wear a mask and practice social distancing if you do walk through them. Driving around to check out lights is always a fun thing to do with the family too. You can even look online at some of the best light attractions around the country and the globe.
Putting up holiday lights can be one of the finer points in the year, especially in a year that has had so many downsides. So, this year, enjoy your lights while still saving a bit of money. These tips might help to bring you the light show you've always dreamed of, without all of the added stress.