With the holidays rapidly approaching and Black Friday deals already here, spending too much money shouldn't be the only thing on your mind. This time of year is particularly rough when it comes to porch pirates taking off with the things you've purchased with your hard-earned money. Unfortunately, many companies also won't insure the items that you lost and often the police can't capture the person that stole your property. There are a few things that you can do to make it harder for porch pirates to strike when it comes to your home. These ten tips will ensure that your money isn't wasted as you enjoy the holiday season and gifting to those that you love.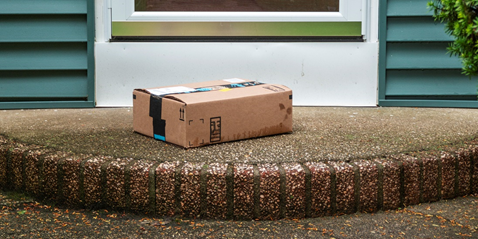 1. Choose a Convenient Delivery Day
One of the most effective things that you can do whenever you purchase something online is to choose a delivery day that is convenient for you. If you're not going to be home on a Tuesday, then simply select a day that suits your needs. Some carriers will even help you to do this by allowing you to make a delivery request. Many stores like Amazon are also hopping on board with this concept with fun ideas like Amazon Delivery Day, which allows you to receive all of your items on one select day. This option can sometimes even earn you digital credit, which will make securing your packages even sweeter.
2. Consider Alternative Delivery
Although we live in a world where staying home is the thing to do, it isn't always an option. If you work long hours or are gone on the weekdays, then you might want to consider an alternative delivery method. For instance, if you have a trusted friend, family member, or even a neighbor that you know is going to be home and alert, then you might ship your item to their home. Of course, you should always get their permission first and keep them up to speed on when your item will be delivered. If this isn't an option for you, then you might ship it to your place of work. This will ensure the item is in your possession when it is delivered. If you live in a gated community or an apartment building, you can also request that your item is delivered to the front office.
3. Package Lockbox
Package lockboxes are becoming increasingly popular as porch pirates becoming more popular. These boxes are something that you have to invest in, but they are definitely worth every penny. That is not saying that they aren't entirely affordable though. For instance, you can order one lockbox that is simply a bag that secures when items are placed inside, and it is secured firmly to the home. There are many boxes to choose from that allow special access to delivery workers. You can also choose options that are large enough to insert items but require a key to remove them. If you want to go a bit higher tech then you can also consider signing up for Amazon's delivery program. This uses a special mechanism that allows Amazon Delivery drivers to place the package in your home or vehicle. Don't worry, the device records everything so you don't have to worry about someone tampering with your belongings.
4. Ship to Store/Locker
Another immensely popular option is to ship your items to the store that you're buying them from. Of course, this does mean that you will have to enter the store which might not be the most comfortable thing with covid still at large. However, most of these facilities require social distancing and are sanitized frequently. They also are quick and easy to use so you will be in and out in no time. If you don't want to ship to the store, then shipping to a special locker is another option. Many companies are offering these now and will make sure you can pick up your item with ease.
5. Require Signature
If you are home, but your delivery driver seems to never ring the bell, then your best option for protection is to require a signature upon delivery. This will require the driver to get someone in the home's signature before they drop off the item, so you can rest assured that it won't sit out in the open. Some delivery services will take the item to a neighbor if you don't answer, but they do have to note where the item was left so you don't have to worry about it disappearing. If they can't get a signature from you then they often will just have you pick up the item, which will still keep it secure.
6. Set up Cameras
One way to help prevent porch pirates is to invest in cameras. These will help to capture footage of people trying to take off with your items. You don't have to spend a small fortune here. In fact, if you want, you can also build up to improve your coverage over time. Usually, the presence of one camera is still enough to keep pirates at bay. However, if the camera doesn't detour the criminal, then at least you will capture the criminal on camera, which might help to lead to an arrest. If you don't want to invest in a camera, then placing a security sign in the yard or windows and adding decoy cameras might be enough to keep criminals away.
7. Talk with Neighbors
If you can't really go to any extra measures this holiday season, then you might want to chat with your neighbors. If you know some of your neighbors are going to be home, then ask them to keep an eye on your items or to pick them up for you. This is especially helpful if you're going to be gone for a long period of time. Working together as a community can help keep porch pirates from even considering your neighborhood, especially if a possible criminal sees the community in action. This might also help you to build up trust with each other.
8. Create Clear Area
A lot of criminals prefer areas that can shield them from the public eye. So, if you're getting packages placed in hidden areas like the shrubs or a dark entryway, then you might try to create a new place for the delivery service to leave your items. Your best option is a clear area that is in broad daylight so that neighbors can see. Sure, some criminals will want to grab your items, but these are the criminals that are most likely to be caught. This tip is straight from police officers and ex-burglars, so you know you are doing right by following this tip.
9. Sign Up For Delivery Notifications
Sometimes, we aren't entirely sure when an item is coming, so it is tough to put in those extra safeguards. This is also true when people send you things without letting you know. There is a way to keep track of your mail via USPS though. Mail notifications can actually help you take the extra steps necessary to protect your mail because you will know exactly what is coming. Even if you aren't using USPS, you can still sign up for delivery notifications with other services too. Most of the time this is basically putting in your phone or email, so the automated system can let you know when your package is scanned as delivered.
10. Insure Packages
Sometimes, we can do everything in our power to safeguard our packages and still wind up having them stolen. If you tend to live in an area where porch pirates are prevalent or you simply don't trust people to not steal your items, then you might want to pay for insurance on your packages. Most items actually do come with insurance on them now, but if you're dealing with a company that doesn't pay for it then you might ask if it is an option for your delivery. If not, and the store offers pricey items, you might consider shopping elsewhere just to be safe.
It is hard thinking about our hard-earned money being stolen due to porch pirates, especially during the holiday season. These ten ideas should help you to protect your items without spending a fortune. With any luck, you will find that you feel more secure with your deliveries even after the holiday season is over.