It's already almost time to say goodbye to October and hello to November. Although the holiday season is about to kick off, you might be looking for a few more reasons to celebrate. Luckily, in the month of November, there are a ton of great things you can enjoy that will make the month even sweeter than it already is. You might have so much fun with these holidays that the major holidays will be no big deal. Best of all, these ten holidays are budget savvy, so you won't have to worry about blowing your budget on them.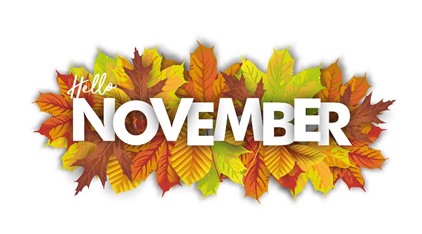 1. National Author Day
On the first day of November, you might take a little time to celebrate your favorite author, as it is National Author Day. Although we all probably do this in our own small ways every time we read a good book, you might take the time to especially recognize an author on this day. In order to celebrate, you might look up information on an author you like. You can also go to a local bookstore and purchase a book to help an author out. Of course, National Author Day also marks the first day of National Novel Writing Month. So, if you're an author, take a few moments to celebrate what you're doing. If you're not an author, then you might try to do something special for someone that is preparing to go through a pretty stressful month.
2. Day of the Dead
The Day of the Dead is actually a popular holiday in Mexico, but it doesn't get a lot of representation in the United States. However, if you learn a bit about the holiday then you might actually want to participate in it. The Day of the Dead takes place on November 2 and is designed to celebrate the loved ones that we have lost. It is believed that the dead are able to cross into the world of the living for one day to visit their living loved ones. Of course, the living isn't able to see them, but they are able to feel their presence. There are many ways to celebrate Dia De Los Muertos, so you might look around for ideas. You might check out crafts or traditions to honor loved ones.
3. National Homemaker Day
November 3 brings a day to honor those that stay at home to take care of the duties around the home, as well as the family. If you're a homemaker, then today is the day that you get to take a load off from all of the extra stress that you have to take on each and every day. Generally, there aren't days off for homemakers, so try to make this day your official day off, if you can. Perhaps, you can hire a babysitter, ignore the household chores, and eat your meals out. If you're the partner of a homemaker then try hard to take care of the jobs that need to be done, so your partner can have a well-deserved break. This holiday will definitely refresh your partner and will show how much you appreciate the job being one.
4. World Kindness Day
A few days later, on November 13, you might want to take some extra time out of your day to celebrate World Kindness Day. This is a great time to start showing off the charity and joy that the holiday season is supposed to be filled with. For this special day, you might consider doing a good deed for someone. For instance, you might consider buying lunch for someone that is homeless. Another option is to pay a visit to a local nursing home or hospital to chat with people who might not get guests. Of course, your good deed could be as easy as just smiling at the people you come across. World Kindness Day is the perfect time to observe good deeds and pay them forward though, so try to take pleasure in the kindness that is surrounding you.
5. National Hiking Day
November, in many places, offers cool weather and serene scenery, which already makes it a great place for hiking. That is why you might not want to miss out on National Hiking Day, which takes place on November 17. This holiday marks the perfect time to get out and see the beauty that autumn brings to the table. It'll also give you the opportunity to take in some fresh air and get some exercise. Since it is a holiday, there should be hiking groups out and about, which might even help you make some new friends or find a new group to join. All in all, though, the holiday might mark the last chance you have to get out and hike because winter will be barreling around the corner soon and the holiday season will quickly take up your spare time.
6. National Adoption Day
November 23 marks another special day that has brought a lot of happiness to many families around the world. National Adoption Day is a great way to celebrate those adopted into your family. The holiday is designed to help make adoption a positive and rewarding experience, but it can also be a time of reconnection for parents that gave up children. If you have adopted or know of someone that has been adopted, you might take some time to show your joy for having them in your life. Of course, if you're interested in the adoption process then there is no better time to look into it. Knowledge will help you decide if it is a good match for your family, while also allowing you to find the resources you need to get started on your adoption journey.
7. National Espresso Day
There's nothing quite like warming up on an autumn morning with a nice espresso drink. Luckily, November 23 brings us National Espresso Day, so there's no reason not to indulge in something delicious to celebrate this amazing caffeinated drink. National Espresso Day is obviously very easily celebrated. All you need to do is have an espresso and enjoy it. You might also consider learning more about the history of the drink and how many different espresso drinks there are. You can easily make espresso at home, but you might also look for other options on this holiday. Many cafes and other restaurants might choose to offer deals on espresso drinks. Around a week prior to the holiday, you might look around online to catch any deals. Of course, calling into local cafes on the day of the holiday might also help you find some great options.
8. National Computer Security Day
Keeping your information secure is incredibly important, especially with most of our lives taking place online, it seems. Luckily, November 30 brings National Computer Security Day, which is the perfect time to get started on protecting your computer. You might use this to install anti-virus software, clean out your files and change your passwords. You can also use the time to help educate yourself about computer security and more. This will help you feel more confident about your time on the internet.
9. Small Business Day
November 30 also happens to be a small business day. Now is the perfect time to go out and enjoy all of the local stores that your community has to offer. If you're working on your holiday shopping, then now might be the perfect time to stock up on some items. You might try checking out bookstores, boutiques, and even bakeries. There are so many awesome things you can find locally too, which might inspire you to shop locally more often. Small Business Day is particularly important because it can help boost the local economy. Apart from that, you're also keeping local business going, which can help make the holiday months even better for the owners of the stores.
10. National Scholarship Month
The entire month of November is National Scholarship Month, which can help students go the extra mile to find the scholarships they need to succeed in school. Although you can find scholarships during the entire year, this month might have more scholarships than you would normally find. You might also discover that the scholarships are a bit easier to find. Thus, it is a great time for students of all ages to bookmark the scholarships they're interested in, check out deadlines and so on. November is also a good time to get started on this task since there will soon be school breaks where students can enter crunch time before starting the final semester of the school year.
There's no doubt about it, the month of November is an amazing time for celebration. These ten holidays only scratch the service of the amazing things that you can celebrate during this incredible month. So, make sure you find the joy in the occasion before the holiday season gets exhausting.