The holidays are a great time to enjoy the numerous traditions that have been shared from one generation to the next. However, if you're just starting out as a family or you want to spice up your holiday experience, then you might be looking for some great ideas to incorporate into your celebrations. If you're on a budget, then this can be especially hard. Luckily, there are numerous traditions out there that won't cost you a pretty penny. These ten ideas can add fun and culture to your holiday experience, without forcing you to sacrifice your budget. So, let the warmth of the holidays overcome you, because you're bound to have some fun with these traditional ideas.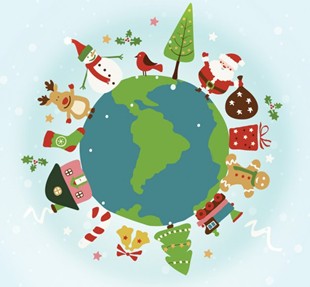 1. Pickle Ornament
You've probably seen a pickle ornament on a tree at one time or another. Although this trend is often portrayed on TV and in movies, the reason behind the ornament tends to me left out. Pickle ornaments are actually a German tradition. The pickle is hidden within the holiday tree and the first person to find it gets to open their gift first. This can be a lot of fun for children and it won't cost the family a bundle. You can even make your own pickle ornament if you're feeling crafty. From paper mache to clay, this ornament is very simple to make that you might consider making more to gift to loved ones. Of course, if you don't have the time to make your own ornament, then you can always purchase these ornaments at a very low price. In fact, even dollar stores have these items for sale, so you can easily take part in the tradition this year.
2. Christmas Eve Books
Another great tradition that comes all the from Iceland is Jolabokaflod. This tradition requires the family to open up a book on Christmas Eve. This tradition is designed to give readers time with their new books, as Christmas is usually spent as a family unit. The tradition can be a lot of fun too, especially since you can find books at a great price during this time of the year. The tradition will also encourage literacy in children, which will do your children's education a huge favor. You can make this tradition a lot more fun by whipping up some special holiday treats to munch on while reading. If you'd like to add a more social element to the tradition, then everyone can gather at the end of the night to share more about the book they received.
3. Start a Charity Box
The holiday season is one of the best times to give to charity. You can always make this a tradition in your home to help teach the family the true meaning of the season. One of the easiest ways to do this is to gather everyone together to make a charity box. Kids will love decorating the box and putting it on display for all to see. The box can be used to collect change and other spare money throughout the year. You can even ask people to contribute to it when they act on a bad habit. When the box is full, or the year is finally over, take the money and use it to give back. You can do this by donating the money or purchasing items for those in need. Each family member can even make their own box to see who can donate the most.
4. Take a Family Photo
The holiday season usually brings the whole family together for fun activities. Since everyone is together, you might want to use the time to get a family photo. This is especially great if you have the whole extended family together, as getting a picture together can be quite tough. You can hire a professional photographer for this, but there is really no need for this. Most mobile phones have great cameras now and with the help of a selfie stick, you should be able to get everyone together. If you get your photo taken early enough then you might even be able to use this image for holiday cards, which can save you quite a bit of money too.
5. Game Day
For many families, the holidays consist of opening gifts and eating. The bonding experience doesn't go any further as most people want to spend time with their new items. So, instead of spending all day with gifts, you might declare a special day for playing games together. You can pull out your favorite board games, cards and dominoes to keep everyone satisfied. You might even make a tradition of purchasing a new game each year for people to try. The game day can help entertain everyone, which will bring the family close together. On top of that, it will ensure the holidays are spent having fun on a very low budget.
6. Boxing Day Cleanse
For generations, many countries have celebrated Boxing Day, which takes place the day after Christmas. When the holiday was originally created, it was used as a way for the rich to provide gifts for their servants. Generally, they would go through their own gifts and their old items to come up with second hand things to give away. Although most people no longer have servants, the tradition is a great way to cleanse your home of unnecessary items. With all of the new clothes, toys and appliances in the home, you can go through your items and get rid of those that you no longer want or need. The items can then be donated. This will help keep your home from gathering too many items and can even provide you with a tax deduction which will save you even more money. Best of all, it will teach your children to give back, especially when they have a bounty.
7. Bake Cookies
Cookies tend to be one of the best aspects of the holiday season. This is why it makes such a great tradition for just about any family. Ingredients for cookies can be inexpensive too, and you're likely to have most of the items on hand already. This makes it a breeze to get the whole family together on Christmas Eve to bake some delicious cookies for Santa. You can find a role for just about anyone in the family too. From baking to decorating, everyone will have a lot of fun together, which will add warmth to the holiday celebration. Kids can even decide which cookie they want to leave out for Santa Claus, which will give them a sense of pride.
8. Elf on the Shelf
Elf on the shelf is actually one of the more recent traditions to hit the holiday season. As soon as December arrives, an elf appears in the home to keep an eye on good boys and girls. The elf directly reports in to Santa, which encourages children to be on their best behavior. Some households bring in an elf per child, while other households simply have one elf to keep track of good and bad deeds. Parents can have fun placing the elf in different positions or situations each day too. The elf on the shelf can be a pricier purchase during the holiday season, but you will only need to make it once. However, if you can't justify spending the money on the elf then you can purchase one from a discounted website, like Wish, if you're willing to wait a few weeks for it to arrive. You can also make your own elf, which will make the Elf on the Shelf a more personal experience for your family.
9. Movie Marathon
The holiday season is rich in holiday movies, which makes watching your favorites a great tradition that everyone in the household can enjoy. You can span out your movie marathon throughout the month if you don't have time for a marathon day. This is easily done by wrapping up all of your holiday movies and unwrapping one per day to watch. Of course, you can also make some great holiday snacks and watch your favorite movies on Christmas Eve too. This will help get everyone in the holiday spirit and will ensure the family spends some time together. You can even have everyone vote on the movie lineup to ensure everyone gets a say in the matter. If you want to make things even cozier, then you might allow everyone unwrap a new pair of pajamas for the special lounge day.
10. Yearly Ornament
Adding to your holiday tree can be a whole lot of fun. That is what makes finding a new ornament each year a lot of fun. You can tackle this tradition in many ways. For starters, you can have each family member purchase a new ornament to represent their year. Then, when the kids grow older and move out, they can take all of their ornaments with them. Another option is to make a photo ornament that represents the whole family for the year. These ornaments can actually be very affordable, especially if you use coupons when ordering them. Of course, the cheapest option is to have the kids sit down and craft a special ornament for the year. The craft can be a lot of fun and excess ornaments can be used as gifts for other family members.
Holiday traditions are what memories are made of. That is why creating new traditions with your loved ones can always be a lot of fun. These ten ideas will help cut down on the amount of money you have to spend on your holiday tradition. This should make your family's experience merrier and bright.