June is National Rose Month, which means it's the perfect time to enjoy this stunning flower. Unfortunately, roses are often considered to be expensive, which forces many people to put these amazing flowers on the back burner. There are many ways that you can enjoy National Rose Month without spending a lot of money on the fun though. These ten tips should guide you through many activities that work with your frugal budget, so you can enjoy roses throughout the entire month. So, get ready to stop and smell the roses as you move into the lazy days of summer.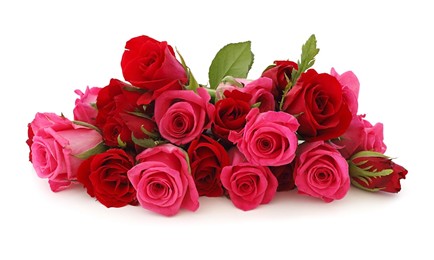 1. Plant Roses
Without a doubt, one of the best ways to celebrate this amazing month is to actually plant some roses. Around this time of the year, roses should go on sale because planting season is almost over. So, you should be able to find quite a few clearance deals to help you find the roses of your dreams. Roses are fairly easy to care for too, so if you plant soon then you should have a garden to admire until much later in the year. If you don't have a home with a yard to plant your roses, or you're simply out of space, then you might consider asking if you can plant them in a local park, at a nursing home, or other public space. You will have to talk with community leaders in order to get this permission, which might take a bit of time.
2. Check Out a Rose Garden
Apart from working on your own garden, the next best thing is to stop and see the roses at a community rose garden. This can be an exciting experience for young and old. Usually, these gardens are very quiet which can help you find a little relaxation and reduce your stress too. There are a great number of rose gardens around the United States, so you might want to do a quick search online to see which will suit your needs. If you have time and a little extra money on your hands, then it might be fun to enjoy a mini road trip in order to enjoy more rose gardens. You will have the chance to see more species while doing this and to enjoy the variety of delicious aromas.
3. Pass Out Bouquets
If you already have roses growing in your garden, then you might wonder what you can do with some of them. If you have an abundance, then you might consider building a bouquet with them. You can use this to decorate your home with something beautiful and fragrant. However, you can also build bouquets for those in need. For instance, you might build a few to display in the hospital or a nursing home. This can help lift the spirits of those that are ill, so they can possibly heal faster or at least feel happier during their stay. You might consider passing out bouquets to friends and family. If your child is still in school, then this could be a great end of term gift for teachers. The sky is the limit as to how you distribute your bouquets.
4. Join a Rose Society
Rose societies can be a great thing to join if you find yourself falling in love with roses. If you aren't already a member, then the month of June is a great time to find the rose society of your dreams. During this time, many societies actually reduce the price of membership, which will benefit you immensely. Most memberships cost very little to begin with, so you should be able to find an affordable option for you. Of course, you should put in plenty of research before choosing a society to run. Some memberships offer very little while others might even send roses in the mail. You will have to decide what price is right for you and what you hope to get out of the society. You might find joining a lot of fun.
5. Preserve Roses
One of the most rewarding things to do with your roses is to actually preserve them. This will help you to remember all of the beautiful flowers that you grew in your garden without having to have a lot of pictures lying around. Preserved roses are also a great thing to add to crafts in the future. They can help you show off beautiful memories or make some of your crafting items more beautiful. There are many ways to preserve roses too, so you can try a few options to see what works for you or the specific rose that you are trying to preserve. Best of all, doing this actually won't cost you anything, which is great for your frugal lifestyle. In fact, you might even be able to make some money off of your preserved roses, which will add even more to your budget.
6. Rose Festival
June is a great month for festivals, to begin with, but it is one of the best months to check out a rose festival. You might find there are actually many to choose from by doing a simple search as to what festivities will be available in your area. If you're looking to travel, you can find one of the biggest rose festivals in Oregon. However, there are plenty of fun festivals throughout the world. During the festival, you will be able to view large roses of many different species, pig out on rose inspired food and buy art from those that have dedicated their lives to crafting with this beautiful flower. You might even leave with your own roses to plant. So, prepare to have fun, no matter which festival or festivals you choose to attend.
7. Photography
If you're interested in celebrating National Rose Month, then you probably agree that roses are some of the most beautiful flowers around. So, now might be the perfect time to take up some photography so you can capture your favorite roses and preserve the memory of them through photos. You don't have to have an expensive camera to do this either. In fact, you can take amazing quality photos from your phone. You might want to invest in a few lenses to do this, but if you're saving money you can easily capture images without any extras. You can also make your own filters for next to nothing. In order to get the best photos, you might try heading to a local rose garden, checking out the farmer's market or just enjoy what you have growing in your own yard.
8. Rose Recipes
One amazing thing that many people overlook is recipes that use rose. You might actually be very surprised as to how many things you can incorporate rose into. One of the most popular items is lemonade. This delicious treat is especially refreshing during the hot summer months. Another great treat that will cool you down is ice cream. This homemade treat is certain to make summer gatherings even more rewarding. Of course, you can add roses to cakes, icing, cookies and so much more, so look around for a rose recipe that will strike your fancy and you're certain not to be disappointed. You might even consider playing around with your own ideas to have even more fun with roses this month. Of course, you don't have to feel limited to using roses. You can turn everyday foods into roses too, like strawberries, icing and even ice cream. This will make presentation of your favorite foods even more stunning.
9. Rose Crafts
Bringing roses to the craft table can be a lot of fun too and will help you make crafts that will last throughout the year. You never know, some of the items you make might be great holiday gifts that will help you save even more money. Two of the more popular crafts for roses are potpourri and candles. These delicious crafts will filll the home with a beautiful scent that will make you feel satisfied every time you come home. Of course, you can also use rose petals for centerpieces, scrapbooking, picture frames and so much more. If you don't have roses to craft with then don't fret. You can always make paper or fabric roses to suit your needs. There's tons of ideas available to you too, so have fun with your roses while they last.
10. Learn More
Of course, one of the best things you can do during the month of June is improve on your knowledge of roses. Now is a great time to read up on your favorite floral species. You can easily find websites, magazines and books to help you along your way. There's lots of things to learn about roses too. For instance, you might be interested in their origins, colors and patterns. You can also find out about roses across the globe to see how they differ or are similar to those in your backyard. Other great information to look up would be tips on how to grow and care for roses as well as how to make them live longer after cut. Your curiosity can be your guide, but if you're having trouble finding information ask a librarian to guide you along the way.
National Rose Month can be beautiful and exciting if you don't worry about spending a fortune enjoying it. These tips should help you find plenty of ways to enjoy roses, while broadening your view on the gorgeous flower. You may even find your yard filled with the beautiful flower before it is all said and done.