The holidays are here, which means it's time to finally enjoy one of the best seasons for baking. If you're not a fan of running the heater, then this season is going to be a great time to truly channel your inner baker. However, baking can really add to your grocery budget if you're not careful with the items you choose to make. There are some great foods that you can enjoy, as well as some substitute ingredients that can help you cut down on the cost of baking while enjoying some of the tastiest treats around. So, get ready to make this season the tastiest yet without forcing you to flex your budget.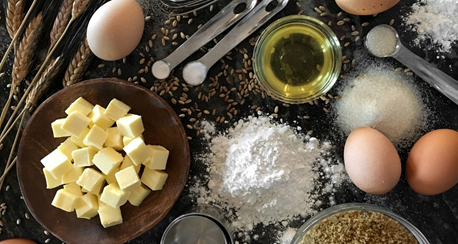 1. Cookies
There is no doubt about it, cookies are a timeless classic during the holiday season. Not only are they the perfect item to leave behind for Santa on Christmas Eve, but they are also entirely easy to make. On top of that, cookies can be made from an assortment of ingredients, so you can have a wide variety of items to choose from while baking. Cookies all tend to have the same base, which gives you quite a bit of freedom to use supplies that you already have in the home. You can keep it simple with a sugar cookie or you can go wild with chocolates, nuts, and fruits. There are lots of substitutions for cookies too. For instance, you can substitute sugar for apple sauce, which can be cheaper and much healthier.
2. Tomato Soup Cake
If you want to add even more flavor to a spice cake, then a tomato soup cake is the way to go. You can make this cake from scratch if you really want to, but more often than not it is cheaper to make when you use the cake mix that comes in a box. The recipe for this cake is very simple. All you have to do is add the ingredients on the box and then toss in a can of tomato soup. Your cake will come out incredibly moist, which will ensure everyone enjoys it all the more. If you want to add even more fun to your cake, then toss in some apples as they will work wonders with the spices already in the cake mix.
3. Apple crumble
Another easy way to make a delicious treat for less is to try out a nice apple crumble. This simple recipe will give you the joy of a pie with more texture and sweetness in each bite. The joy of a crumble is, you can easily make the filling from scratch. A few apples with cinnamon and sugar and you're on your way to success. The crumble aspect of the dish is also simple to make, but you might have to play around with recipes that will suit your skills and taste preferences. The great thing about a crumble is you don't have to stick with an apple. You can use whatever you have in stock to help create the perfect dish for your home and your budget.
4. Muffins
Whether you're looking for something for breakfast or dessert, a muffin is definitely the way to go. This baked good is simple to make with a packet bought from the store or from scratch. There are even some people that make muffins out of pancake batter and leftover fruit. No matter how you choose to tackle muffins, you'll find them to be tasty and a fantastic breakfast for busy mornings, such as Christmas. Muffins will keep you full for longer and can even be made with health-conscious ingredients to ensure your sweet tooth doesn't get the best of you.
5. Fruit bread
You might not think about fruit bread when it comes to baking, but it is one of the most common things to make these days. Of course, if you followed quarantine trends then banana bread was probably one of your go-to recipes in the early days of rediscovering baking and sharing your treats on social media with friends. However, if you're a banana bread fan then you have already discovered a great recipe that won't cost you a fortune. On the other hand, there are other bread that you can make with items in your home. For instance, you can make an apple fritter bread that won't let you down. Zucchinis might not be a fruit, but they can be transformed into some of the most delicious bread around. You can even go for a strawberry bread that will make you reconsider how much you love cake.
6. Cake Cookies
If you're working hard and don't have the time to mix things up from scratch, then cake cookies are a wonderful option for your household. All you have to do is grab your favorite cake batter and mix it with just oil and eggs. Then, add your favorite add-ins. You can go with fruits, nuts, candies, or even other cookies. Then, all you have to do is scoop the dough on a cookie sheet and you're ready to bake. This is a fun way to get the kids baking too, as it doesn't require a whole lot of work. Plus, your cookies will come out fluffy and soft, which pairs well with your favorite form of milk.
7. Cinnamon Rolls
Nothing says breakfast like homemade cinnamon rolls coming straight out of the oven. Cinnamon roll recipes can easily turn into a household favorite, but you might have to play around with recipes to choose the best one for you. Of course, when it comes to cinnamon rolls, you can add just about anything that you want to the mix. Some people like cream cheese frosting, others love to add fruit and nuts to the center. As long as you have a little patience with the yeast you are working with, you should have no trouble working from scratch on this baked treat.
8. Scones
When it comes to adding a bit of fun to your breakfast or snack time, a scone is the way to go. This baked good starts out with a recipe that is very similar to that of a biscuit. So, if you already have a biscuit recipe then all you have to do is make a few quick adjustments and you're on the right track to success. Scones can be a whole lot of fun to work with too because you can make them out of almost anything. This makes it great to experiment and try out new things. These little treats can help bring the family closer together as you have tea parties or simply embrace a quick breakfast.
9. Cheesecake
If you're looking for something rich and creamy then you will definitely want to try making your own cheesecake. The ingredients for this dessert are simple and can be purchased cheaply in bulk to help you enjoy more of your favorite treat. Cheesecake is an easy thing to get the hang of making. Once you have the original recipe down, you can start on new and exciting add-ons. For instance, you might add some fruit to the top, enjoy something with a nice peanut butter crunch, or even enjoy swirls in the cake itself. Cheesecake can be frozen to have later on down the line too, which will allow you to get even more out of your baking experience.
10. Oatmeal Pie
If you grew up on oatmeal pies, then you'll be happy to know that this treat is very easy to make and it won't cost you a fortune either. One of the best things about this snack is you'll probably have all of the ingredients in your home. You can also alter the recipe to create a healthier and more enjoyable snack for your household. There are lots of oatmeal pie recipes to choose from, with some of the options offering add-ins like raisins. You will have so much fun making them too, that you might forget all about Little Debbie.
When it comes to baking, the holiday season is the perfect time to have a little fun. These ten baked goods will ensure you to give in to your sweet tooth while allowing you to share your baking skills with your loved ones. If you really want to keep to a budget, these ten tips will definitely help you to enjoy all of the wonders of baking.