The weather is peaking in temperature, which means you're probably looking for some fun ways to spice up your style while finding items that will keep you cool. If you're on a tight budget, then this can be particularly hard. Luckily, when it comes to fashion, you can improve you wardrobe with a little creativity. These ten summer fashion tips should have you looking incredible without forcing you to spend a small fortune on a new wardrobe. Best of all, they will offer you a few fun things to do during the long days of summer. So, enjoy the cool styles the heat brings, because these frugal tips are certain to bring compliments your way.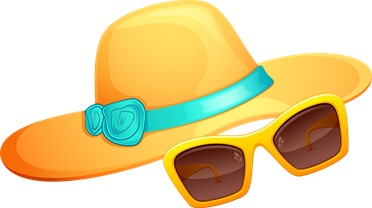 1. Tie-dye
Tie Dye has moved in and out of the fashion world for decades now. Luckily, this summer it is in again, which means you're in store for some good ole fashioned fun. You can tie dye with a wide assortment of things including food coloring and even some powdered drink mixes. So, you won't have to spend a whole lot of money on this task. All you will need to do is find something to tie dye. A white shirt or other white clothing are great options, but you can tie dye with most light-colored items. If you want to work a bit harder then bleach a dark colored item, in certain areas, so you can add color to it too. You can also tie dye items like shorts and denim products. Another trend that is possible to accomplish with tie dye is space prints. Thee tend to require navy blue or black fabrics, but with a bleach pen and some spare time, you can make the most of this experience. Best of all, tie dye will give you an entirely unique look you'll love to show off.
2. Cut-offs
One of the timeless traditions for summer styles is obviously the comfortable and cheap cut-off. You can do this in so many different ways though, so you can put a taste of your own personality into the mix. The most common form of cut-offs is taking an old pair of jeans and cutting them along the thigh to create a pair of distressed and cool shorts. Of course, you can do so much more with these shorts. You can cut the hem to offer a more expensive style or you can add detailing to the bottom of the shorts to ensure you have a unique look. You can make cut-offs out of more than just jeans though. Any pair of pants can be transformed into a cool new look with just a couple of steps. On top of that, you can also enjoy cutting off your shorts to create cropped styles or a simple tank top. Have fun with your old clothes and they're certain to make you look and feel cool.
3. Light Colors
When it comes to a heat wave, one of the best ways to cool down is to wear light colors whenever and wherever you can. These colors attract less heat, so you should feel much cooler when you're out and about. White is a very popular summer color, so as long as you wear it before Labor Day arrives, you'll show the world your keen sense of fashion. If you have plenty of light colors in your wardrobe, then you shouldn't need to go out of your way to go shopping. However, if you're low on such clothing then check out thrift stores before you choose to spend a fortune on a new wardrobe. Light clothing is very easy to pair with other items too, so you will be able to have more of a variety when it comes to your clothing options.
4. Upsize
One of the worst feelings in the summer is when your clothes begin to stick to your body due to sweat. So, one of the best things you can do during the summer is wear clothes that aren't form fitting. This will give you more breathing room, which will help sweat dry before your clothing begins to stick to your body. This is a great way to prevent chaffing too, so you will feel even more comfortable in the summer time. Of course, it isn't always fashionable to wear baggy clothes, so make sure the items you do pick out look good on your body when worn larger. When it comes to children, this is also a great way to help save money while ensuring your kids have the latest fashions. Buying the size up for children will allow kids to wear comfortable clothes during the summer and they can even carry over the look into other seasons while they are still growing.
5. DIY Hair Accessories
No matter the length of your hair, you probably know how horrible it can be to deal with your locks during the hot summer months. Luckily, there's lots of great accessories that can cut back on the discomfort your hair brings to you while you're out and about. There's lots of great ideas that can even be handmade, which will save you a small fortune when it comes to your fashion budget. One of the more common options is hair ties. These can be wrapped around the head to show off a lovely bow or can be used to create a ponytail that will have your friends envious. These ties can be made with ease from an old shirt or pair of leggings. Simply cut a strip of fabric and add any details you please to the look. You can also create cool accessories for buns using chopsticks, the shells of empty pen cases and more. Your imagination will certainly pay off when it comes to keeping your hair off of your body this summer.
6. Shop Sales
If you're low on trendy clothes or you just want to purchase a few more items, then you're certainly in luck as many stores will host sales on summer clothing before the season is over. Around the Fourth of July, you will start to see some holiday sales that will help you stock up on some of the items you've been wanting to buy. If you miss out on these sales, then have no fret. Before the Back to School sales begin, which usually happens in late July to early August, you will find a wide assortment of summer sales to choose from. This tends to be when summer clothes hit the clearance rack too, so shop away.
7. Incorporate Swimwear
Believe it or not, but your bathing suit can be one of the coolest fashion pieces in your wardrobe. If you have a pair of board shorts then you have a cool and colorful option that pairs well with tees, tanks and sandals. Even your bikini can make a bold statement with a pair of blue jean shorts or a flowing skirt and sun hat. Your once piece can also make a great fashion statement. Since bodysuits are currently in style, you can easily save money that you'd spend on such an item and use your stylish and colorful one piece instead. This will allow you to go from casual fashionista to swim ready in mere seconds too.
8. Signature Pieces
Like with any style, a good signature piece can transform a look. If you don't have a lot to work with then this might be the best way to show off what you do have. One of the most fashionable things to consider is adding a belt to a baggy dress. This will not only give your body a more defined look but will make you look like you belong on the catwalk. Another great option is to try to add some loose-fitting bangles or other accessories to add to your look. Of course, since it is summer, a nice pair of sunglasses or a cool hat can really make your style stand out too. You can DIY these items at home or purchase cheaper options that you find in thrift stores or on the clearance rack.
9. Glamorize
Summer is the perfect time to have some fun with your style too. For instance, you can add a hint of glamor to almost anything you own. A touch of glitter or anything that sparkles is in style now especially when it comes to teenagers. This effect is easily created with gemstones, fashion glitter and so much more. Of course, you can really give your style a custom appearance by adding patches to your clothing. You can find patches at most stores and online, but you can also make them for yourself. If you don't want to sew or add things to your clothing, then consider pulling out your favorite permanent marker or fabric paint marker and doodle away. This can look especially cute on an old t shirt or a pair of shorts. Another major trend is adding tassels to the bottom of shorts and sometimes even shirts. If tassels aren't your thing then consider adding lace to your favorite styles. You don't have to stop there as you can really spice up a pair of sunglasses to suit your personality. Finally, creating your own personal tote can take your look to a whole new level.
10. Light Weight Styles
Keeping cool is one of the main goals when it comes to summer fashion that is functional. This can be really hard if you're celebrating a special occasion or your workplace has a dress code. In these instances, your best option is to search for light weight fabric. This can be easier than you think if you know which fabrics to look for. When you shop for lightweight clothing you aren't as limited by your style either. You can even wear long sleeve items in the summer to suit your needs. Of course, you can also get away with wearing sleeveless looks at the office if you have a light weight outer layer to cover up the fashion choice.
Dressing for summer can be exciting and fun, even if you are on a budget. These tips should help you create a fashion savvy look that won't cost you much at all. Before you know it, you'll be turning heads and collection compliments as your friends and family look to you to set the latest trends.