With school starting and autumn weather on its way, you may be spending a whole lot of time in your living room. This can be a bit stifling if you've been wanting to renovate your living space, but you simply don't have the budget to do so. Luckily, there's actually a few things you can do to switch things up. This should give the illusion of a new living space, which will help brighten up your day when you can't go out to play. So, if your living room just isn't making the cut, try out these ten hacks to leave you with a fresh and inviting space that won't make you miss the sunshine too much.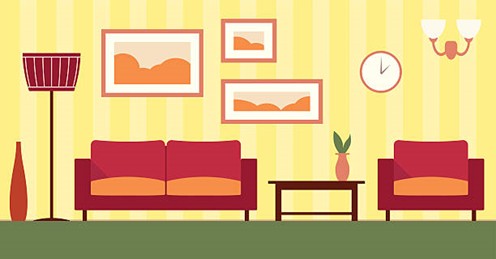 1. Move Furniture
One of the easiest ways to ditch the look of your old living room is to move around your furniture. This actually takes no money at all. Moving around the furniture can not only access light better, but it can help make you feel more at ease with your life. You might want to check out feng shui techniques to see if there's any specific way you should be moving your furniture to maximize your happiness. You might also want to draw out some plans so you don't end up spending all afternoon having to push heavy furniture from one end of the room to the other. When you make plans, t ry giving each object in the living room a new home to see how it makes you feel. With a little elbow grease and some creativity, you might feel like you've stepped into a totally different home.
2. Swap Out Pillows
Another quick and frugal option is to simply switch out the pillows you have on your couch. Often, people will keep the same pillows for years, which can get really boring. Luckily, you can find a wide assortment of pillow covers today. They offer everything from fandom items to special sayings that will warm your heart. If you want to put some money into the pillows then you can even order customized ones to suit your family or your personal taste. If you already have pillows on your couch then you can easily just recover these, which will take away a large portion of the cost. Many online stores offer these pillows, so just shop around until you find something that will offer a breath of fresh air to the home. If you are fine with waiting for a while then you can easily get your pillows for less than $10 on websites like Wish.
3. Add Plants
Nothing makes the air fresher than a few living plants. It doesn't matter if you keep rotating flowers into the room, or if you nurture a plant or two, as this will help give life to the room. These plants can also make the air in the room fresher, and might even add a lovely floral scent to the area. You might want to look into plants that are safe to have around children and animals before you can make any decisions. If you can't have plants due to allergies or other reasons then fake plants can also add some pizzazz to a room. The bold greens and other colors can really make the room feel brand new, especially if you're used to muted colors. You may even use plants to disguise some of the items in your home that aren't exactly picturesque, like the litter box. The more creative you get, the more you will enjoy your new living space.
4. Consider Scent
Sometimes, your room isn't all about images. Rather, the smell of your room can really make or break the atmosphere. So, if you really want to add to the room then you might want to invest in something to help make the room smell incredible. One way to do this is with candles. If you shop clearance items this shouldn't cost you too much, but some candles can be a bit pricey. You can always DIY candles, but this can also cause a bit of a problem if you burn them constantly. Incense is another great option, but it does put off more smoke than other options. You might also consider burning essential oils, which can help with your health and wellbeing too. Apart from that, you can always make your own home sprays with fabric softeners and more.
5. Reorganize
We can easily grow tired of seeing the same things over and over again. Thus, if you want to liven things up it might be wise to move around the items that you have in the room. One of the best places to begin is your artwork. Move around pieces to create a new focal point that will make you feel like you've totally changed the room. If you have nick-knacks then swap them around too. Of course, one of the more time consuming ways to switch things up is to reorganize your book shelves. There's so many ways to do this that you can work with your current theme or go with something new. One popular way to add aesthetic this way is to organize by color, which often brings a burst of energy to the room. You should also consider swapping lamps around to add light to different portions of the room.
6. Add Art
If your walls are looking a bit bare or mute of color, then some artwork might be in order. Of course, even if you do have art then it might be time to switch to something new. There's lots of ways to go about this though. For starters, you can paint some art with the family to give your home a personal touch. If you have a certain print in mind then you can probably get it for a pretty cheap price. Many people often just browse around until they find something that meets their needs. Sometimes, you can even find free artwork, which can be printed out and framed for an amazing look. Family portraits are also a great option for artwork too and most printers can handle printing these for next to nothing.
7. Consider an Accent Wall
If you're sick of the paint in your home, but don't have the budget to repaint then an accent wall might be right up your alley. An accent wall is usually the smaller wall in the room, but you can choose whichever wall that strikes your fancy. Once you pick the wall, you paint it a color that stands out from the rest of the walls. Since you're only doing one wall, the paint will be inexpensive. This can add a whole new life to your room and will ensure you feel refreshed every time that you walk through the door. You can even add decals and other decorative pieces to make the wall stand out even more.
8. Declutter
The things that we have in our home tend to affect the way we feel in life. One of the worst things you can do is add too much clutter to any given room. So, in order to give your livingroom the makeover it deserves, the first thing you might consider doing is decluttering. You might begin by ditching any excess mail, magazines or other junk that is just sitting around. Then, minimize the books on the shelf or other décor that might be adding up the stress in your life. You may also decide to go with a minimalist approach to help you feel happier in no time. It is actually scientifically shown that clutter ways us down, so do yourself a favor and ditch it today.
9. Lighting
The way you light up a room can make or break it. So, when it comes to mixing things up, you might want to consider moving around your lamps. Consider adding lamps closer to areas where you read or the kids do homework. Areas in which you watch TV can be dimly lit to improve mood. Of course, you will also want to move lamps around to make sure they don't cause glares on your screen. If you want to keep things simple then consider switching out lightbulbs. Energy efficient bulbs tend to add better lighting and will save you a lot more money in the long run.
10. Focal Pieces
The final way to add more style to your living room is to give it a couple of focal pieces that the eye will naturally concentrate on. One of the easiest options is to consider a new rug. Rugs tend to be one of the most important parts of the room and can make it look fun, elegant or romantic based on the type you choose. So, switching out rugs can transform the atmosphere in mere seconds. Another easy way to change things up is to change your curtains out. You might want to go for lighter colors in the summer and deeper colors in the winter. This can change a room dramatically and make you feel more relaxed as the season passes. You might also consider a statue, fountain or other item that will help change the way the room feels.
Your living room tends to me one of the most frequented rooms in the home, which is why you should love the way it looks and feels. When you grow tired of this room, renovation doesn't have to be the only option. There are a few tricks you can use that will save you quite a bit of money as you enjoy your fresh space.