Back to school days will be here before you know it. If you haven't already planned a few things to do with your kids then you might want to start planning now. You don't have to look at things that will cost you an arm and a leg though as there are plenty of things that can be both fun and useful to do without costing you a cent. These activities will not only encourage bonding that you may not get to do during the school year, but will also help you and your kids fall into the school year without skipping a beat. So, don't let the rest of summer fly without trying out some of these activities.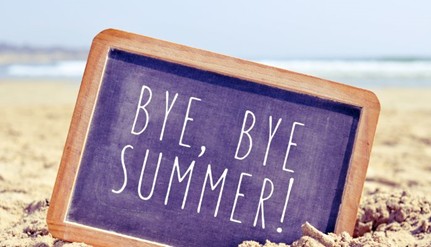 1. Donate Clothes and Toys
It might not sound like a world of fun, but doing a little cleaning and organizing before school can help you transition into the busy lifestyle easier. This is especially true when it comes to your kids' possessions. Each year, most kids start school with brand new clothes, but their old clothes often remain in the closet. To save space, you might want to have the kids pull out everything in their closet before you do your back to school shopping. They might protest, but make them try on items you're not sure about. If they don't fit then pass them down to another sibling or put them in your donation bin. This can also help you save money on back to school clothing shopping as you will know what kind of wardrobe you're working with. The same can be said for toys. If your child doesn't play with an item anymore then donate it to someone else. This will make room for the new items that will pop up during the year and will make cleaning rooms a whole lot easier.
2. Plan On Food
One of the toughest aspects of the school year is making meal plans. If your child doesn't have a meal at school then you're responsible for planning breakfast, lunch, dinner and snack every day of the year. This can be a huge headache especially if you can't decide what to make your children. Sandwiches are always a simple option for lunches, but you can also stretch your budget further by using leftovers. Snacks can also be a huge hassle, especially if you can't decide what the kids want. So, it might be important to sit down and talk about likes and dislikes as well as how lunch is set up at their school. You may find your child's comments can help you plan better and may even give you some ideas. You might also talk about a reward system for snacks. For instance, you can prep food early in the week and allow your children to choose what they eat based on a number system. This will cut back on the work you do and teach your children how to choose healthy foods.
3. Organize Activities
With school comes a wide assortment of activities that need to be carefully planned, unless you want to wind up running late and overbooking everything. Before your kids begin school sit down and have a serious talk about the things they plan on doing during the school year. If they are clubs or other activities that don't involve competitions, then find out if there is an after school bus. If they are athletics and other competitive activities then write down what seasons they will be playing them and try to get ahold of schedules as early as possible. If the kids are in activities outside of school then weigh out they may affect their studies and your combined schedules. This will help everyone know what they're in for and will allow you to plan your days more efficiently.
4. Go Swimming
Summer time is all about the sunshine and getting in some time at the pool. However, once school begins it gets harder and harder to find the time when school does begin. So, instead of trying to pack in a lot of things into the last days of vacation, you may want to spend a bit more time at the pool. This can be a great bonding experience if you play together in the water. It is also the perfect time to make sure your kids know how to swim properly if they are of the right age. Doing this not only helps entertain everyone, but can help make sure your kids are in shape for their fitness tests in gym class.
5. Watch the Stars
There is nothing quite as magical as the summer sky at night. There are so many constellations and stars visible that you could spend all summer discovering new things. So, if you want a fun way to bond with your kids then having them sit under a stary night is the way to go. This can feel like a vacation in itself if you plan correctly. You might want to sit out with a map of the night sky and help kids discover the constellations. You might even consider looking up legends behind them or plan to share trivia about the planets that are visible. Of course, you'll need to stay up late to enjoy this activity, so pack some snacks to help the kids stay up.
6. Movie Day
Sometimes, it is hard enough to fit in a movie with the busy school schedule. So, you might want to plan a movie day to help the family share an experience that everyone is going to love. You can enjoy your movie day at home to save some money or at the theater if you've all been longing to see a summer blockbuster. No matter which you choose, make sure everyone is comfortable and has adequate enough snacks. This is a great way to help everyone kick back and relax before the hustle of school begins as soon each evening will be spent on homework. Make sure everyone gets a say in the movie choice, or pick more than one, so that everyone finds joy in the family event.
7. Pamper Day
One of the best ways to get ready for school is to have a pamper day that will not only help the whole family relax, but will also boost confidence for school. This can be as simple as taking the kids to get hair cuts and allowing them to choose which new shampoos and lotions they would like for the school year. Some children may enjoy getting foot massages at home or having their backs rubbed as they enjoy some tranquil music. You will have to base your spa day on your children and their personalities. You don't have to throw in a lot of money into this activity either. You can work with nail polishes and facial masks that you already have in the home if you're looking to create a beauty spa. You might find the kids enjoy this special day more than you expected and might even find that it helps them open up to you.
8. See the Dentist/Doctor
It may not sound like a whole lot of fun, but getting your child an appointment at the dentist and doctor can be one of the best things to do before school begins. This allows your child to get their 6 month check up over and done with before they have to worry about school exams and missing project deadlines. This will also ensure they don't miss any school in the beginning, which can be crucial to their adjustment. Getting children in and out of the doctor and dentist office will allow them to get over any traumatic aspects of the visit like getting a filling or catching up on vaccinations.
9. Go Camping
One of the best ways to get away from the cares and concerns of your busy life is to take the family on a camping adventure. You might want to do this before school begins as it will allow everyone to unwind and step away from technology for a little while. This can be important since technology can be addicting and may make it hard for your children to concentrate when school begins. This is also a great time for the whole family to work together and bond. This can make teamwork during the school year easier to fall into, which will help you more than you think. Plus, camping can be a lot of fun and teaches children lots of life skills they won't get in the classroom.
10. Discuss Goals
It is important for children to go into the school year with goals to help guide them through challenges. The goals don't have to be too high, but they should have some knowledge of how they would like their school year to go. Perhaps, your child wants to shoot for perfect attendance or for the honor roll. You might also want to help them set goals to try new activities. This will help them learn even more about their bodies and minds, which will make the school year even more valuable. Your child's goals will help everyone in the household meet expectations without moving through the year aimlessly.
The school year can be tough on the whole family, which is why it is important to enjoy some quality time before the first day of classes. These ten ideas will help you prepare your whole family for the year while throwing in some ideas to help you relax. So, don't stress over expensive vacations before this semester as there are many things to do that won't cost you a small fortune.