With Thanksgiving come and gone, you're probably already getting in the mood for some Christmas spirit. One of the more time-consuming aspects of this holiday is getting the cards together to be mailed out. Christmas cards can even be pretty pricey if you don't budget correctly. Luckily, December 9 is actually designated as Christmas Card Day which will give you the perfect time to set aside to get your cards ready to go. These ten tips will not only make your Christmas Card Day a bit easier, but will also allow you to save some money on your holiday greetings. So, get ready to have some fun with your holiday cards to kick off the joyous season.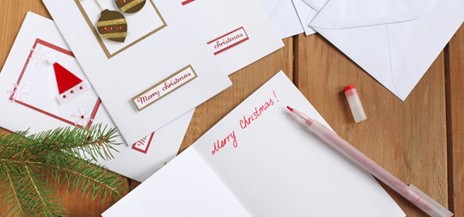 1. Use Last Year's Stock
One of the easiest ways to get past spending a small fortune on this year's cards is to actually pull out the leftovers you had last year. These cards can be used again to help prevent you from having to buy hordes of new cards. Even if you only have a few cards leftover, they can still come in handy. For instance, if you receive a card you weren't expecting then you can return the greeting with one of last year's options in order to be polite. This will even allow you to have more leftovers to put back this year, which is certain to make life a little easier when Christmas card season rolls around next year.
2. Self-Photography
Sending out portraits of the family or just the children, is quite a trend when it comes to the holiday season. However, spending money on a professional photographer can make your pictures skyrocket in price. Luckily, you can always use your own skills to take your family's photo. There are a lot of techniques you can use to pull this off, which will certainly help make your holiday picture even more fun. You can even use your personal phone if you don't have a professional camera to work with. These photos can even be printed at home, or inexpensively at a department store to keep you from spending even more money.
3. Check For Freebies
During this time of the year, many of the popular photo printing websites offer a wide assortment of freebies to pull in business. Usually, these freebies will just be for a few cards, which won't help you completely satisfy your entire mailing list. However, if you do take up offers from all of the websites offering freebies then it should help put a dent in the list. You can always send out these higher quality cards to close friends and family and then supplement the rest of your mailing list with a cheaper option. Also, these websites tend to offer free or great deals on photo print outs too, which will allow you to simply slip in photos without having to pay the high price of a printed card.
4. Go Digital
There's no rule saying you have to use snail mail to send out your cards this year. Instead, you might consider making a digital copy of your card. You can create your own in a pain program, customize a premade card or even decorate a family photo. If you don't want to put in a lot of effort, then simply scan a card you want to send out and save it as an image. Then, you can email the card or post it to your social media page to save even more time. This method will cost you next to nothing too and will have your holiday cards sent in a fraction of a second. You might consider printing a few cards out for those that may not be tech savvy though.
5. Cut the List
Another problem with the holiday cards is people think they have to send them out to every person they know. There is no set rule forcing you to send out cards to your third cousin twice removed or the person you worked with five or six years ago. So, feel free to cut your list to close friends and family. This will allow you to spend the bare minimum on your cards and will ensure those closest to you will receive your greetings. This will also cut back on the amount of time you spend thinking about what to say to those you never see. Before long, you won't want to add new people to your list as this method of dealing with Christmas cards will add tranquility and fun to the process.
6. Send Postcards Instead
Another simple option is to consider post cards opposed to actually mailing out full sized cards. Postcards are very simple to make and will cost you less when it comes to supplies. Of course, you can also buy postcards at many retailers, which will also cost less than the card option. One of the best things about mailing out postcards is they actually cost less money. You can go to the post office and purchase a special stamp for these cards, which is certain to put even more money back into your holiday fund. Postcards can be great if you plan on traveling this year too, as you can share the location your family is enjoying with friends and family. Even if you can't find a festive postcard, you can always use your artistic skills to make them look festive with basic craft supplies.
7. DIY Cards
For many families, making your own cards is a holiday tradition that always pleases. You can easily start this process by using all of your craft supplies that you already have in the household. These supplies can actually go far, even if they simply include crayons and paper. Of course, if you want to go all out then you can find all sorts of holiday sales in your favorite craft stores. As soon as Thanksgiving is over most stores want to clear out their Christmas stock as soon as possible. So, you will see some sales up to 50 or more percent off. You can also add coupons to the mix to help you save even more. If you have children, then you might want to look up fun crafting ideas to help you out. There are lots of cool ideas online and you can always customize them to suit your needs.
8. Hand Deliver
When it comes to holiday cards, more often than not, the most expensive aspect of this endeavor is actually mailing out the cards. Buying tons of stamps can really cut into your budget and your time, given the length of lines during the holiday season. So, if you have a lot of people living in your own town, or you visit those that live outside the town often, then you might want to make a point to hand deliver the cards. This adds an extra special touch to your cards that will actually warm the hearts of those that receive them. If you have a tight knit community, then you might even consider Christmas caroling as you deliver your cards. This can add charm to the occasion and will bring a smile to a few faces. Plus, utilizing this method of delivery will ensure that your cards won't get lost in the mail, which is a bit of a relief after putting so much time and effort into them.
9. Print Cards
If you don't have a lot of time to put into your cards, then you can always look for free options online. There are a lot of templates online that you can print out at no cost to you. This can be one of the easiest ways to get your cards finished up. The best thing about printing cards online is you can easily find a wide variety of cards that suit your needs. If you're feeling ambitious, then you might also want to print our cards that will suit the recipients needs. Of course, if you still want to add a special touch to the cards then print out black and wide cards and color them yourself. This will add a little fun to the process too and will make each card unique. Some websites will even have matching address labels that pair with your card, which makes a great finishing touch.
10. Buy Bulk
Without a doubt, one of the best ways to save big on holiday cards is to purchase in bulk. You can actually find huge boxes in bulk stores that will allow you to have cards for a year or more. Of course, these large boxes of cards tend to have very little variety and are more simplistic than more expensive cards. However, if you have a long list of names to supply for then this is one of the best ways to go about it. If you can manage to shop after the holidays, then you will be able to save even more money on this option.
Christmas Card Day can be a whole lot of fun if you have the ability to save money on your annual cards. These ten tips should cut back on your budget while ensuring you get to send out the cards that will bring a smile to your loved one's faces. So, this year, you may want to approach your holiday cards differently, as now you can save lots of money.