School is out for most students and summer is practically here, which might leave you wanting to hit the open road. Of course, with everything going on, you might just need to travel by car to move, visit with family, or simply get out of the house for a while. Road tripping can be incredibly hard with small children though. The mere idea of traveling long distances with a young child might leave you wanting to spend money to make the road trip easier. There are a few things you can do to make the road trip easier though. These ten tips will help you choose the right options for you, so your whole family can enjoy the trip.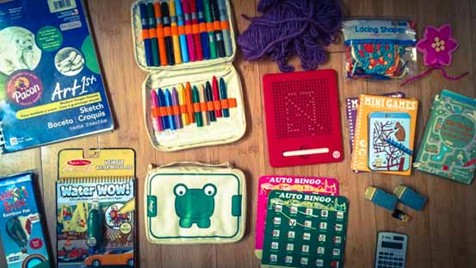 1. Small Distractions
One of the most important things you can do is provide small distractions for your kids, especially if they are babies. One of the easiest things to do is add a portable mobile to the car seat. This will keep the baby's attention while you drive and might even help your child fall asleep. Another great option is a sound machine to help soothe your little one if they are uncomfortable in the car. Of course, you should make sure the machine isn't going to put you to sleep as well. If you can, manage the noise level of the sound machine or choose something that your radio can blur out. Toddlers and younger children might also like sensory items, so add in textures and colorful items to add to the experience. You might also consider window decals that can cut back on sun glare while showing off their favorite characters. These small distractions can really take away from some of the stress and frustration children feel while confined.
2. Snacks
Food is a pretty good incentive for most children. Plus, it can help prevent frequent stops for meals and more. However, you do want to be careful about what you pack for your children to eat on a road trip. For instance, you really don't want sugary foods that will keep kids awake and wanting to bounce off of the car's walls. You should also pack foods that aren't going to be a choking hazard. Some options you might go for are crackers, chopped fruits, yogurt bites, and other small but healthy foods your child typically eats. You also might bring some anti-spill cups that you can add water too as you go. However, make sure you don't fill the cups all the way or else you might be stopping frequently for restroom visits or diaper changes.
3. Travel Boxes
Toys are a big part of kid's lives, but playtime in the car can be very difficult. However, if you're feeling crafty then you can make some awesome travel-friendly toys that your kids will want to have in the car even when you're just headed to the grocery store. All you have to do is take an old lunch box and some supplies like hot glue or tape. If your child is into LEGOs then glue a piece of LEGO foundation the inside of the box. You can also place one on the other side but place it at the fold instead of on the bottom of the wall of the box. You'll want this to only cover half of the space too, as you can place LEGOs on this side to prevent them from spilling out everywhere. Of course, you can also use a lunch box for other options too. If your child loves Polly Pockets or mini-figures, then create a little house for them inside the box. You can also make the boxes into a coloring center, which is great for numerous ages. If your kids have favorite games, then turn them into mini-games and use magnets for the pieces. You'll find these little boxes can truly change the way you travel.
4. Screen Time
When it comes to road-tripping, don't feel bad about letting your child have a bit more screen time than you normally would. This can help relax children and entertain them for the long haul. You might consider downloading movies onto devices, adding educational apps, and ensuring there are games children can play when you're out of a service area. Another thing to keep in mind is power. You might pack portable chargers and other options for kids to use when their devices are almost out of juice. Apart from that, you should turn off the blue light option, especially at night, to ensure kids will go to sleep in a timely manner.
5. Crank up the Tunes
Music is one of the best ways to keep many kids entertained, so make sure you have music they love. If your car has a CD player then you might grab some CDs for the ride. Of course, you can also come up with playlists when you need to use offline mode in your travels. If you have children that love stories then audiobooks are a great thing to add to the collection too. You might feel like you're going to go crazy after you listen to these things for a couple of hours, but you'll feel even crazier with constant crying and whining. So, embrace the kid shows and the peace in your vehicle.
6. Keep to Nap Times
It is incredibly easy to break schedules while you're road tripping. Since the rest of your child's schedule is going to be a bit off, it might be hard to get kids to go to sleep while in the car. If you can, stop and have lunch, so your child will have a full belly. You might choose a place that kids can run around and play, too. Many parks should be reopening and as long as you sanitize afterward you should be good to go. Make sure you make a bathroom stop too. Then, play soothing music, give your child their favorite blanket and pillow, and keep the car extra cold. This should help kids nod off, so the car ride won't seem as trying for everyone.
7. Plan Your Pit Stops
Planning pit stops can be one of your biggest strengths when it comes to traveling with children. A lot of people completely wing road trips with just a beginning and ending to work towards. With kids, you're going to want to be more strategic though. Try to choose places to stop every couple of hours. If you choose a town to stop in, research the best places to stop for a bathroom break and for kids to run around. You might consider stopping and letting the kids go to a trampoline center for an hour in order to burn off some energy or choose a place with a large park to play in. This will help the kids build memories, wear themselves out, and feel a little better about the trip. Of course, you should also have alternative stops too, because you never know when a bathroom emergency might occur. Try to keep the stops a surprise though, as kids might be disappointed if an attraction is closed, which could cause more distress on the road.
8. Talk About Where You Are
It's really easy to leave kids out of the loop when traveling, which can lead to countless questions that might put you on edge. One of the best ways to combat this problem is to tell kids where you are frequently. You might update them on cities you are passing, landmarks they might see from the road or even natural wonders. Another important update is how far you are from your destination, your next stop, or even how far you are from home. Kids might love learning about their surroundings or at least learning that they will be stopping sooner, rather than later.
9. Road Games
If you've ever been on a road trip, then you have probably played a road game. You know, the ever-popular games like spotting different states on license plates, or punching your sibling every time you see a Volkswagen Beetle. These games have always made trips seem a little better, so you might want to incorporate them into the trip for your children. Of course, you might have to alter the games to suit their age group. For instance, instead of spotting states on the license plates you might consider point out colors. You can also count the cars you see or set a number of trees to count and whoever spots them first wins. These car games can truly keep everyone distracted, so you don't end up feeling totally exhausted by the end of the trip.
10. Have Comfort Items on Hand
When you have small children, the most important thing you can do for them is to make sure you have comfort items on hand. May it be their favorite toys, a blanket they won't sleep without, or even a TV show they love, traveling with these items can make life so much easier for everyone. While you travel, you should always make sure that at least one comfort item is within arm's reach, so you always have something to calm your child down. Every time you get out of the vehicle, you should double-check items to make sure you have everything because losing it on the road would be a travesty for your child.
These ten tips should help make your road trip a lot easier for your children and you. It isn't easy to spend hours in the car, so trying to make the trip as convenient as possible for your children will help make the entire trip better for everyone. These ideas are frugal and easy to follow, so you won't have to go out of your way to help your kids through the experience.