Whether you're planning on getting your ears pierced or you're interested in something more extreme, International Body Piercing Day might be the perfect time to take the leap. Body piercing is especially popular during the summer months when people are keen to show off their body a bit, so you might even feel a boost in your confidence during this holiday. If you're looking to get a piercing, you might be taken a bit off guard by the price tag though, which might prevent you from doing what you want. There are a few ways you can cut back on the price of your future piercing though, so don't give up on your idea just yet. Instead, check out these tips to see if they can help you afford the look of your dreams.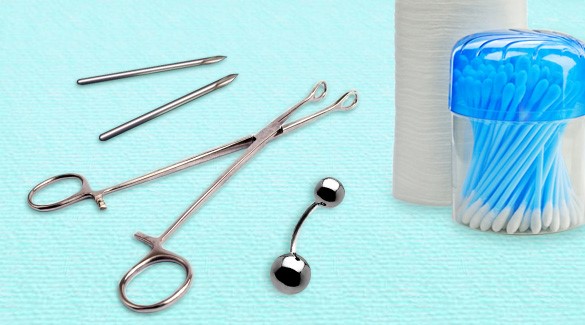 1. Consider Clip-Ons
One of the cheapest ways to enjoy body piercing without spending a fortune is to consider clip-ons instead of going for the real deal. This is especially a great option for anyone that isn't completely certain that they want to have a hole in their body or scar from the hole when they grow tired of it. Generally, clip-on jewelry doesn't cost any more than your typical jewelry would, so you shouldn't have to spend more to get the same effect. You may also find that there are clip-on items for just about every part of the body that you might want pierced. If anything, you can always start out with a clip-on item to see if you like the appearance of the potential piercing. If you stick with it for some time, then it might be time to invest. Otherwise, the piercing is frivolous and might become something you regret.
2. Wait for a Sale
You might not think about piercings going on sale, but they actually do. Of course, it depends on the shop in which you hope to get your piercing, so you might want to follow them on social media to make sure you're privy to all of their promotions. Even some department stores that offer piercings will offer deals, which usually happens around back to school season or even some holidays. Piercing shops tend to host these deals in the off-season, like winter, but you can also find sales on special occasions like International Body Piercing Day. Of course, you should take precautions even if you find a good deal, so don't base your decision on this alone.
3. Consider a Kit
If you're looking to do something simple, like piercing your ears, then there is actually a kit you can purchase if you plan to only use it once. These kits can be purchased fairly inexpensively and allow you to pierce your ears without having someone do it for you. These kits are ultimately designed like the ear-piercing machines that you will find at most department stores. You can find these items online or in beauty shops too, so you shouldn't have to look far. If you're interested in progressing your piercing abilities, then there are kits for other forms of piercings too. There are many problems that can go wrong with these kits though, particularly when it comes to infections. So, make sure to be incredibly careful when it comes to using these items and know the risks before you commit to using them.
4. Think About the Piercing
If you're interested in getting a piercing, one of the best things you can do is avoid the whim. Instead, think over the piercing for at least a few weeks. This will allow you to consider the impact of the piercing on your life and if you really want it. This is especially important if you're on a budget, as if you don't like the piercing you will have blown the money entirely because there are no refunds. Typically, if you're still entertaining the idea of getting the piercing after some time then you will be more than likely to enjoy the piercing long after you receive it. Best of all, this will allow you the time to look around at the prices and reviews of various shops, which will also help you feel more comfortable with your choice. It might even allow you to wait out for a sale.
5. Visit Your Piercing Shop Beforehand
Before you entertain the idea of getting a piercing, it is important that you check out the shop you would like to get it from. You may want to see many before you choose the place you'd like to get the piercing. The first thing you should consider when choosing a venue is the cleanliness of the place. This should be more than what originally meets the eye though. Ask questions about sterilization and more to ensure your piercing will be safe. You should also talk to the person that is going to be doing the piercing to ensure you feel comfortable with them. Once you go through all of this then consider the price tag of the piercing. If you feel more comfortable in a shop that is more expensive then this is the shop you should choose. You should never choose a shop based on price, because it might not be the healthiest option. Overall, you should feel comfortable with everything about the shop before making the appointment for the piercing.
6. Research Piercing
When you come up with the idea to get a piercing you should also follow up that idea with a bit of research. First and foremost, you should look into the process of getting such a piercing. If you don't think you can withstand the pain then you might want to skip out on the idea completely, unless you want to spend money on a partial piercing. The next thing you should look at is the recovery and care of your piercing, as well as the complications that might occur. If it is going to age poorly, this should be something to take into consideration too. Some piercings might actually require surgery if you grow tired of them. You can also check out the potential cost of your piercing so you will know where to begin your search. On top of that, you should take the time to check out reviews on artists to see how they did on your specific piercing. This should help you feel more at ease over your choice while allowing you to gain a better understanding of the cost.
7. Understand How to Care For It
Caring for your piercing is crucial. If you don't take proper care for it then you can develop an infection that might cause you a lot of pain and money. In rare cases, it might even cause you to lose a body part, so make sure you pay attention to the proper care of every piercing you receive. Your piercer should go over the basic care instructions for your piercing, which will allow you to put everything you learn to work. Of course, you should also consider looking up ways to care for your piercing too, so you can be as thorough as possible. This is certain to keep your piercing looking good for much longer.
8. Clearance Jewelry
When it comes to picking out jewelry to make your piercing look even better, you may find quite a lot of options. However, many of these options are bound to be very expensive, which can leave you in a bind when it comes to getting your piercing. Luckily, there are a lot of clearance items that can leave you feeling great about your choice. Try looking online at your favorite body jewelry website to see what they have on offer at a reduced price. You might even be able to find options on websites such as Amazon or stores such as Hot Topic. You can even ask your piercing studio if they have any great options that are on sale or clearance. There's never any harm in asking for such things.
9. Pierce Out of Season
If you're looking to save money on a piercing, then you might want to skip out on getting it done during the summer. This season marks one of the peak times for tattoos and piercings, so shops won't need to offer discounts during this time. This is largely because people like to show of more skin during the summer months. On top of that, it is peak time for students to hit the shops so that their piercings have time to heal before they have to take them out for school. Due to this, you might just take a rain check for your piercing. Instead, hold out until school is back in session and the weather cools down a bit more. During this time, shops will try to entice people in with sales to help pick up business. This will help you save the most amount of money. It will also make healing easier as wounds won't be exposed to harsh sun rays.
10. Know the Rules
One of the most important things you can do when you're planning on getting a piercing is know the rules. If you're currently in a job, then make sure to check out the dress code as far as the office is concerned. If you're not allowed piercings, then see if your boss will allow you to wear something that covers the piercing during the healing phase. If you're in school, then you probably won't have as much flexibility over this issue. Check the handbook to see which piercings you can have and go from there. Knowing this information can actually help you prevent the piercing from closing so you don't waste money in the process.
Getting a piercing, especially when you're on a budget, is never as simple as showing up to a shop. These ten piercing tips should help you to get the piercing you'd love without having to break the bank to get it. With any luck, you'll be able to take your time on your decision and save some money in the process.