Entertaining the kids, especially the younger kids, this summer is going to be tough. With many parks, playgroups, and water activities canceled, it up to parents to find stimulating ways to learn at home or in environments that promote social distancing. This can be overwhelming if you're not sure where to start. Luckily, there is an abundance of great ways to help you and your kids enjoy sensory activities for next to nothing. These ten ideas are just the beginning of fun summer activities that you can enjoy with little ones. So, let the learning begin as you prepare for summer fun without breaking your budget.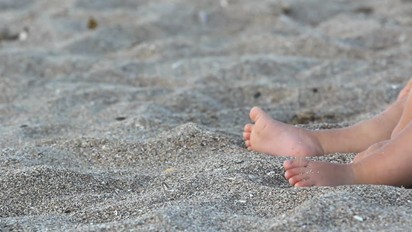 1. Sand Play
Nothing says summer quite like toes in the sand, which is why sand play is one of the best sensory activities for this time of the year. Not only does it allow children to feel the texture of the sand and enjoy it, but older children can build and dig in the sand, too. So, if you want to begin with this activity then simply purchase some sand from your local retail store. You can place it in a sandbox, in a plastic bin, or even in a cardboard box, depending on what you have on hand. Sand isn't great for all ages though. If you're worried that your baby might take to putting sand in their mouth, especially if it is stored outside, then there is a simple hack for you. Simply blend up an oat-based cereal, like Cheerios. This will create the consistency of sand while ensuring it is safe for your little one to put in their mouth.
2. Water Chalk
Playing with chalk is a timeless activity that most kids enjoy. However, in the summertime, it can be a bit tough to play on the hot pavement. So, you might want to take chalk to a whole new level with water chalk. All you need is a spray bottle and a few ingredients to get you started. Simply gather food coloring, chalk, salt, water, and whatever the recipe of your choice calls for. Then mix it up and get to work. Kids can use the bottles to spray designs or to paint things around the property. Best of all, they won't have to touch anything that might scorch their skin, which will make the activity even more rewarding.
3. Calm Down Bottle
Being cooped up can make kids go a little crazy, but let's face it, they can get a little out of hand even when things are normal. One solution to the craziness is a calm down bottle. This is a sensory bottle that kids can hold and admire while they calm down their bodies and their minds. A calm down bottle is simple to make and is a great project for kids to engage in. First of all, you will need a clear bottle. A plastic soda bottle is a great option, but you can use anything you have on hand. Once you have your bottle, fill it halfway with water. Then, fill the other half with baby oil. Your next step is to add food coloring to your child's choice of color. Then, comes the creative part. Kids can add in glitter, LEGO pieces, small toys, and so on. Once everything is in, glue the cap of the bottle on firmly. Then, give it a shake. The color will mix into the water and then everything will slowly begin to separate. This is very soothing to watch and will help kids calm down as they play with their new sensory toys.
4. Ice Painting
Another great way to calm things down is to do some ice painting. This is perfect for really hot days because it will allow kids to cool down as they work. However, you might not want to enjoy the activity outside unless you're prepared for the art to melt quickly. To begin with this craft, you need to freeze a big block of ice. You can do this in a bowl, a tray, or anything that you have that might work. Then, grab some trays that you don't mind tinting. Fill each with water and add a drop or two of food coloring. This will act as the paint for the craft. From there, kids can paint on the ice with their favorite brush. Kids will love watching the colors mesh together as they work with the ice.
5. Giant Bubbles
Most kids are huge fans of bubbles, but tiny little bubble makers can get very boring after a week or so. Thus, it might be a lot of fun to make giant bubbles. You don't need much for this activity either. You can start by using two straws and two pieces of string. Simply tie the string on the straws to connect them. Then place bubbles in a tray and fill the bubble maker. If you want to get complex, then you can add strings in the center to make designs. Once you master this size then move up to the next level by using sticks. You can even make your own bubble mixture with soap and water if you want to save some money on the activity. If you're going this route, you can also add food coloring to the mixture to add to the fun.
6. Splash Area
Playing in the water is one of the best ways to cool down during the summer months, but it also a great sensory activity for kids. Luckily, splashing in the water doesn't take a lot of work on your part. You can easily grab something for your child to play in like a baby pool or plastic bin. However, the bathtub works just as well if you don't mind cleaning up the mess. Simply fill the item of choice with cool or warm weather and let your child splash away. You can even add a bath bomb, toys, bath colors, and more. If you have other water toys then make sure to incorporate them, too. Kids will love every moment of the fun and will be able to learn as they embrace the playtime.
7. DIY Slime
These days, slime is all the rage. You can find it in almost any store that sells toys. Plus, it is all over TV and kid programs. There's a reason for this though. Slime is one of the best sensory toys for kids of all ages. Plus, it is incredibly easy to make. All you need is some glue, water, and a couple of other supplies and you're well on your way. There are recipes all over the place too, which will allow you to try out new things throughout the summer. After you've mastered making slime, you can work on making slime with glitter, or adding small toys to the slime for kids to dig out. This can truly make playtime fun and will help with sensory skills.
8. Shaving Cream Play
Another great activity for kids is shaving cream play. This has been used for decades because it is a great way to use sensory play, but it can also be used as an educational toy. For little ones, simply place some on a tray and let kids run their hands through it. You'll have to pay close attention here though as little ones might be tempted to put the cream in their mouth. Younger kids can have a bit more fun with the activity though. You can add food coloring to make the activity more fun, as well. Once you have the mixture you desire ready to go, have kids draw their shapes, letters, or numbers. Kids can also practice vocabulary spelling or math equations. This will help make learning fun while adding a bit of sensory play to the day.
9. Bug Hunting
Exploring outside is one of the best ways for children to embrace their senses. Thus, bug hunting is a good way to help with sensory play. Gather food jars and other items to capture the bugs in, so children can observe them. One bug that children might get a real kick out of catching is the firefly. Children can watch the bug light up in their jars or even in the world around them. Of course, kids don't have to catch the bugs in order to observe them. In fact, it might be safer for some bugs to be observed from a distance, like ants and spiders.
10. Garden Play
Working in the garden is one of the best sensory activities around. Not only does this activity help children learn and grow, but it can also help them out in the future. So, this summer, let them get outside in the garden to enjoy digging in the dirt, planting seeds, pulling weeds, and even picking flowers and produce. Kids will learn where food comes from and might even be more willing to eat their fruits and vegetables. This is a great bonding activity for the whole family too, which makes it one of the most valuable sensory play activities around.
Sensory play is a great way to help children engage in the world around them while ensuring they are having fun. These ten ideas will help you save money on the activities you choose for your children this summer while allowing them to learn and grow. With any luck, your child will fall in love with the activities, so your summer can go smoother than ever.