Winter break is practically upon us, which can be a scary thought for parents that aren't certain what they're going to do to entertain kids for such an extended time. Luckily, the winter weather and festivities will help you embrace the vacation without losing your mind. However, if you're still looking for ways to keep kids entertained on a budget then you're in luck. These ten ideas will not only keep your spending down, but will ensure your children are constantly kept busy, so cries of boredom won't drive you up the wall.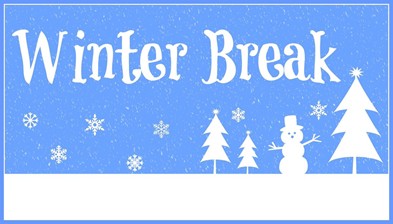 1. Homework
The kids might not be happy about it, but you should add a scheduled homework hour to their days at home. A lot of teachers love to assign large scale projects prior to school breaks, so make sure you check their syllabi to see if there is a science fair, essay or other large project on the horizon. If there, is then get a jump start on the task. This will help everyone from stressing out when it is time to get the assignment in. Plus, doing the work while your child has so much free time will give them more free time when they don't have the luxury. Of course, even if they don't have homework to speak of, you can always create your own. Idle periods of time can actually cause children to forget the things they've learned in school. So, try printing out homework sheets online to help them keep up. This is especially great for math. Requiring children to read an hour a day can also keep their minds active, while also adding magic to the holiday season.
2. Embrace the Snow
Snowy weather can be quite common in some areas during winter break. So, use this to your advantage. Don't keep the kids inside because of the weather, instead bundle them up and let them have some fun. Kids can have a blast by sledding in your community. You don't even need a sled for this activity, if you don't have one. Instead, find some plastic or something that will slide. Another great option is to have kids make their own snowman or snow angel. This can be fun, especially if you make it a competition to see who can get the most creative. A snow ball fight is also a great idea, especially if the kids have a lot of pent up energy. If you're feeling like a more creative activity, then snow painting is fun and cheap. There are fun snacks you can make with the snow too, like snow ice cream. There is an abundance of snow day activities to keep everyone busy. So, if you're at a loss for ideas look online for some help.
3. Bake
Since the kids will be home, you're going to need to prepare more meals and snacks to keep everyone happy. One of the best ways to do this is to bring the kids into the kitchen to help out. There is no better time to learn how to cook than when you are young, so distribute jobs by age to ensure everyone can gain a strong foundation in this necessary life skill. You might want to start by making some easier meals. Casseroles or crock pot dump meals are always a cheap, easy and filling way to feed the family. You can even have the kids work on meal prep, so that you won't have to worry about cooking every day of the week. Of course, making delicious treats like homemade breads, cookies, cakes and more will excite the whole family. These foods can create a great learning experience as well.
4. Holiday Snacks
There are a lot of great holiday snacks that the kids can work on to keep their minds and their hands busy. One of the most iconic options is to help the kids build a gingerbread house. There are lots of kits to begin the process, but if you really want to take time on the task then you can easily whip up the cookies and materials needed from scratch. This craft can take up a lot of time, so you can even span it out over several days to add excitement and fun to the winter break. Another simple item is to make Christmas trees. These start out as ice cream cones and kids can decorate them with candy and icing. This craft also takes lots of concentration, so it is the perfect craft for when kids seem to be out of hand. There are so many other holiday treats the kids can make, so check out recipes online if you need more ideas. This activity is a great reward for kids too, as they can snack on their creations too.
5. Decorate Wrapping Paper
Sometimes it seems like wrapping paper is just about everywhere you look during the holiday season. Wrapping paper can be pretty pricey too. So, this year you might turn the art of wrapping paper into a fun winter break activity for the kids. Instead of buying pricey paper, purchase some of the cheaper options. It doesn't matter what is on the paper as you are only going to use the white part of the paper for this craft. You can unroll the paper and let kids go to town on it with paint or markers. Then use the finished product for wrapping up gifts. However, if you're looking for a cleaner craft or one that is more personal, then kids can decorate gifts that are already wrapped with crayons. This should bring a smile to the recipient's face. It will also help get the children into the holiday spirit.
6. Kid Exchange
Without a doubt, having the kids at home for longer periods of time can get stale for both parents and children. A kid exchange is a great way to spice things up for everyone. Basically, make an agreement with a friend or family member that you know well and that has kids in your children's age group. You can take the kids for a night or even a weekend and they will take the children for the same period of time the following week. This will help kids socialize with people their own age while also getting out of the house. On the plus side, you'll also get a break for a while. You can come up with fun ways to entertain when it is your turn too. For instance, you can have a movie marathon and a hot cocoa party to suit the season.
7. Clean
This activity is probably going to be as high up on the list as homework for the kids, but it is a necessary thing. With school not in session, it is the perfect time to clean deep and get organized for the upcoming semester at school. You can go through homework assignments and school projects to see which items your child would like to keep and which can be tossed out. The backpack is also a great thing to clean out because you never know what scary items you'll find lurking around. The room should be cleaned and organized too, to ensure transitioning back to school days will be a breeze. You might even go through clothes and toys to see which items can be donated. If children are older then they can also jump into action to get the entire home clean, so you'll be prepared for hosting company over the holidays.
8. Bring on the Science
Science is incredibly important, especially in today's tech savvy world. So, make sure your children are able to find a love for science outside of the classroom. You can enjoy science experiments with them too, which might even encourage you to learn more than you'd wanted to prior to having kids. You might start with some winter-based activities. For instance, you can have kids put their hand in ice water to see how cold it is. Then, cover the hand in Crisco and repeat. This will help children understand how animals survive in the winter. Of course, you can also make crystal snowflakes, DIY frost and so much more. You don't have to stick to the winter theme though. There's lots of projects that can be completed with items from around the house. You can also purchase kits to suit various age groups. Another fun activity is to observe the night sky and find constellations that can be seen only in the winter months.
9. Community Events
Luckily, winter break takes place when the community is filled with holiday cheer. There are numerous community events that you should be able to enjoy while your child is on break from school. For instance, there should be lots of freebies to check out like a holiday parade, visit from Santa and even holiday festivals. These events should help brighten the season while saving you a bundle. The library usually goes all out during the season too, with special story times and crafts to keep kids engaged. Of course, you can always spend plenty of time at the library to keep kids entertained when they're taking a break from education. Another fun activity is to drive around and check out all of the beautiful holiday lights outside. The whole family is certain to enjoy this. You might even find a huge community light display to enjoy too, so make sure to research what your community is up to during the weeks of break.
10. Build a Fort
One of the best ways to engage the entire household is to get everyone together to build an indoor fort. This can be a great activity for younger children in particular though. Forts can be made out of so many different materials, so you won't need to go out and purchase anything. There are many ways to tackle building a fort too, so check out some ideas online if you're at a loss. The fort will make a great place for kids to read and play during the day. Plus, it will help keep them warmer, which can save on heating costs. Kids might even be keen to sleep in their creation on Christmas Eve, which will add some magic to special night.
Keeping the kids occupied during winter break, might seem intimidating. However, with a little planning you're bound to make this winter break a lot of fun for the entire family. You might even find that the activities the family enjoys will bring everyone closer together. So, enjoy having the kids home without spending extra money on their presence.