October is here, which means it's time to start decorating for Halloween. This doesn't mean that you have to go all out and spend a small fortune on decorations. Rather, there are tons of great decor items that you can make at home for next to nothing. These ten projects will allow you to give your home a spooky makeover that the whole family loves while still keeping money in the bank. Best of all, many of the projects can be done with the whole family, which will bring even more meaning to each item that you put up.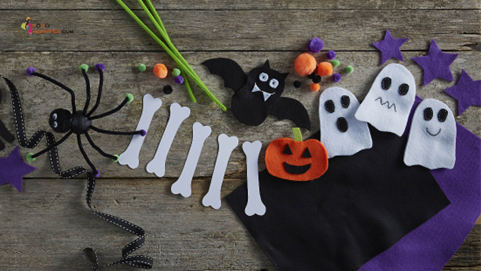 1. Jack-o-Lanterns
These are timeless crafts that so many people from around the world have enjoyed. Jack-o-Lanterns don't take a lot of time or effort to make. You simply need a pumpkin and something to carve and scoop with. There are templates online to help you make the pumpkin you've been dreaming of. However, you can also purchase more complicated templates or just wing them and see what happens. Apart from that, you'll need a tealight or a battery-powered light to make your jack-o-lantern truly glow. If carving isn't something that you'd like to do, then you might consider simply painting your pumpkin. This can bring so much fun and style to your pumpkin that you won't think twice about not carving into it. Even sitting out untouched pumpkins can help bring out your Halloween vibes with very little effort.
2. Witches Hats
Nothing says Halloween fun quite like witches. That is why adding witch hats to your home can really bring out some fun. All you need for this craft is some black or purple construction paper or heavy card stock to make the hats. Of course, you can go wild and decorate the hats as you please. You can also explore other color schemes as well to make them suit your family. Once you have your hats ready to go, simply tape them to the photos or the art in your home. This will add some fun to the look while allowing you to give the home a Halloween vibe that you'll enjoy. This is a great craft for kids too, especially if you use a template to help you make the hats.
3. Floating Candles
Channel your love of Harry Potter when you add some floating candles to your home. You don't need magic to pull this off either. In fact, with a little recycling, you'll be all set for this fun craft. The candles are actually made out of toilet rolls, so make sure you're holding onto these while you prepare to make the crafts. There are many tutorials online to help you accomplish the look of the candle; however, you should be able to wing it with a little paint if you want to try it on your own first. The tutorials will also show you how to hang the candles, but this should be easy to accomplish with a little fishing line. Of course, if you have candles that you'd just like to hang up, then there are tutorials to help with this too, so make sure to look around for the right options for your home.
4. Paper Bats
Bats can add the perfect level of spooky to your home and they're incredibly easy to make with very little effort. All you need to start this craft is a little black construction paper or card stock. From there, use a template to cut out the shape of a bat so you won't have to waste paper or feel frustrated by winging the shape. After that, add some folds to the wings and place them on the wall. These are great interior designs. Of course, you can also add bats to the exterior of the home, but you may need to use more durable materials or waterproof them to ensure they will hold up.
5. Paper Spiderwebs
Paper spiderwebs can be a lot of fun to share with your little ones that are learning how to make scissors. Paper spiderwebs are much like paper snowflakes, so they're pretty easy to get the hang of. All you'll need for this craft is construction paper. Black or white is a great option, but any of the Halloween colors might also do the trick. Once you have your paper ready to go, check out an online tutorial so you know exactly where to make the cuts needed to ensure that your spiderwebs look incredible. Once they're cut out, you can tape them to a wall. You can even make cute spiders out of pom poms and pipe cleaners to add to the webs for even more fun.
6. Black Flowers
If you love the gothic look, then you'll definitely be into black flowers. These are incredibly easy things to make and are great if you have excess flowers hanging around the house. All you need for this craft is some faux flowers and black paint. Simply dip the flowers in the paint and wait for them to dry. You can also use black dye if you'd like the flowers to have a more natural. Once the flowers are dry, they're ready for presentation. However, you can also add subtle details to the mix in order to make the flowers even more spooktacular. For instance, a little red paint can go a long when it comes to keeping your flowers a little more Halloween-inspired. These flowers can be displayed in a vase, used as garland, or displayed in any other way you might desire.
7. DIY Spiderwebs
If you love the look of spiderwebs outside of the home, then you'll definitely be in for a treat when you make your own. Sure, the spiderwebs sold in stores are perfect for convenience and will only set you back a small amount. However, reusing them can be a hassle if it's possible at all. Making your own spiderwebs isn't a lot of trouble though and all you really need is gauze, so you can raid your first aid kit if you're in a rush. There are lots of tutorials to help you learn how to make spiderwebs, so it won't take a lot of work to get them where they need to be.
8. Halloween Candles
Halloween candles can add the perfect touch to your space for the spooky season. They're incredibly easy to make too. You can start with a candle that you already have, or simply use a mason jar to get started. From there, consider adding tissue paper to the outside of the glass to create a mummy effect. Finish it off with googly eyes and you'll have an adorable look that you'll want to show off. You can also remake this look with pumpkins, Frankensteins, and anything else that you can think of. You can also use paints to create the monster's appearance. When you're finished, you can use tea lights to bring the candles to life. Depending on the materials you use, you can use these candles for interior or exterior decor.
9. Tombstones
Tombstones are another classic Halloween decor option that is easy to accomplish on a tight budget. All you have to do to add these spooky props to your front yard is cut out some cardboard in the shape of a tombstone and give it a new paint job. You can also do this with plywood if you'd like your decor to last more than one season. These tombstones are simple to make and easy for all ages to paint. You can also add fun names and sayings to the tombstones to help draw in the eye. If you want to take the decor even further, you can add limbs or heads coming out of the ground. You can also add in rats, bats, and any other spooky creatures that you might have hanging around.
10. Ghosts
Ghosts make the season fun, which is why creating some ghosts to add to your decor can really bring some fun to the holiday. There are lots of great ghost crafts to check out. You might start with the classic tissue paper ghosts that are incredibly cheap to make and work wonders for hanging up inside. If you want something a little more durable, then consider using a white cloth to make the ghosts. This will allow you to hang them outside to add a little bit of spooky fun to the holiday. You can also just make ghosts out of paper for kids to cut out and hang on the windows. There are so many options here. If you're not sure where to begin, a quick search online will reveal many tutorials.
Halloween doesn't have to mean investing a small fortune in Halloween decor. These ten ideas will allow you to create the spooky vibes you love while ensuring everyone in the family can pitch in while you decorate. Each of these crafts will even leave you with items that you'll treasure year after year.