If you're new to sewing, then you might be hesitant to begin since so many sewing projects can cost you an arm and a leg. On top of that, you might find that they are intimidating to those just learning the ropes. Luckily, there are a lot of great projects that you can take on while just learning how to sew, whether you're working with a machine or just using a needle and thread. So, instead of shying away from improving your skills and having some fun in the process, you might try out some of these ten exciting projects during National Sewing Month. Before you know it, your skills will shine, and you'll be ready to take on more intimidating projects.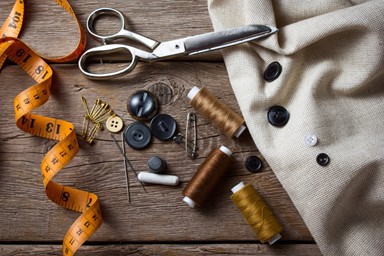 1. Tote Bag
This season, tote bags are a huge fashion statement. Not to mention, they're very convenient for just about everyone. So, if you're looking for a project that will totally be efficient then this is a great option. Tote bags can be made from nearly any material, so you can customize the fabric to suit your own style. This is perfect because you can make a great fashion piece out of the bag, or you can use it for a trip to a beach. Totes are also perfect for simple diaper bags or sending your children to school with a cute look that is easy to keep neat. You can even use your tote for groceries to help save money on bags while also saving the planet. Totes are incredibly easy to make too. There are tutorials online to help guide you, but you can also buy a pattern if you're a little worried that your measurements will be off. You will fall in love with this project though, to the point that you might find yourself surrounded by bags.
2. Napkins
Another very simple item to make is a napkin. A lot of people don't use fabric napkins because they can be expensive, and many people don't want to clean them. However, if you make your own napkins you might start to enjoy using fabric instead of wasteful paper. You can make napkins out of a huge selection of fabrics too. This will allow you to make seasonal options, as well as some that will match your dining room's décor. Apart from that, making napkins will save you money on paper products, so you'll quickly start to see savings that will make your budget flourish. Napkins are great items to practice on too because if you mess them up, they make amazing cleaning rags. This can save you even more money and will help reduce waste.
3. Decorative Pillows
Decorative pillows are one of the best ways to add a little pizzazz to your home's décor. These pillows are lots of fun to show off too, especially if you put your own heart and soul into them. Luckily, decorative pillows are one of the easiest projects to pull off for beginners. You can make them out of just about any fabric too. One fun way to make these pillows, without spending hardly any money, is to use an old t-shirt. You would be surprised just how amazing this project will turn out and will allow you to hold on to some of your favorite tops even when they don't fit or are damaged. As you progress in your skills, you might even consider learning how to sew letter pillows. This can be a fun challenge that won't cost you a fortune, either. If you become talented enough in making pillows, you might even be able to sell some of your spares for a little extra money.
4. Gift Bags
With the holidays coming up, you might consider learning how to sew gift bags. These bags, much like totes, are totally simple and can really make a gift to a whole new level. Best of all, they can be made in an assortment of sizes, which will allow you to customize your gift bag to suit your needs. Some of the best items to make a gift bag for are smaller trinkets though. Of course, if you don't have a lot of money to spend on a gift, then you can always make a bag to fill with snacks and other treats. The unique bag itself might become the star of the show whenever you pass out gifts. Plus, your homemade bag will mean less waste, which is another good reason to embrace this craft.
5. Headbands
Headbands are a huge craft trend now, especially when they're made for little girls. These adorable hair accessories are easy to find just about anywhere, but you can save money on them when you make them yourself. Plus, you can customize them to suit your style. There are lots of cute headbands to choose from too, with numerous tutorials online to help you figure out where to begin. You might even find yourself looking for appliques and other fun things to add to your newly sewn headbands. If you find joy in making the items, then you might find yourself selling them to others in the community or your very own online shop. So, have fun with this one, because you can never have too many hair accessories for you and your little ones.
6. Dress
Ambitious fashionistas will love trying to make their own dresses while learning to sew. This is actually one of the easiest garments to make, so you won't have to stress out about engaging in anything overly complicated while you are still learning. There are many simplistic dresses that will suit you though, so don't be afraid to try out a few patterns to see what works for you. You can use a selection of materials too, so your fashionable side is sure to shine. Once you get the hang of some of the more simplistic dresses then you will easily be able to try something more complicated. Children's dresses are especially easy to sew though, so you might start practicing there. If you can, watch out for sales at stores. You might find a great deal on patterns that will make your sewing hobby even more fun.
7. Costumes
Another fun way to add to your sewing hobby is to sew costumes. This is perfect for kids that love dress up or simply for Halloween. You might start out with some easy costumes. For instance, a cape and superhero mask are fairly easy to pull off and will keep kids busy for hours on end. Once you get the hang of the easier costumes, you might consider amping things up. You can choose from princess dresses, pirate costumes or even animal designs. There are lots of patterns you can buy for this, but you can also use your imagination to see where things go. You might have so much fun with this craft that you won't have to buy the kids as many toys to keep them busy.
8. Dolls
If you have kids or know families with kids, then making your own dolls might be a great way to stock up on gifts. There are some pretty basic dolls to choose from, which will help you wet your feet with the craft. These rag dolls tend to be very simplistic and have faces that are painted on or made with buttons. They are very soft and cuddly though, so children that are young might love them as a nighttime treat. As your skills improve, you might try your hand at sewing more complex dolls. You can also try your hand at making stuffed animals, which is always a nice gift for most children. After some time sewing on this type of project, you might even feel confident about selling your items.
9. Storage Containers
Another adorable craft that you might try out is storage containers. These unique little caddies can be made out of an assortment of items for a variety of different things. One of the most common containers to make is a diaper holder. These can be hung in the closet or anywhere else that is convenient. Another popular option is for toys. This is especially true for stuffed animals because it gives kids a secure spot for their most prized possession. You can even make a storage container for your phone, which can be used while it charges. The sky is the limit here, as is the fabric choice, so have some fun with your innovative designs.
10. Scarves
Nothing brings out your fashion sense quite like a scarf. Although traditional winter scarves are usually knit, you can still easily sew a fashion scarf to suit your needs. Infinity scarves, for instance, can add a lot to your wardrobe without forcing you to overheat. They can also save you money on unnecessary jewelry since the scarf will steal the show anyway. Best of all, the scarf is simple to sew, so you can make tons of them to suit every occasion. You can even make them in kid sizes, so the whole family can match if you please.
Sewing can be one of the most beneficial hobbies to pick up. Even though some projects might cost you an arm and a leg, many can actually save you some money. These ten ideas will get you started on your love of sewing and will ensure you have lots of fun in the process.